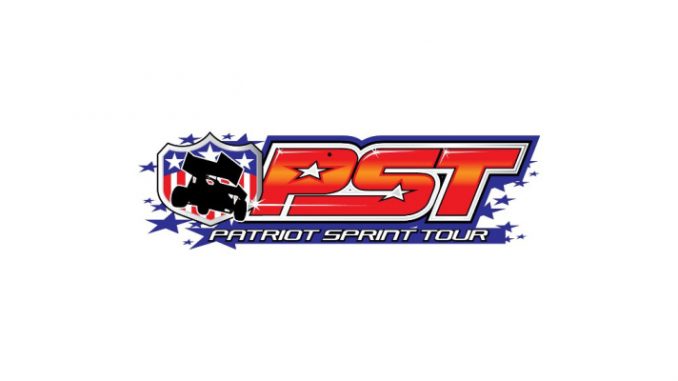 From Paul T. Harkenrider
SODUS, N.Y. (April 25, 2018) — As we are just over a week away from our return to Land of Legends Raceway in Canandaigua, NY, the A-Verdi Storage Containers Patriot Sprint Tour is happy to announce that all of our race day contingency marketing partners will return in 2018.
Evingham Site Excavation of Bolivar, NY, is back again to sponsor the Four Laps of Fame Dash Program for the 2018 season. For nearly ten years, the Patriot Sprint Tour has been utilizing the dash portion of each race program not for cars in the front of pack but for those who finish in positions 9th to 14th in our passing points qualifying system. Additionally, a season-long point fund will run in unison to benefit the drivers that run these events the most during the year. Evingham Site Excavation is now entering their fourth year of presenting this program, they offer a wide array of construction and excavation that you need.
Prestige Pool & Spa of Vernon, NY will return as the sponsor for the 'final finisher' award which is presented to the final car to take the checkered flag at the end of each PST A-Main. Currently serving all central, NY offering a variety of maintenance schedules for your pool and spas. They also offer full repair services with a tech who has over 25 years of experience. Prestige sells top quality 'Made in the USA' spas along with some of the best brand of pools. They can deliver all your chemicals and supplies to make your summer a great one! You can give them a call at either (315) 264-8571 or (315) 723-7564.
Shuttleworth Asphalt Sealing will be presenting the Shuttleworth 11th place bonus award for the second consecutive season. 50 Dollars will be awarded to the 11th place finisher at all PST A- Mains. The Geneva, NY company offers services to both residential and commercial customers for your next driveway or parking lot project.
Casey's Truck Salvage will return for the third consecutive year presenting the 'salvage of the night award' which is given to a competitor who had a slow start to event during qualifying but was able to salvage his night by taking home a competitive finish in the A-Main. Casey's Truck Salvage, INC. located just outside of Buffalo is one of the premier leaders in truck parts sales in all of Western New York. They specialize in medium and heavy-duty drive train parts. They also purchase and sell medium truck parts, equipment, and salvage. Their truck parts yard covers 40 acres with vintage and late model truck salvage. Be sure to visit caseystrucksalvage.com for more info! Casey's also sponsors the season long hard charger award.
A season long tabulation will also be scored for the PST competitors who lead the most laps during A-Main competition, and that is presented by Danny Willmes Enterprises of Rochester, NY. Willmes has been involved with the series for many years having sponsored the drivers of Darryl Ruggles, Alysha Bay, Kelly Hebing, and Steve Glover.
Patriot Tank Lines will will once again be presenting the season-long hard charger award. The award is earned through a season-long tabulation that rewards points for each position advanced in all PST A-Mains. Patriot Tank Lines has been hauling gasoline, diesel, propane, and aviation fuels for commercial clients since 2004. They handle much of the northeast, including New York State and New England.
Once again, the first PST event is Saturday, May 5 at the Land of Legends Raceway in Canandaigua, NY. It will be the tours first event at the historic half-mile since 2016, when Steve Poirier scored the win over Bryan Howland and Jason Barney.
Fans as always are encouraged to visit patriotsprinttour.com as well as liking us on Facebook, Twitter and Instagram.