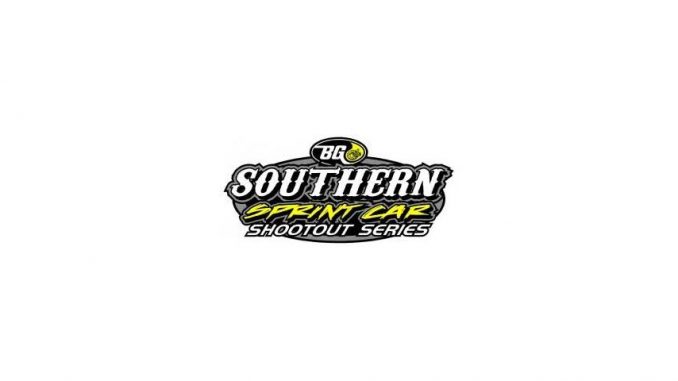 From David Sink
NEW SMYRNA, Fl. (April 28, 2018) — Mickey Kempgens captured round #6 of the 2018 BG Products Southern Sprint Car Shootout Series tour Saturday night at New Smyrna Speedway. The victory was the first of the season for Kempgens in an excitement laden forty-lap feature event.
Joey "The Ace" Aguilar, who was making his third series start of the season, took command of the event from his pole starting position. Aguilar would pace the first 11 circuits of the event until tangling with a lapped car exiting turn four.
The most serious incident of the night occurred 5 laps later when Shane Butler broke a rear axle exiting turn 2. Butler's car slammed the wall and became airborne, ultimately flipping on its side and coming to a rest on the backstretch. Butler, who was running third at the time of the incident, walked away uninjured from the accident.
Kempens, who was the leader of the event when it was red-flagged for Butler's lap 16 accident, lead the rest of the way to score his first victory of the season. Kempgens entered the New Smyrna event with a slim 3 point lead over Johnny Gilbertson in the series point standings.
With his victory, Kempgens moved into sole procession of second place on the all-time feature winners list with 5 career Southern Sprint Car Shootout Series wins. Kempgens is the fifth different winner of the six events contested thus far in 2018 in the highly competitive series.
RESULTS: 1. Mickey Kempgens (5) 2. Sport Allen (88) 3. Johnny Gilbertson (22) 4. Clayton Donaldson (7) 5. Jason Kimball (79) 6. Carlie Yent (22x) 7. Gary Wiggins (44) 8. Rex Hollinger (85) 9. Mike Tharp (J1) 10. Shane Butler (18) 11. Joey Aguilar (11) 12. Dylan Reynolds (555) 13. Tommy Nichols (55) 14. Blake Rose (2) DNS Ray Bragg (66), Scotty Adema (67), John Inman (59x)