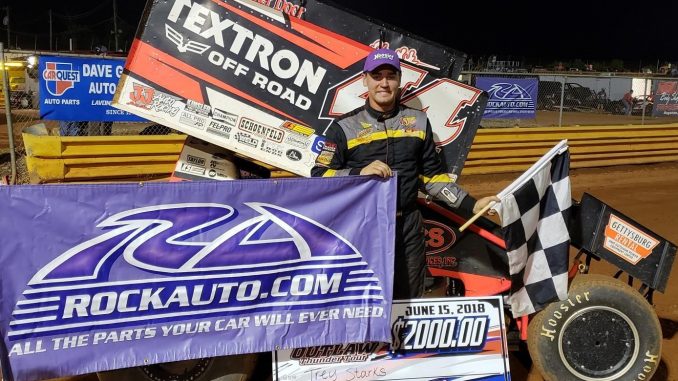 From Pete Walton
LAVONIA, Ga. (June 15, 2018) — Puyallup, Washington's Trey Starks made an appearance at Lavonia Speedway for the USCS Fast Friday presented by FireAde on Friday night. The young driver who has spent most of the last year and this season racing the tough Pennsylvania sprint car circuit raced from outside the front row into the lead past early race leader and K&N Filters Pole Position starter Kyle Amerson from Matthews, Alabama on lap nine. He then held off defending United Sprint Car Series National Champion Jordon Mallett from Greenbrier, Arkansas as the two battled side by side for the final 10 laps through lapped traffic that just happened to fall in Starks favor off the final turn to park his #44 Textron Off Road J&J Auto Racing sprint car in the www.RockAuto.com USCS Victory Lane.
Mallett actually took the lead several times mid-lap and lead the field past the flag stand to receive the white flag . But, Starks who said he was driving as hard as he could go to hold off the Arkansas hot-shoe drove underneath Mallett entering turn one in a group of cars he and Mallett were trying to lap. Mallett then stayed high going into the final two turns and Starks took the low line. A lapped car moved up to avoid Starks and slowed Mallett enough to allow Starks to win the drag race off turn four to the flag stand and claim the win in one of the most exciting finishes in the 22-year history of the series.
Jordon Mallett claimed the runner-up spot, with Kyle Amerson impressing with another solid performance finishing in the K&N Filters Podium Award Third Place. Two-time USCS National Champion, Morgan Turpen from Cordova, Tennessee followed the trio in fourth place. The eleven-time USCS National Champion, Terry Gray from Bartlett, Tennessee rounded out the top five drivers.
Sprint Car Hall of Famer, Danny Smith from Chillicothe, Ohio led the next in sixth pace followed by the evening's USCS Hoosier Tire Speed Dash winner, Brandon Taylor from Cumming, Georgia in seventh. Brian Thomas fom Pendergrass, Georgia finished in eighth place. Lance Moss from Cherryville, North Carolina followed in ninth place and Tony Agin from Ft. Myers, Florida rounded out the top ten.
The 2017 USCS Rookie of the Year, Brandon Taylor won the USCS Hoosier Tire Speed Dash to kick off the action,
Terry Gray won the Engler Machine and Tool First Heat and Trey Starks claim the victory in te Brown and Miller Racing Solutions Second Heat race. Danny Smith claimed the Wilwood Disc Brakes Hard Charger Award for passing the most cars in the main event.
The USCS Outlaw Thunder Tour drivers now move across the state of Georgia to Blue Ridge Motorsports Park in Ble Ridge, Georgia for another USCS Saturday of Speed event at the 1/3 mile facility. For more info on the track please visit www.blueridgemotorsportsark.com For USCS Outlaw Thunder Tour info please visit www.uscsracing.com
The United Sprint Car Series presented by K&N Filters would like to gratefully thank its sponsoring partners for their involvement in the 2018 and 22nd USCS Outlaw Thunder Tour. Those include: K&N Filters, www.rockauto.com,Engler Machine and Tool, FireAde, Arizona Sport Shirts, Butlerbuilt, Wilwood Disc Brakes, Saldana Racing Products, Pyrotect Racing Cells, DMI/Bulldog Rear Ends. PRO Shocks, KSE Racing Products, DHR Suspensions, Schoenfeld Headers, Bell Helmets, DSR Fuel Systems, Brown and Miller Racing and the great people at Hero Graphics.
USCS Outlaw Thunder Tour presented by K&N Filters Sprint Cars at Lavonia Speedway on Friday, June 15, 2018 results:
Engler Machine & Tool First Heat (8 Laps)
1. 10-Terry Gray[1] ; 2. 29-Kyle Amerson[2] ; 3. 10m-Morgan Turpen[4] ; 4. 07-Brandon Taylor[3] ; 5. 4-Danny Smith[5] ; 6. 23-Lance Moss[7] ; 7. 83-Bob Auld[6]
Brown and Miller Racing Solutions Second Heat (8 Laps)
1. 44-Trey Starks[1] ; 2. 14-Jordon Mallett[6] ; 3. 67-Brian Thomas[4] ; 4. 28-Jeff Willingham[2] ; 5. 38-Tony Agin[5] ; 6. 33-Joe Larkin[3]
USCS Hoosier Tire Speed Dash (6 Laps)
1. 07-Brandon Taylor[2] ; 2. 29-Kyle Amerson[4] ; 3. 14-Jordon Mallett[3] ; 4. 10-Terry Gray[5] ; 5. 33-Joe Larkin[1] ; 6. 10m-Morgan Turpen[6]
FireAde USCS A-Main 1 – (25 Laps): 1. 44-Trey Starks[2] ; 2. 14-Jordon Mallett[4] ; 3. 29-Kyle Amerson[1] ; 4. 10m-Morgan Turpen[5] ; 5. 10-Terry Gray[3] ; 6. 4-Danny Smith[9] ; 7. 07-Brandon Taylor[7] ; 8. 67-Brian Thomas[6] ; 9. 23-Lance Moss[11] ; 10. 38-Tony Agin[10] ; 11. 28-Jeff Willingham[8] ; 12. 33-Joe Larkin[12] ; 13. 83-Bob Auld[13]
USCS Sprint Car Series Race Awards:
Hoosier Tire Speed Dash:07t Brandon Taylor
Engler Machine and Tool First Heat: 10 Terry Gray
Brown and Miller Racing Solutions Second Heat: 44 Trey Starks
K&N Filters Pole Award: 29 Kyle Amerson
JE Pistons Top Guns Award: (1st place) 44 Trey Starks
K&N Filters Podium (3rd place) Award: 29 Kyle Amerson
Wilwood Disc Brakes Hard Charger Award: 4 Danny Smith (passed most cars in A-Main)
PRO Shocks Top Five Award: (2nd place) 14 Jordon Mallett
Saldana Racing Products Super Sixth Award:4 Danny Smith
Pyrotect Racing Cells Lucky Seven Award: 07t Brandon Taylor
DHR Suspension 8th place Award: 67 Brian Thomas
DMI/Bulldog Rear Ends Top Ten Award: 38 Tony Agin