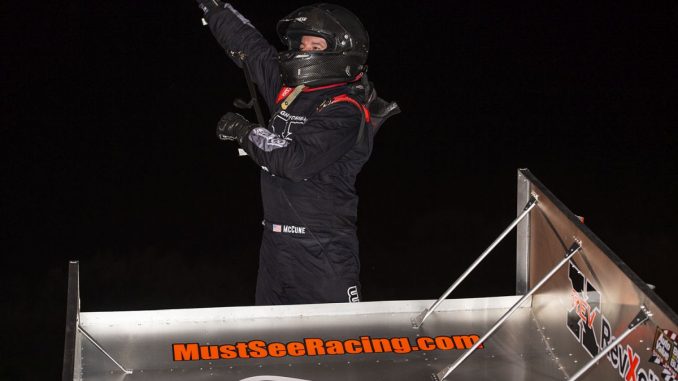 From Jacob Seelman
NEW PHILIDELPHIA, Ohio (July 14, 2018) – For the second year in a row, Jimmy McCune passed his young nephew to win during Saturday night's Must See Racing Sprint Car Series feature at Midvale Speedway.
The elder McCune stormed to the inside in turn two when 20-year-old Anthony McCune got hung up behind the lap car of Joshua Sexton with 13 laps left, taking command of the 40-lap Buckeye State Shootout and never looking back after that.
Not even a late restart was enough to allow Anthony McCune to come back and challenge his uncle for the win, with Jimmy McCune holding on by .481 of a second for his third win in six starts this season.
Saturday night's effort marked Jimmy McCune's 27th career Must See Racing feature victory and his second-consecutive Buckeye State Shootout triumph at Midvale.
After the race, the three-time defending series champion and current points leader had nothing but praise for his nephew, who set fast time in qualifying and appeared to be on his way to his first win.
"He got shot out of a cannon at the start and I got stuck on the outside trying to get by guys, but I just had to be patient and in the end, it came back to us and he got stuck there in traffic," said Jimmy McCune. "He had an awesome race car tonight. I saw him bulldoze his way inside … and I wasn't expecting that. I didn't think we had much for him, honestly.
"The one thing I knew we had in our favor was when I pulled in and saw all the (crate) cars from Lorain (County Speedway); that's when I knew traffic would be a big factor, and it surely was for us tonight," McCune added. "I could see it coming. I hate it for the kid … he was going for his first win and he had a heck of a race car, but sometimes they fall in your lap and this one did tonight."
An inversion roll of 10 put Joe Speakman and Tom Jewell on the front row for the initial start, which saw Speakman struggle to get up to speed and Jewell dart away to a healthy advantage in the opening laps.
Driving out to nearly a two-second margin, the race's first of two caution flags waved on lap six, when Aaron Pierce spun in turn two. Pierce then came around the track and made contact with Ryan Gillenwater during the caution period, resulting in a rough driving penalty and immediate ejection.
Anthony McCune, who drove from 10th on the grid to second before the caution, used an outside-inside sweep to pass Jewell for the lead on the lap seven restart and drove off into the distance as the leaders darted in and out of traffic through the middle stages of the event.
However, as lap traffic became more and more prevalent, Jimmy McCune's No. 88 got larger and larger behind Anthony McCune's leading machine.
Finally, with 13 laps left, the elder McCune made his move to the inside when Anthony was hung on the outside behind Sexton's slower entry. A lap later, the caution flag waved for the final time when fourth-running Jewell and Adam Biltz tangled at the bottom of the second turn.
That set up a restart with 12 to go in which Anthony McCune could stay close to his uncle's back bumper, but couldn't get back alongside him despite getting a few looks in traffic in the final laps.
"Lapped traffic was really going all over the place there in the closing laps, and when you're leading, it's really hard to both predict where they're going to go and then also defend from behind as well," said Anthony McCune. "He had the advantage to see where I was going and made a different move, and it paid off for him. I hate it, but we still had a great night. This was the most fun I've had and the best car I've ever had at a race. We're going to get one of these things soon."
Ike Beasley completed the podium ahead of Ohio veterans Charlie Schultz and Jerry Caryer.
Bronzie Lawson IV, who had to change a radiator and battled torsion bar issues in qualifying, drove from last in the 21-car field to finish seventh, earning hard charger honors for the night after passing 14 cars.
Fourteen-year-old rookie J.J. Henes, son of supermodified ace Jon Henes, finished 11th in his series debut.
The Must See Racing Sprint Car Series returns to action July 27-28 at Wisconsin's Madison Int'l Speedway and Illinois' Rockford Speedway.
RACE RESULTS: Must See Racing Sprint Car Series; Midvale Speedway; July 14, 2018
Fast Qualifier: 8-Anthony McCune, 12.383 seconds (first-career MSR fast time)
Heat Race Winners: Bronzie Lawson IV; Tom Geren; Ike Beasley
Sam Pierce Chevrolet A-Feature (40 laps): 1. Jimmy McCune, 2. Anthony McCune, 3. Ike Beasley, 4. Charlie Schultz, 5. Jerry Caryer, 6. Tom Jewell, 7. Bronzie Lawson IV, 8. Tom Geren, 9. Todd McQuillen, 10. Joshua Sexton, 11. J.J. Henes, 12. Rick Holley, 13. Jim Paller, 14. Anthony Linkenhoker, 15. Tony Grams, 16. Adam Biltz, 17. Tim Henthorne, 18. Kyle Watson, 19. Ryan Gillenwater, 20. Joe Speakman, 21. Aaron Pierce.