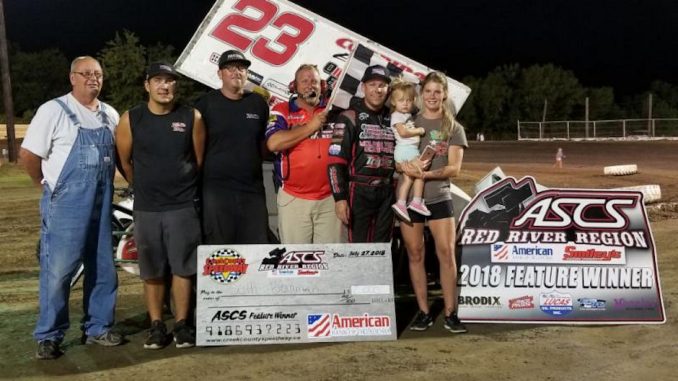 Bryan Hulbert
SAPULPA, Okla. (July 27, 2018) Picking up his eighth career victory with the American Bank of Oklahoma ASCS Red River Region presented by Smiley's Racing Products, Washington's Seth Bergman parked the Oil Field Equipment and Manufacturing No. 23 at Creek County Speedway on Friday night.
Racing hard with Blake Hahn to open the 25 lap Feature Event, the pair made contact racing for the lead just prior the red flying for Alex Sewell who flipped off the top of the first turn on Lap 4. Unable to complete the lap out front, Hahn resumed his chase of the No. 23 only to again have the lights switch before he could make the pass official.
On Bergman for the lead at the race's half-way point, as Seth wrestled with nose-wing damage, the red lights came on once more as Mike Goodman and Kyle Clark tangled off the fourth turn.
Restarting with the slower car of Fred Mattox in the mix, Hahn would have to deal with the back-marker for several laps, allowing Seth to gap the Griffith Truck and Equipment No. 52 by over a second at the checkered flag.
Hahn would hold on to second with Sean McClelland grabbing third after a multi-lap battle with Kyle Bellm. Moving up from 12th, Lance Norick completed the top-five. Zach Chappell crossed sixth with Jake Greider in tow. Moving up from 18th, Tennessee's Brian Bell crossed eighth. Ace McCarthy advanced from 16th to ninth with Bailey Felkins in tenth.
Up next, the American Bank of Oklahoma ASCS Red River Region will take on the ASCS Mid-South Region at I-30 Speedway on Saturday, July 28. Gates open at 5:00 P.M. with racing at 7:30 P.M. (CT).
Admission is $20 for adults with kids 6-12 admitted for only $1. The lineup of classes also includes IMCA Modifieds Super Stocks, Micros, and Powder Puff. I-30 Speedway is located at 12297 I-30 in Little Rock, Ark. For updates and other information, call (501) 455-4567 or log onto 
http://www.i-30speedway.com
.
For other news, notes, and information on the American Sprint Car Series, from the National Tour to any of the Regional Tours that make up the over 150 across the ASCS Nation in 2018, log onto 
http://www.ascsracing.com
, follow on Facebook, on Instagram, and on Twitter (@LucasOilASCS).
Race Results:
ASCS Red River
Creek County Speedway – Sapulpa, Okla.
Friday, July 27, 2018
Smith Titanium Heat 1 (8 Laps): 1. 22-Sean McClelland, [1]; 2. 50Z-Zach Chappell, [3]; 3. 20G-Jake Greider, [2]; 4. 2-Mickey Walker, [6]; 5. 85-Forrest Sutherland, [5]; 6. 5M-Charles McManus, [4]; 7. 24-Justin Dunn, [7]
Lightning Wings Heat 2 (8 Laps): 1. 8-Alex Sewell, [1]; 2. 14K-Kyle Bellm, [2]; 3. 26M-Fred Mattox, [6]; 4. 23-Seth Bergman, [7]; 5. 44-Jared Sewell, [4]; 6. 23B-Brian Bell, [3]; 7. 35-Rick Wright Jr, [5]
Battlestar Performance Heat 3 (8 Laps): 1. 52-Blake Hahn, [1]; 2. 9$-Kyle Clark, [4]; 3. 11G-Mike Goodman, [2]; 4. 90-Lance Norick, [3]; 5. 53-Bailey Felkins, [6]; 6. 29-Ace McCarthy, [5]
Pizza Express of Oklahoma A Feature (25 Laps): 1. 23-Seth Bergman, [1]; 2. 52-Blake Hahn, [3]; 3. 22-Sean McClelland, [2]; 4. 14K-Kyle Bellm, [8]; 5. 90-Lance Norick, [12]; 6. 50Z-Zach Chappell, [4]; 7. 20G-Jake Greider, [10]; 8. 23B-Brian Bell, [18]; 9. 29-Ace McCarthy, [16]; 10. 53-Bailey Felkins, [13]; 11. 44-Jared Sewell, [15]; 12. 85-Forrest Sutherland, [14]; 13. 5M-Charles McManus, [17]; 14. 26M-Fred Mattox, [5]; 15. 9$-Kyle Clark, [7]; 16. 11G-Mike Goodman, [11]; 17. 2-Mickey Walker, [9]; 18. 8-Alex Sewell, [6]; 19. 35-Rick Wright Jr, [20]; 20. 24-Justin Dunn, [19]