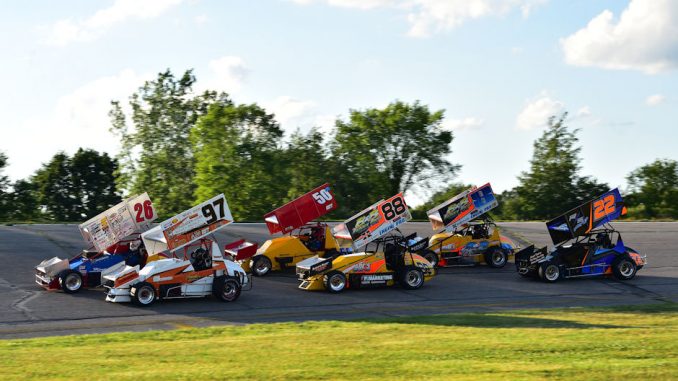 By Jacob Seelman
HOLLY, Mich. – The overarching story of the Must See Racing Sprint Car Series season entering Saturday's Fast Forty at Owosso Speedway can be summarized in one word: parity.
The series has already seen its largest number of different winners since 2014, with five drivers – Jimmy McCune, Bronzie Lawson IV, Aaron Pierce, Brian Gerster and Bobby Santos III – visiting victory lane in the eight races contested so far this year.
Two of those five added their names to the Must See Racing record books for the first time, with Lawson topping the series at Hickory (N.C.) Motor Speedway in April and Santos winning at Madison (Wis.) Int'l Speedway less than a week ago, marking the first new winners in the series since the 2016 season.
And if all that weren't enough, Charlie Schultz nearly scored his first series win last Saturday at Rockford (Ill.) Speedway, while young gun Anthony McCune and veteran Tom Jewell have both knocked on the door to victory lane at various points during the year as well.
Each of those factors together adds up to what might be the most hotly-contested visit to the three-eighths-mile Michigan oval in series history, with the ninth race of the Must See Racing season set for Aug. 4 and a myriad of potential outcomes in play.
Schultz will be looking for revenge after being passed for the win by Jimmy McCune with two laps to go at Rockford, while the three-time defending series champion and points leader has already been victorious four times this year and hopes to score his third Owosso win in the last four races.
Both veterans will have to overcome a loaded field in order to hoist the trophy, however, with former Owosso winner Jason Blonde, Anthony McCune, Jewell, National Sprint Car Hall of Famer Jeff Bloom and fellow Must See Racing regulars Jerry Caryer and Adam Biltz all rejoining the battle as well.
Perhaps the best description of the Must See Racing parity this season came from Rockford Speedway general manager David Deery following the tour's most recent event on July 28.
In that race, the top-four drivers spent the last 15 laps jockeying for position around the quarter-mile bullring while navigating slower traffic, all while separated by just more than one second.
The race may have featured a slightly lower-than-average car count compared to the rest of the season, but it didn't matter at that juncture, Deery noted. What mattered was the close competition out front.
"The fun part for the fans at Rockford was that the Must See guys were doing 12-second laps, so that made it even more exciting," Deery said. "I told (series president) Jim (Hanks) before the weekend that really, all we needed was about six good cars and we were going to have a hell of a show. As the crowd saw Saturday, it didn't take much to accomplish exactly that.
"When you have the talented drivers that Must See Racing brings racing within inches of one another and putting on that kind of a show, that's the thing people remember and I think that's what has made the series' season this year so memorable up to this point."
Saturday's Must See Racing event is part of Owosso Speedway's Open Wheel Mania event, with the Illini Midgets joining 'The World's Fastest Short Track Cars' on the four-division card.
Pit gates open at noon, with hot laps kicking off at 2 p.m., qualifying taking the green flag at 5 p.m. and racing beginning at 7 p.m.
For more information on the Must See Racing Sprint Car Series, visit www.mustseeracing.com.