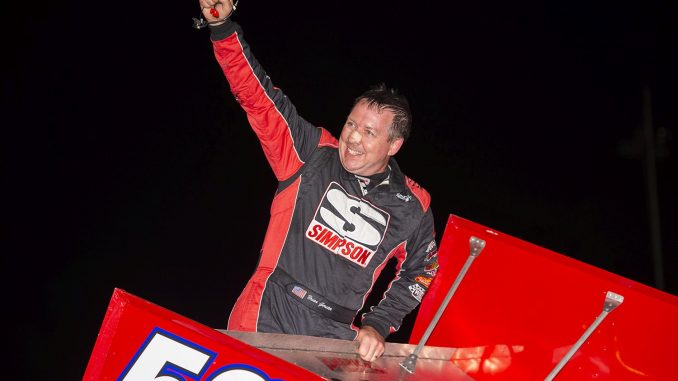 From Jacob Seelman
OVID, Mi. (August 4, 2018) — Brian Gerster was the fourth and final leader in a barnburner Must See Racing Sprint Car Series feature on Saturday night, holding off archrival Jimmy McCune to win the Laura Devlin Memorial Fast Forty at Owosso Speedway.
Gerster, who set fast time in qualifying, had to start 10th on the grid after the inversion but powered through traffic to take the lead by lap eight. He then held off a hard-charging McCune, who came from last after spinning on the initial start, in the final laps to secure his second series win of the season.
An exuberant victory lane celebration – completed with a wing dance by the Fishers, Ind., driver and two-time series champion – capped off Gerster's 21st career Must See Racing victory.
"We came up on some lapped traffic right at the end, and to be honest I was probably trying to run the car a little bit too hard," Gerster said. "We were getting a little bit free … so much so that I drove off the end of the backstraightaway one lap. I knew the 88 (Jimmy McCune) would be coming. I'm not a fan of moving the lapped cars to the rear (on restarts), but we were able to nail the restart and pull away.
"The McCunes have been faster than we have been the last half a dozen times we've run here, so we came in here trying not to get our butts kicked and to come away with a trophy feels really good."
Saturday also marked the eighth consecutive season that Gerster has won multiple Must See Racing features.
"That's something that's a really big deal to us," noted Gerster. "It's nice to keep the streak alive and keep pushing that mark forward. It's hard to do in this field and to accomplish that means a lot."
Following the inversion roll, Adam Biltz and Tom Jewell led the field to the green flag, but contact off turn two back in the field sent McCune spinning to the bottom of the second turn and turned the caution lights on almost instantly.
The incident set up a complete restart, with Biltz nailing the start and leading the first lap of his Must See Racing career before giving way to Jewell on the second revolution. Jewell then paced the next two circuits before Biltz's teammate, Charlie Schultz, charged to the inside of turn four to assume command on lap four.
By that point, Gerster had worked his way up to fourth, quickly dispatching Jewell and Ike Beasley on the next two laps before setting his sights on Schultz for the top spot.
It only took one more rotation before Gerster was on Schultz's tail tank and the eighth time by the flagstand, he was inside Schultz's No. 9s and edging ahead at the start/finish line to take the point.
After that, Gerster led the final 43 laps en route to victory, though it wasn't without challenge in the final laps.
McCune got to second in 15 laps, but couldn't erase a three-second deficit to Gerster until a caution for a slowing Jeff Bloom with 17 to go gave the three-time defending series champion new life.
The ensuing restart put McCune on Gerster's tail tank, but even still, it wasn't until inside of five laps to go that McCune was able to pounce and close in on the 'Mopar Missile'.
As Gerster got swallowed up in slower traffic, McCune was able to cut a second and a half gap down into car lengths at the white flag, making one last-ditch effort in turn three coming to the finish line but falling .215 of a second short in the end.
"I don't know if he heard me or saw me, but he was running the high line and I was down low … and he just did what he had to do and cut my pursuit off coming off (turn) four," lamented McCune. "Maybe if we'd had another couple of laps we could have gotten him, but I'm just disappointed that we had such a good start, only to have it wiped out by getting turned around there. Just didn't have enough tonight."
Twenty-year-old Anthony McCune completed the podium in third after making contact with the wall on lap two and having to rally from as low as 10th. Jason Blonde and Ike Beasley were fourth and fifth.
Schultz, Doug Dietsch, Jerry Caryer, Jewell and Biltz completed the top 10 at the finish.
Gerster became the seventh different fast qualifier in nine races during time trials at the start of the night, earning his 27th career fast time with a lap of 13.439 seconds (100.454 mph) around the three-eighths-mile oval. Jewell and Anthony McCune won their respective heat races.
The Must See Racing Sprint Car Series returns to action on Aug. 11 with the Must See Racing 50 from Indiana's Anderson Speedway. Jimmy McCune is the defending event winner.
RACE RESULTS: Must See Racing Sprint Car Series; Owosso Speedway; Aug. 4, 2018
1-800-RADIATOR/Laura Devlin Memorial A-Feature (40 laps): 1. #50m – Brian Gerster [10]; 2. #88 – Jimmy McCune [9]; 3. #8 – Anthony McCune [8]; 4. #42 – Jason Blonde [7]; 5. #97 – Ike Beasley [6]; 6. #9s – Charlie Schultz [4]; 7. #0 – Doug Dietsch [11]; 8. #75c – Jerry Caryer [3]; 9. #7 – Tom Jewell [2]; 10. #8a – Adam Biltz [1]; 11. #5 – Don Dietsch [13]; 12. #11 – Tom Geren [12]; 13. #26b – Jeff Bloom [5].
Lap Leader(s): Biltz 1, Jewell 2-3, Schultz 4-7, Gerster 8-50.
Hard Charger: #50m – Brian Gerster (+9)
Hamilton Trucking Time Trials (best of two laps): 1. #50m – Brian Gerster, 13.439; 2. #88 – Jimmy McCune, 13.449; 3. #8 – Anthony McCune, 13.467; 4. #42 – Jason Blonde, 14.595; 5. #97 – Ike Beasley, 13.618; 6. #26b – Jeff Bloom, 13.721; 7. #9s – Charlie Schultz, 13.740; 8. #75c – Jerry Caryer, 13.979; 9. #7 – Tom Jewell, 14.011; 10. #8a – Adam Biltz, 14.227; 11. #0 – Doug Dietsch, 14.326; 12. #11 – Tom Geren, 14.749; 13. #5 – Don Dietsch, 14.923.
Abe's Auto Parts Heat #1 (8 laps): 1. Tom Jewell, 2. Charlie Schultz, 3. Jerry Caryer, 4. Doug Dietsch, 5. Adam Biltz, 6. Don Dietsch, 7. Tom Geren.
Abe's Auto Parts Heat #2 (8 laps): 1. Anthony McCune, 2. Jimmy McCune, 3. Brian Gerster, 4. Ike Beasley, 5. Jason Blonde, 6. Jeff Bloom.