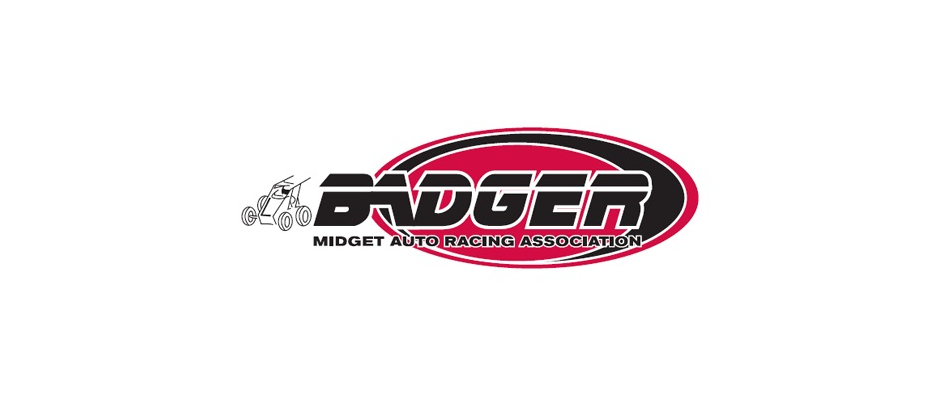 By Bryan Gapinski
Sun Prairie, Wis., Aug. 12- Tyler Baran and Davey Ray won the 20-lap Zimbrick Chevrolet of Sun Prairie Badger Midget Racing Series features Sunday Night at Angell Park Speedway. The event was co-sanctioned with the POWRi Lucas Oil Regional Midget Series. It marked the first time since 1982 and just the eleventh time in track history that twin midget features were run on the same night.
The first feature was the make-up feature for last week's rain shortened Aug. 5 event. On the start Kevin Olson slowed on the backstretch, bringing out the caution as the field attempted to slow down, series points leader Scott Hatton made contact with a slowing car, hitting the frontstretch wall, flipping several times, escaping injury. Olson restarted, Hatton was scored with a 19th place finish.
Polesitter Jordan Mattson jumped into an early lead and increased the advantage each lap over Mitchell Davis and Andy Baugh. Baran who started in 11th position, was running in fourth place, when the caution appeared for a stalled car on Lap 7.
On the restart Davis challenged Mattson for the lead, taking the top position exiting Turn 2, on the ninth circuit. Three laps later a caution appeared for a spun car, bunching up the field. Baran passed Mattson for second one lap after the restart, and then took the lead the next lap.
Baran driving his Boss/Chevrolet No. 11 finished three car-lengths ahead of Davis, followed by Zach Boden, Ryan Probst, and Olson. "What a great start tonight to win here at Angell Park is remarkable. Hopefully my fast time for the second feature, allows me to work through the field again and get the bonus" commented Baran afterwards.
The regular scheduled Aug. 12 feature saw Boden take the lead at the start over polesitter Mattson. A four-car accident slowed the event on Lap 4. Mattson passed Boden for the lead on the sixth lap. The flowing lap Mattson suffered engine problems resulting in a major fire, causing him to stop.
On the restart Andy Baugh assumed the lead, followed by Ray who started seventh in the event and Boden. Ray took the lead before the lap was complete and held a near-two second lead at the events halfway point. Ray spent the next several laps in heavy lapped traffic. Hatton took the over second place with six laps remaining, but failed to narrow Ray's advantage.
Ray driving the Mark Ray owned DRC/Honda No. 3 finished 3.80 seconds ahead of Hatton. Baugh, Boden and Davis completed the top five.
Ray kept his "perfect record" for the season intact, having now won all four series feature starts, including three at Angell Park.
Baran who was eligible for the Advance Fastening Supply Award, a $1,000 bonus the driver who wins both features, retired with engine problems during the Lap 7 caution period. The bonus money was then split equally among all feature starters from the first feature.
Hatton holds a 114-point lead over Ryan Probst heading into the Aug. 18-19 doubleheader weekend at Sycamore (Ill.) Speedway on Saturday night, and on Sunday Badger joins the Lucas Oil POWRi National Midget League for the Miller Lite Cornfest Midget Classic at Angell Park.
SUMMARY
August 5 program
20-lap Feature: 1. Tyler Baran; 2. Mitchell Davis; 3. Zach Boden; 4. Ryan Probst; 5. Kevin Olson; 6. Kyle Brinkman; 7. Jordan Mattson; 8. Kurt Mayhew; 9. Mike Stroik; 10. Brad Weber; 11. Denny Smith; 12. Jake Goeglein; 13. Harrison Kleven; 14. Kyle Kock; 15. Joe Ebben; 16. Andy Baugh; 17. Brian Peterson; 18. Pat Hensen; 19. Scott Hatton; 20. Tristan Koenings; 21. Chase McDermond.
8-lap Engler Machine Heat Race Winner: Weber.
8-lap DMI Heat Race Winner: Mattson.
8-lap Industrial Truck Repair Heat Race Winner: Olson.
Fast Time: Hatton, 14.965 seconds.
Cars Present: 21 Feature Lap Leaders: Mattson 1-9, Davis 10-14, Baran 15-20.
August 12 program
20-lap Feature: 1. Davey Ray; 2. Scott Hatton; 3. Andy Baugh; 4. Zach Boden; 5. Mitchell Davis; 6. Chase McDermond; 7. Brian Peterson; 8. Ryan Probst; 9. Kevin Olson; 10. Kurt Mayhew; 11. Kyle Koch; 12. Aaron Muhle; 13. Kevin Douglas; 14. Tristan Koenings; 15. Kyle Brinkman; 16. Harrison Kleven; 17. Joe Ebben; 18. Denny Smith; 19. Eric Reibenstein; 20. Pat Hensen; 21. Jake Goeglein; 22. Jordan Mattson; 23. Tyler Baran; 24. Mike Stroik.
8-lap Engler Machine Heat Race Winner: Smith.
8-lap DMI Heat Race Winner: Probst.
8-lap Super Shox Heat Race Winner: McDermond.
Fast Time: Baran, 15.001 seconds.
Cars Present: 24 Feature Lap Leaders: Boden 1-5, Mattson 6-7, Ray 8-20.
Current Badger Midget Series Points: 1. Scott Hatton 1110; 2. Ryan Probst 996; 3. Tyler Baran 973; 4. Kevin Olson 967; 5. Zach Boden 836; 6. Chase McDermond 824; 7. Kurt Mayhew 594; 8. Mike Stroik 519; 9. Andrew Felker 506; 10. Mitchell Davis 496.
RACE NOTES
—Advance Race Suspensions Hard Charger Award winners were: Baran (Aug. 5 feature: 10 positions) and Chase McDermand (Aug. 12 feature: 16 positions).
—Howard Law Cash Draw, a bonus for a randomly selected feature finishing position winners were: Joe Ebben (Aug. 5 feature), and Kyle Brinkman (Aug. 12).
—Aaron Muhle (12th place feature finisher-Aug. 12), and Kevin Douglas (13rd), made their midget racing debut at the event. Douglas also finished second in his heat race.
—Denny Smith's heat race first was his first career preliminary race win at Angell Park.
—Remaining Angell Park events for the season are: Aug. 19, and Sep. 2