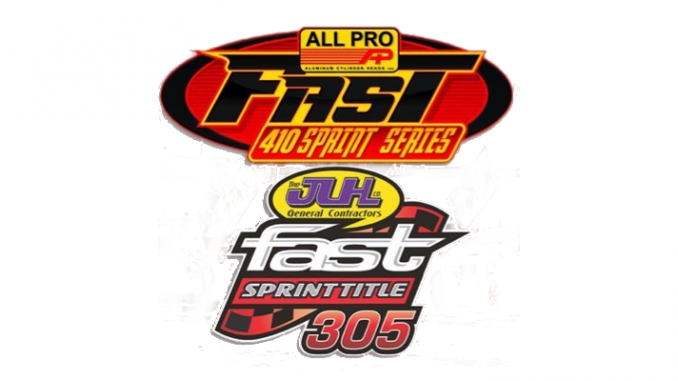 By Brian Liskai
FREMONT, Ohio – After a big night of racing Saturday, Aug. 11, the points battles for both the All Pro Aluminum Cylinder Heads FAST 410 Championship Series Presented by Ohio Logistics and JLH General Contractor FAST 305 Championship Series Presented by Engine Pro saw movement in the top 10 as the season starts to wind down.
The FAST 410 series has only four more events while the FAST 305 series has just three events remaining. The FAST 410 and 305 sprints will be in competition Friday, Aug. 17 at Attica Raceway Park in Attica, Ohio, the final race for the series there this season. The FAST 410 sprints are scheduled to make their first ever visit to Sharon Speedway in Hartford, Ohio Saturday, Aug. 18. The previous FAST event at Sharon was rained out in May.
Both FAST 410 features this weekend will pay the winner $3,000. While Attica has been off the past two weeks for the Attica Fair, Sharon Speedway featured 410 sprint cars Saturday, Aug. 11 and hall-of-fame driver Dale Blaney scored the hometown win.
Friday at Attica Raceway Park gates open at 5 p.m. with racing underway at 7:45 p.m. For more information go to www.atticaracewaypark.com.
Saturday at Sharon Speedway pit gates open at 4 p.m. with general admission gates at 5 p.m. and racing starting at 7 p.m. For more information go to www.sharonspeedway.com
"We're getting down to the championship push and things are getting very interesting. We are looking forward to taking on the tough Western Pennsylvania teams at Sharon Saturday and our 305 teams will get to experience the tradition of racing during the Sandusky County Fair. There's still some very entertaining racing coming up for the FAST teams," said Rich Farmer, FAST Promoter.
This past Saturday, Aug. 18, saw Republic, Ohio's Cap Henry score the $20,000 FAST 410 victory during the Second Annual Great Lakes Dirt Nationals at Mansfield Motor Speedway in Mansfield, Ohio. Henry's third FAST win of the year moved him to with 175 points of Craig Mintz. Mintz, a two time FAST champion, had mechanical issues at Mansfield and salvaged a 13th place finish. Mintz has four series' wins in 2018, all at Fremont Speedway.
Former FAST 305 champion Stuart Brubaker, who has a series' victory at Attica Raceway Park, remains second in the points only 106 markers behind Mintz. 2017 Attica Raceway Park champion Chris Andrews is fourth in the FAST points with two series' wins at Fremont Speedway. Tyler Gunn rounds out the top five in the standings.
Sixth through 10th in FAST points are defending series' champion D.J. Foos; former rookie of the year Jess Stiger; current rookie of the year contender Kelsey Ivy; Duane Zablocki and T.J. Michael. Four time series champion Byron Reed is 11th.
In the JLH General Contractor FAST 305 Championship Series Presented by Engine Pro, Fremont, Ohio's Jamie Miller holds a 127 point lead over John Ivy in the standings. Miller has 10 overall wins in 2018 including six FAST victories. Ivy has a series' win at Waynesfield Raceway Park. Tyler Street's first ever sprint car win at Mansfield on Saturday vaulted him into third in the FAST standings, 208 markers behind Miller.
Kyle Peters has put together an outstanding campaign in 2018 and sits fourth in the FAST standings while Brandon Moore rounds out the top five. Sixth through 10 are Seth Schneider; 2015 FAST champion Bobby Clark who has a series' win at Fremont Speedway; Kyle Capodice; Matt Lucius and Paul Weaver, who has won the last two FAST championships and has two series' wins at Attica Raceway Park.
The FAST 305 teams will help open the Sandusky County Fair at Fremont Speedway on Tuesday, Aug. 21 with a special purse in the making.
About the FAST Championship Series:
The FAST Series was started as a way to promote the great racing fans have enjoyed in Northwest/North Central Ohio at Attica Raceway Park and Fremont Speedway – thus the FAST acronym stood for Fremont Attica Sprint Title. Over the past couple of years the series has expanded to include other tracks and is now known as simply the FAST Championship Series.
Those who are seeking additional information regarding the 2018 All Pro Aluminum Cylinder Heads FAST Series presented by Ohio Logistics, or the 2018 JLH General Contractors FAST '305' Series presented by Engine Pro, can do so by logging on to the official online home of the FAST Series at www.fastondirt.com. Be sure to stay updated on everything FAST related and 'Like' FAST on Facebook at fb.com/fastondirt and follow FAST on Twitter at @FASTseries.
FAST On Dirt, Inc. would like to thank the following contributors to the 2018 FAST Series point fund: All Pro Aluminum Cylinder Heads, Ohio Logistics, JLH General Contractors, Engine Pro, Kistler Racing Products, Engler Machine & Tool, CP-Carillo Pistons, Design Graphics Group Inc., SCS Gearbox, Reebar Die Casting, Hoseheads.com, Level Performance, Young's RV Centers, Gressman Powersports, Hoserville Ohio, Jon Wright's Custom Chrome Plating, Fremont Fence, Baumann Auto Group, Fricker's, Goofy Golf, NAPA Auto Parts, Hoosier Tire, UNOH, Welty Financial Services, EZ Shop, US Army, Weld Racing Wheels, Joe and Fran Darmofal and the Pub 400 of Fremont.
About All Pro Aluminum Cylinder Heads – www.allproheads.com
All Pro Aluminum Cylinder Heads is the industry leader in small block Chevy aluminum cylinder heads as well as the new generation 3 and Mopar W9RP heads. All Pro caters to the hard core racer always looking for the perfect design for a specific application. Whether it's sprints, super late models, drag racing, off-road, marine or road racing, you can't on All Pro.
About JLH General Contractor:
Based in Fremont, Ohio and owned by long-time racing supporter Jon Horn, The JLH Co. LLC is your one-stop for custom home remodeling, plaster restoration, and drywall installation services. Their dedicated craftsmen will help you build the home you want out of the house you have. You can also trust JLH for construction services, including garages and pole barns. JLH also provides custom siding, roofing and window installation. For more information call Jon Horn at 419-559-9449.
About Ohio Logistics – www.ohiologistics.com
Headquartered in Findlay, Ohio, Ohio Logistics provides all the assets and operational support necessary to meet your most sophisticated logistical requirements. The company's story is one of very impressive growth. Started in June of 1988, Findlay's Tall Timbers Distribution Center, Inc. opened in the General Purpose Foreign Trade Zone #151 in the Tall Timbers Business Park. By 1996 the company had grown to 5 locations in 3 States and started doing business as Ohio Logistics. Currently Ohio Logistics is in 18 locations in 6 states operating over 6,000,000 square feet. Built on a sound financial base, Ohio Logistics will strive to exceed your expectations regarding your leasing and supply-chain management needs.
About Engine Pro
Engine Parts Group, Inc., the parent of Engine Pro, was founded in 1989 by independent engine parts distributors looking for a way to work cooperatively in buying and marketing. Today it functions as both a distribution network for brand name internal engine parts and as a specialty engine parts producer, marketing under the Engine Pro name. Engine Pro sells exclusively to engine builders, machine shops and jobbers. As part of our tradition of specializing in distributing engine parts to engine professionals, Engine Parts Group now serves more than 12,000 customers from 36 distribution centers. Engine Pro produces high performance engine parts and the line continues to grow with the frequent addition of new parts and applications. Engine Pro brand products are designed to offer the highest quality in high performance parts along with a moderate price to give racers and performance engine builders a more affordable way to do what they do best—win races. Find the nearest Engine pro distributor at enginepro.com
All Pro Aluminum Cylinder Heads FAST 410 Championship Series Presented by Ohio Logistics Points:
1. Craig Mintz, 2637 pts.
2. Stuart Brubaker -106
3. Cap Henry -130
4. Chris Andrews -175
5. Tyler Gunn -207
6. DJ Foos -315
7. Jess Stiger -433
8. Kelsey Ivy -564
9. Duane Zablocki -583
10. T.J. Michael -627
FAST 410 winners 2018
April 21, Fremont Speedway – Craig Mintz
May 4, Attica Raceway Park – Byron Reed
May 5, Fremont Speedway – Craig Mintz (2)
May 18, Attica Raceway Park – Stuart Brubaker
May 25, Fremont Speedway – Craig Mintz (3)
June 1, Attica Raceway Park – Cap Henry
June 2, Fremont Speedway – Craig Mintz (4)
June 29, Attica Raceway Park – Broc Martin
June 30, Fremont Speedway – Chris Andrews
July 3, Waynesfield Raceway Park – Cale Conley
July 7, Fremont Speedway – Chris Andrews (2)
July 27, Attica Raceway Park – Travis Philo
Aug. 4, Fremont Speedway – Cap Henry (2)
Aug. 11, Mansfield Motor Speedway – Cap Henry (3)
JLH General Contractor FAST 305 Championship Series Presented by Engine Pro Points
1. Jamie Miller, 3004 pts.
2. John Ivy – 127 pts.
3. Tyler Street – 208pts.
4. Kyle Peters – 231 pts.
5. Brandon Moore – 235 pts.
6. Seth Schneider -314
7. Bobby Clark -352
8. Kyle Capodice -418
9. Matt Lucius -667
10. Paul Weaver -1627
FAST 305 winners in 2018
May 4, Attica Raceway Park – Dustin Stroup
May 5, Fremont Speedway – Bobby Clark
May 18, Attica Raceway Park – Paul Weaver
May 26, Fremont Speedway – Steve Rando
June 15, Limaland Motorsports Park – Jamie Miller
June 16, Fremont Speedway – Jamie Miller (2)
June 29, Attica Raceway Park – Jamie Miller (3)
June 30, Fremont Speedway – Jamie Miller (4)
July 3, Waynesfield Raceway Park – John Ivy
July 6, Attica Raceway Park – Dustin Stroup (2)
July 13, Limaland Motorsports Park – Alvin Roepke
July 27, Attica Raceway Park – Paul Weaver (2)
July 28, Fremont Speedway – Jamie Miller (5)
Aug. 3, Limaland Motorsports Park – Jamie Miller (6)
Aug. 11, Mansfield Motor Speedway – Tyler Street