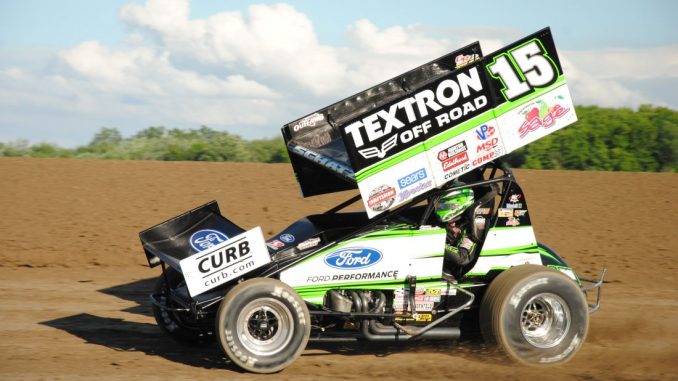 By T.J. Buffenbarger
With rain claiming all the races in the area I was relegated to DIRTVIsion coverage in my office tonight. While more efficient it is not a proper replacement for being at the race track. All things considered though it's amazing how much easier it makes my job as a writer to have alternatives when all the nearby options are washed out. Here are my five takeaways from Friday night's World of Outlaws program at River Cities Speedway.
I've known several drivers over the years that get nervous or uptight about racing close to home and their performance reflects that. Donny Schatz is not one of those people. Schatz visited victory lane at the River Cities Speedway, located in his home state of North Dakota, for the 11th time in his career. To top it off Schatz also won the NLRA Late Model feature. The late model/sprint car feature sweep is something Schatz has now accomplished multiple times in his career.

Oddly enough Schatz's victory was his first in World of Outlaws competition since the Kings Royal on July 14th. While picking up on that number before the Knoxville Nationals realistically I figured it would be short lived either at or shortly after Knoxville. Even with the dry spell Saturday's win was Schatz's 16th of the 2018 season.
Mark Dobmeier's late race surge had the crowd excited for the single file restart with four laps to go in second place behind Schatz. Dobmeier, who regularly dominates NOSA Sprint Car competition at River Cities, had to use up his tires to race up from 17th starting position to second and didn't have enough left to challenge Schatz for the win. Drivers like Dobmeier being competitive with the World of Outlaws is awesome to see in this modern era where virtually every region has a driver or two that can make a decent showing with the Greatest Show on Dirt.
Brad Sweet lost ground to Schatz in the World of Outlaws point standings, but the night could have been worse as Sweet spun while racing Schatz for the lead. Sweet caught a break with multiple caution and red flags for cars in front of him. Sweet utilized the positions gained under caution and double file restarts to claw his way back to the top five. Over the past couple of months Brad Sweet and the Kasey Kahne Racing 49 team have really hit on something and will be fun to watch down the stretch.
Any sprint car track or series is prone to have nights where multiple cautions and red flags can impact the feature. Grand Forks was no exception to this rule. It still amazes me how often the World of Outlaws can have a feature with those type cautions and reds and by the end you have a good race for the lead and often someone charging from the back making their way to the front. While I wasn't in favor of the double file restarts with the Outlaws when the rule was first instituted, years late I can't deny how intriguing it makes the restarts through the mid to late portions of feature events.