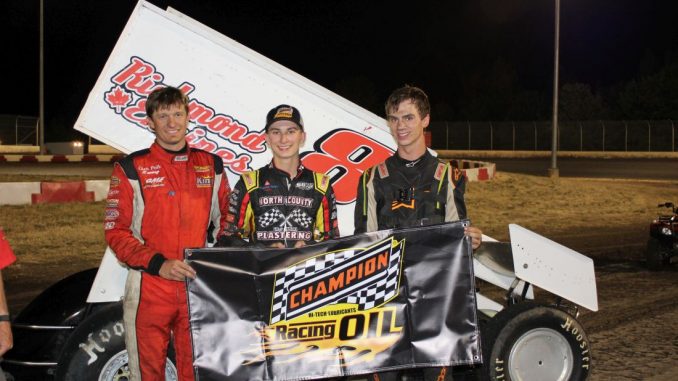 By T.J. Buffenbarger
Sprint car fans in Ohio have witnessed several budding sprint car stars from the west coast start their assent in their home state. From Jeff Gordon and Kasey Kahne through the 80's and late 90's to recently Carson Macedo have all spent time during the early part of their careers in the Buckeye State. 16-year-old Michael "Buddy" Kofoid hopes to be the next up and coming driver from west coast to make his mark in Ohio.
"I'm really looking forward to it," Kofoid said about his trip to Ohio. "This is my first trip to the Midwest. It's one of the things I wanted to do for the longest time racing sprint cars."
Kofoid from Pengrove, California will take the wheel of the Ed Neumeister Racing #11N car Friday and Saturday at Attica Raceway Park and Wayne County Speedway. The combination came together from the urging of Kofoid's fellow California driver and friend Carson Macedo.
Macedo went to bat for Kofoid and was relentless suggesting to Neumeister to give him a chance. With D.J. Netto scaling back his schedule in Ohio because of his family's business created an opening for Kofoid to drive the car this weekend.
"It's been a while putting it together. I'm just glad it finally worked out," said Kofoid from his home in California. "I've been trying to get out (to Ohio) for a while and Carson has kind of helped point me in the right direction with some people. Ed Neumeister was one of them. I just started talking to him and Mike Linder with the team. With the help of Carson persuading them to get me in the car and giving me a shot and talking with Mike more often we kind of built a relationship, so we tried to nail down a time."
Coming off a strong weekend at the Gold Cup race in Edmonton, Alberta Canada driving for Doug Rutz, Kofoid comes into the fold with Neumeister and the Linder's which has a similar family atmosphere to the team.
"I'm just pumped talking to Mike (Linder)," said Kofoid. "He seems like a great guy and reading all this stuff and I know the entire package is really good."
When he went to Macedo for advice on his first visit he came away with some similarities to draw from.
"I asked what he thought of Attica and Wayne County and he thought they were the two best tracks we could go to and thinks we should be good Hopefully he's right and we can have some good runs," said I've heard some people say Wayne County kind of races like Tulare (Thunderbowl Raceway), which is one of our more popular tracks. Kind of gets up on the fence, long straightaways, and fast. Just how Wayne County and Attica and like what we have out here."
For Kofoid racing frequently in the Midwest is a long-term goal, maybe as soon as next season.
I'd love to race out there full-time next year," said Kofoid. "We just have to see what we have going. Its tough because it's takes a lot of money, we're not a family that has that kind of money, so I'd like to find a good ride and just race out there and try to make something happen for next summer."
Being his first visit to Ohio Kofoid has realistic expectations for this weekend. At the same time he realizes this could be a potential audition for Neumiester or another team that could be watching.
"I expect to have a couple of good runs, two great days of racing together. I'd love to win, but I know there are good drivers out there. If we can have two good days hopefully it can build a bigger relationship with them."
Notes:
It's Kokomo Sprint Car Smack Down with four of the biggest days in non-wing sprint car racing. The 2018 edition of the Smack Down has an added twist with the Buckeye Outlaw Sprint Series added to the finale as a complete program for drivers not participating in the event. This should give fans more value on Saturday, but I'd still like to see the event grow from a purse and car count standpoint that it becomes the "Knoxville Nationals" of the non-wing world.
It was incredible to see a "juiced up" race track for the USAC Silver Crown Cars at the Illinois State Fairgrounds. With over 40 entries social media was buzzing on Saturday morning about the Silver Crown cars at Springfield. I intended on listening to the live audio broadcast on the USAC app for a few laps and ended up listening to the entire race! Kudos to Levi Jones and the rest of the team at USAC to leave well enough alone with the Silver Crown series in recent years, allowing it to grow again.
Now a week and a half removed from Brad Sweet's victory at the Knoxville Nationals it appears Sweet wants to keep the party going. After boosting the purse for the makeup date of the 49er Gold Rush Classic he promotes at Placerville Speedway, now Sweet has added a pre-race party to the mix featuring Tim Dugger on September 11th at the El Dorado County Fairgrounds. In addition, there will be a hauler parade through Placerville adding to the festivities. Find out more information at https://www.facebook.com/bradsweetpromotions/
If you are looking for a race with an old school feel Fremont Speedway it is putting on their "fair race" featuring 305 sprint cars held during the Sandusky County Fair. The Northern Ohio 305 sprint car scene has some of the best young and veteran talent highlighted in their featured event for the 2018 season at Fremont.