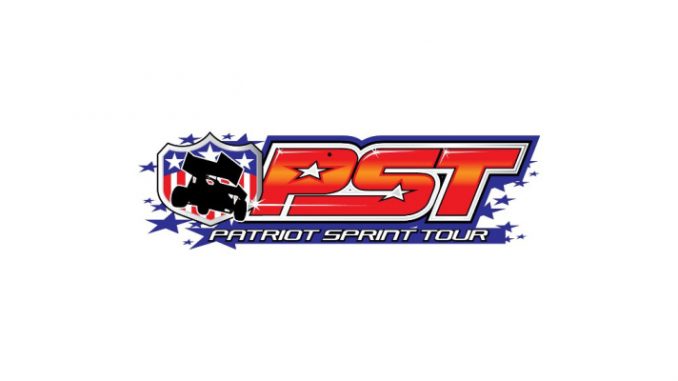 By Curtis Berleue
With just a handful of events remaining on the schedule in 2018 for the A-Verdi Storage Containers Patriot Sprint Tour, the points battle is far from over. Chuck Hebing, a two-time PST champion (2006, 2007), sits once again at the top of the standings with 1085 points over Jordan Thomas, who has 1009 points.
Thus far in 2018, Hebing has ended up in victory lane four times out of 8 full point events, and has finished on the podium a total of 6 times. His closest competitor, Jordan Thomas, has one win to his credit and has consistently finished inside of the top 10 for the majority of the season.
Sitting third in the standings with 920 points is Kyle Drum. While he has yet to park it in victory lane in 2018, Drum had a runner-up finish at the Ransomville Speedway back in June and other strong runs have helped him climb to third in the standings after getting off to a slow start to the season with a 17th place finish at the Land of Legends Raceway in Canandaigua, NY in the season opener on May 5th.
Pete Richardson is having a career year so far in 2018, currently sitting in fourth place with 866 points. In the past two seasons, Richardson has finished 11th and 16th in the final standings. He holds a slim 12-point margin over young gun Paulie Colagiovanni, who is currently in 5th with 854 points. Though he has also not made it to victory lane yet in 2018, Colagiovanni has two podium finishes, and is inching ever closer to his first career PST victory.
The battle towards the top of the standings will continue this coming weekend as two rained-out events will be made up. First up is Outlaw Speedway in Dundee, NY on Friday night and then the tour move on to Woodhull Raceway in Woodhull, NY on Saturday evening. Previous winners at Outlaw Speedway this year have been Matt Tanner and Chuck Hebing with preliminary night wins during the Outlaw Summer Nationals, and Danny Varin who took home the $6,000 Outlaw Summer Nationals finale. Mother Nature has been undefeated in Patriot Sprint Tour competition at Woodhull Raceway in 2018, as three previous attempts have all fallen to poor weather and lousy forecasts.
For more information on this weekends events, be sure to check out www.PatriotSprintTour.com, www.OutlawSpeedwayLLC.com, and www.WoodhullRaceway.com along with 'liking' Patriot Sprint Tour on Facebook and following '@PatriotSprints' on Twitter and Instagram.
The Patriot Sprint Tour recognizes the following marketing partners for the 2018 season: A-Verdi Storage Containers, Hoosier Racing Tires, Prestige Pool & Spa, Einstein Construction Group, Bonnell's Rod Shop, Fine Touch Collision, Mike Emhof Motorsports Inc., Super Gen Products with Champion Power Equipment, Patriot Tank Lines, Danny Willmes Enterprises, Casey's Truck Salvage, Just Signs & Designs, Brodix Cylinder Heads, Sunoco Race Fuels, Insinger Performance, Shuttleworth Asphalt Sealing, ASI Racewear and CBP Media.