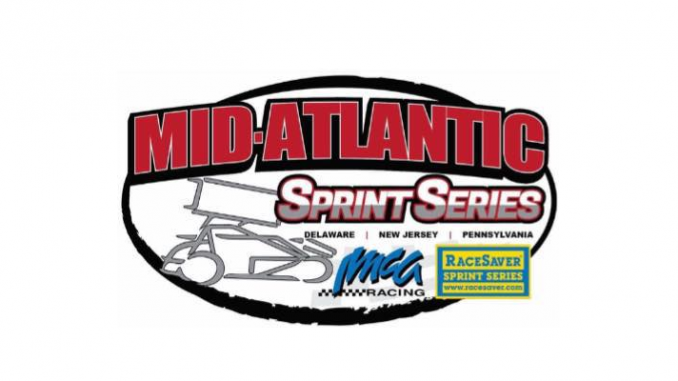 From Ernie Saxton
BECHTELSVILLE, Pa. (September 14, 2018) – NASCAR T.P.Trailers 358 Modified regular Kevin Hirthler, who started from fourth-place by luck of the draw for the 26-car starting field aboard his self-owned No. 117 Crate powered Sportsman entry, took the lead on Lap 7 from Ken Eckert Jr. and raced off with a dominating performance to capture the checkered flag in the fifth annual Freedom 38'er Friday night at Grandview Speedway in Bechtelsville, PA.
The Boyertown, PA based driver lapped up to the eleventh-place finisher and won the non-stop 38-lapper by a full straightaway in a time of 10:11.28, taking home $1,500 for his efforts.
Hirthler became the fifth different winner in the 5-years, now, that the event has been raced.
For Hirthler, it was his second career Sportsman feature win at the track this season, his first since April 14, 2018, at the popular high-banked third-mile dirt track promoted by the Rogers family.
"With the rainout last Saturday night," explained the 38-year-old second-generation car owner and driver, "the 358 Modified car is pretty much ready to go, so, that gave us some extra time to do a little extra work this past week on the Sportsman car and we got things done, scaled loaded up and just got things done in time to get he by maybe 4 o'clock.
"We just got the Crate engine in it back today. It is legit. It's a GM Crate engine in it. It is my brothers back up engine and we had nothing but troubles with it the past two-years. After nothing but struggling with the engine it's hitting on all eight cylinders tonight. We finally got things straightened out. It's legit. Not a cheater. The engine has all the seals on it and when the track slicks up like it did tonight, it's easy to drive and it has all kinds of power. Anybody is welcome to check the engine out after the races tonight if they have questions about it," announced Hirthler.
The top 12 qualifiers out of the heat races redrew for starting positions, with Brian Mady from Milford, PA starting on the pole. Mady grabbed the lead for the first two tours, with Eckert Jr., who started outside the front row, whistling by to become the new race leader on Lap 3.
On Lap 7, Hirthler ducked in underneath Eckert Jr. exiting Turn 2 and motored out in front down the backstretch, as Eckert Jr., Mady, Dean Bachman and Craig Whitmoyer trailed.
With 14 complete, Whitmoyer advanced to fourth-place and the 43-year-old veteran took third-place a circuit later.
With 18 in the record books, Whitmoyer climbed into the runner-up role, however, Hirthler was pulling away as the laps quickly clicked off.
With 28-laps recorded, Hirthler was now a full straightaway out in front of Whitmoyer, who was running second in front of Eckert Jr. and Mady.
"I have no idea where second-place was because I never saw anybody," offered Hirthler in victory lane. "You had to pick your way through the field and all the lapped cars because they were out there racing for position too. You had to maneuver up high or go low and if you could hit the inside slime just right going through the corners, your car would slide up a little, giving you room to get under some cars. I came up off the corners a few times and it wasn't easy picking a way through the lapped traffic."
Hirthler went basically unchallenged after he got out in front, easily winning the event over Whitmoyer of Hamburg, PA, Eckert Jr. of Orwigsburg, PA, Mady and Dylan Swinehart of Fleetwood, PA.
A total of four heat races for 45 Sportsman cars were won by Andrew Kries, John McGovern, Hirthler and Swinehart, with a pair of consolation races going out to Cale Ross and Brad Grim.
"We had real good draws in, both, the heat and the feature tonight and that certainly was a help in where we ended things," revealed Hirthler.
With 23 MASS 305 Sprint Cars on hand, everyone qualified, with Austin Bishop, Tim Tanner Jr. and Rick Stief winning the heat races. There was no consolation needed.
In the 25-lap main event, it was Andy Best blasting from the pole position into the lead with the green waving, with Eddie Wagner and Bishop, who started from third, in tow.
Lap 6 and again on Lap 7, Chad Connor spun to bring out the caution flag.
When racing resumed it was still Best showing the way, with Bishop now second in front of Brendon Poff out of Richboro, PA for Lap 8.
A caution for Bryant Davis stopping in Turn 3 bunched up the field again after 9-laps. A circuit later, Davis went high through Turn 4, caught the outside boiler plate exiting Turn 4 and flipped wildly near the starters stand to bring out a red flag on Lap 10. Davis walked away uninjured.
Again it was Best on top, on the restart, for Lap 11, but a lap later it was Bishop rocketing underneath Best exiting Turn 2 to become the new race leader racing down the back part of the speedway.
Lap 16 saw the leaders get caught up with lapped traffic, knocking out the second and fourth-place cars as a result, as the caution reappeared.
With the new green it was Bishop over Poff, Wagner and Tom Carberry.
By Lap 19, Bishop was nearly a full straightaway out in front, as he easily went on to score his second win on the tour, this season, and his first career victory at Grandview Speedway. Bishop was celebrating his 20th birthday, a great birthday present.
"If I win, usually, it is on other driver's birthdays and never on my own," offered the race winner. "It is a nice little way to reward myself. Normally I don't have the best of luck, but tonight the track was really racy all night long. It got a little rubbered down and I saw Andy started to wash up through the corner and I ducked in there underneath and got him to get the lead."
Runner-up was Poff, with Carberry, Wagner and Jason Dunn following.
Tim Tanner Jr. was crowned as the MASS 305 Sprint Car 2018 champion, with CJ Faison winning Rookie of The Year honors for 2018.
Some 32 358 Modified racers showed up to run several practice sessions in order to prepare for the upcoming Freedom 76 event the following night, paying $25,000 to the winner.
Kevin Hirthler and many other top Modified talents will be back in racing action tonight at 7 p.m. with the running of the 48th Annual Freedom 76 Modified Classic paying $25,000 to win. There are qualifying heat races, Cash Dash paying $1,000 to win, Schaffer Racing Minuteman 20 and THEN the Freedom 76.
Mid-Atlantic Sprint Series MASS 305 Sprint Cars (25-laps) – 1) Austin Bishop, 2) Brendon Poff, 3) Tom Carberry, 4) Eddie Wagner, 5) Jason Dunn, 6) Tim Tanner Jr., 7) CJ Faison, 8) Ryan Stillwagon, 9) Dave Brown, 10) Tyler Reinhardt, 11) Rick Stief, 12) Zack Burd, 13) Jonathan Haegele, 14) Keith Anderson, 15) Christopher Moll, 16) Tom Tanner, 17) Andy Best, 18) Larry McVay, 19) Mike Haggenbottom, 20) Jeff Geiges, 21) Bryant Davis, 22) Chad Connor, 23) Daniel Leaper
Sportsman (38-laps) – 1) Kevin Hirthler, 2) Craig Whitmoyer, 3) Ken Eckert Jr., 4) Brian Mady, 5) Dylan Swinehart, 6) Ryan Beltz, 7) Dean Bachman, 8) John McGovern, 9) Andrew Kries, 10) Billy Osmun III, 11) Mark Kemmerer, 12) Brad Grim, 13) Mike Kellner, 14) Nate Klinger, 15) Jim Housworth, 16) Brian Hirthler, 17) Louden Reimert, 18) Mike Lisowski, 19) Cale Ross, 20) Brad Arnold, 21) Lex Shive, 22) Mike Mammana, 23) Ryan Higgs, 24) Ryan Lilick, 25) Jesse Landis, 26) Brad Brightbill
Racing action is set for tonight, Saturday, at 7 p.m. with the running of the 48th Annual Freedom 76 Modified Classic paying $25,000 to win. There are qualifying heat races, Cash Dash paying $1,000 to win, Schaffer Racing Minuteman 20 and THEN the Freedom 76.