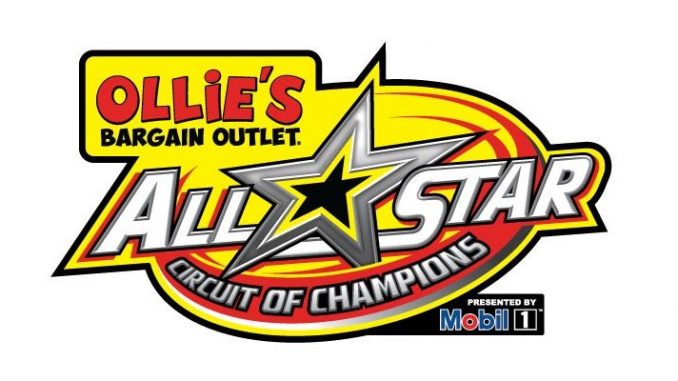 From Tyler Altmeyer
BROWNSBURG, Ind. (December 6, 2018) – MAVTV Motorsports Network, the official television home of the Ollie's Bargain Outlet All Star Circuit of Champions presented by Mobil 1, will continue to serve as the official television home throughout the 2019 season and broadcast ten high-profile events from tracks across much of the Midwest and Mid-Atlantic.
"We are thrilled to have MAVTV continue their relationship with the All Star Circuit of Champions in 2019," Tony Stewart expressed, All Star Series owner. "Our goal is to create the maximum amount of exposure for our Series, as well as bring a high level of exposure to the partners, drivers and teams who support it. A relationship with MAVTV certainly makes that possible. We appreciate their hard work and we value their willingness to help bring the All Star Circuit of Champions to living rooms around the world."
MAVTV cameras will follow Tony Stewart's All Star Circuit of Champions to nine tracks during the upcoming season, capturing action from ten events which will be broadcast later in the year on a tape-delayed schedule. The first event to be broadcast will be night two of Cometic Gasket Ohio Sprint Speedweek presented by C&R Racing at the world-famous Eldora Speedway in Rossburg, Ohio.
"MAVTV is proud to be the TV home of the All Star Circuit of Champions," said Ed Niemi, SVP, Content Distribution & Strategic Partnerships at MAVTV. "For the second year in a row, we are excited to provide this high-quality motorsports content to our dedicated viewers. We look forward to another highly competitive All Star Circuit of Champions race season on MAVTV."
Night three of Ohio Sprint Speedweek at Muskingum (Ohio) County Speedway will also be captured by MAVTV cameras, followed a trio of stops in the Midwest; Jackson (Minn.) Motorplex, Knoxville (Iowa) Raceway and 34 Raceway in West Burlington, Iowa.
The All Star/Pennsylvania Posse rivalry will get its fair share of television exposure in 2019, as the final five events on the MAVTV/All Star schedule will be captured from the heart of the Keystone State.
Pennsylvania tracks to be featured on MAVTV include Grandview Speedway, Williams Grove Speedway, Lincoln Speedway, and two days at Port Royal Speedway; the Night Before The Tuscarora 50 and the 52nd running of the Tuscarora 50 worth $52,000.
Available in over 30 million households through multiple video providers including DIRECTV, AT&T U-verse, Verizon FiOS, Mediacom, Charter Spectrum, Optimum, Suddenlink, Frontier Communications, fuboTV and CenturyLink, fans tuning into MAVTV for the Ollie's Bargain Outlet All Star Circuit of Champions presented by Mobil 1 broadcasts will be welcomed by host, Dave Reiff, color commentator, Brad Doty, and pit reporter, Dave Argabright. Ollie's Bargain Outlet All Star owner, Tony Stewart, will also be featured during select MAVTV broadcasts as a color commentator.
2019 MAVTV / All Star Circuit of Champions Event Schedule:
EVENT DATE / TRACK / AIR DATE / AIR TIME / RE-AIR DATE / RE-AIR TIME:
6/15/2019 Eldora Speedway 9/8/2019 8:00 PM 9/8/2019 11:00 PM
6/16/2019 Muskingum Co. 9/15/2019 8:00 PM 9/15/2019 11:00 PM
7/26/2019 Jackson Motorplex 9/22/2019 8:00 PM 9/22/2019 11:00 PM
7/27/2019 Knoxville Raceway 9/29/2019 8:00 PM 9/29/2019 11:00 PM
7/28/2019 34 Raceway 10/6/2019 8:00 PM 10/6/2019 11:00 PM
8/22/2019 Grandview Speedway 10/13/2019 8:00 PM 10/13/2019 11:00 PM
8/23/2019 Williams Grove Speedway 10/20/2019 8:00 PM 10/20/2019 11:00 PM
8/24/2019 Lincoln Speedway 10/27/2019 8:00 PM 10/27/2019 11:00 PM
9/6/2019 Port Royal Speedway 11/3/2019 8:00 PM 11/3/2019 11:00 PM
9/7/2019 Port Royal Speedway 11/10/2019 8:00 PM 11/10/2019 11:00 PM