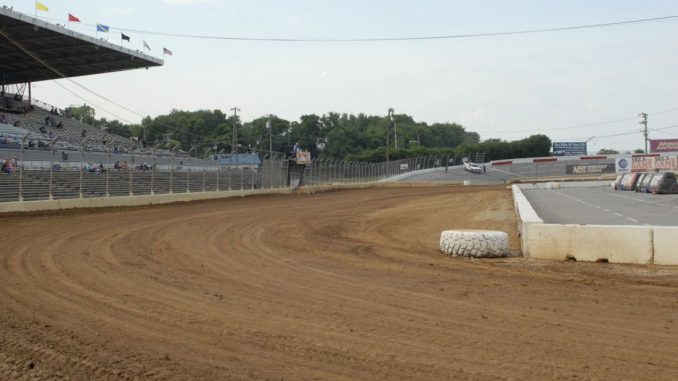 After a crazy night watching DIRTvision from the TJSlideways.com offices here are a couple of takeaways from the World of Outlaws program on Friday:
Over the past several years World Racing Group has made several decisions I have been impressed with. The decision to go with the race on a makeshift racetrack at the Nashville, Tennessee fairgrounds instead of showcasing their great series at a regular dirt facility is a bit of a head scratcher.I can understand wanting to be in the Nashville market. Nashville is one of the fastest growing cities in the country and has a lot going for it right now. I get the temptation of wanting to put that event at the fairgrounds to be in the heart of that major metropolitan area. Nashville is also city that only allows their racetrack to hold one event a month with a tight curfew. That is a daunting challenge for any promotion group, let along doing it on a temporary dirt surface.

The tight confines and some of the limitations of the fairground doesn't appear to show off the best the World of Outlaws and sprint car racing has to offer. While hot laps and qualifying were mildly entertaining, the remainder of the night was sub-par compared to most of the other events on tour. The tight racetrack was pretty much one lane for most of the racing that tore up a considerable amount of equipment.

Having a bad race isn't that big of a deal, but when you put as much pre-race promotion as WRG did behind the Nashville event you can't afford to lay an egg. Some of that might be from my mindset of "under promise and over deliver", but with as much hype that went into Nashville's event to have that kind of opening night less than ideal.

The other frustrating part is that Nashville weekend essentially took away two race dates that could have went to a dirt racing facility. The past several seasons this weekend would have features a trip to Michigan and Wisconsin.

WRG has some great things the past several years in race promotion, but maybe that kind of pre-race promotion effort for a facility that is an actual dirt track would be more beneficial to the sport.
A lot of discussion before the weekend centered around Nashville's event going head to head with Mansfield Motor Speedway's $100,000 to win Sprint Car World Championship. From my viewpoint this worked out well for everyone involved. The SCWC ended up with 60 cars and a chance for someone outside of the World of Outlaw teams to take home a $100,000 top prize. Considering there were 40 cars at Nashville on Friday had Mansfield not ran against Nashville, the World of Outlaws program could have ended up with 50 or more cars and an even bigger issue with time management.
Tony Stewart electing to run with the World of Outlaws at Nashville was a bit of a surprise after Stewart elected not to run with the series all of 2018 and up until Friday this season. Stewart's association with Curb Records on his short track team made the appearance logical. It was good seeing Stewart back in competition with the Greatest Show on Dirt finishing in 13th.