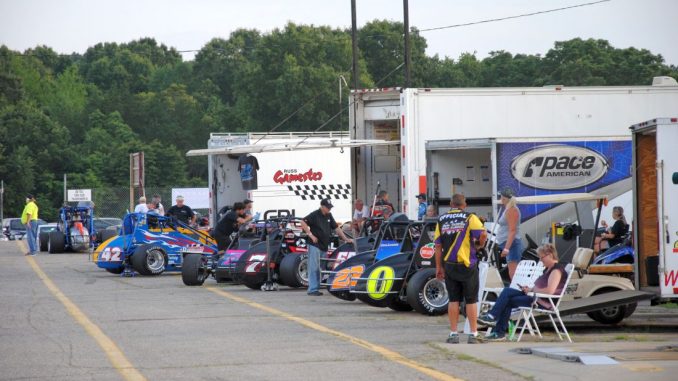 After a night of pavement sprint car racing at the race track closest to the home office of TJSlideways.com here are a few takeaways from a night of racing at Kalamazoo Speedway with the Auto Value Bumper to Bumper Super Sprints:
The Auto Value Bumper to Bumper Super Sprints have hit on something by taking the wings off their sprint cars. The car counts have been solid this season and there seems to be a lot of positive energy in the pit area. Rather than chase Davey Hamilton's King of the Wing Series around the country with only a handful of race teams equipped to do so and going head to head with Must See Racing's winged sprint cars I believe AVSS should focus on building a non-wing sprint car series focused on the Great Lakes Region.

Most of the pavement teams are weekend warriors. Even the most well financed teams have one more day to day businesses they operate. Most of the teams cannot travel to Florida, the Rocky Mountain Area, and the West Coast. If AVSS can focus their effort to promote non-wing sprint car racing in a manageable geographic area instead of trying to appease a National traveling tour that appeals to a far smaller team base AVSS could be on the verge of a renaissance.
After a lifetime of being one of my favorites, if not my favorite pavement track Kalamazoo Speedway is still awesome. I don't know what it is about the banked 3/8-mile round oval at Kalamazoo, but it produces awesome racing in every division. Even a 75-lap late model race that would normally find me catching up on typing up results or working on a story had my attention as Craig Everage held off late model and sprint car competitor Tyler Roahrig for the win. Someone once told me if all pavement racing was as great at Kalamazoo they would go to more of them. I would second that opinion.
If someone would have told me Kody Swanson would start on the front row at Kalamazoo Friday night and not won, I likely would not have believed them. It seemed like a foregone conclusion once the inversion was set via random dice roll that put Swanson on the front row. Bobby Santos III was up to the task running down Swanson in slower traffic and making a late race pass for the win. The 30-lap distance on Friday was likely not the ideal scenario for Swanson and his V6 powered Nolen sprint car, but with Kalamazoo's slick surface also could help balance that out. After a win at Berlin and second place at Kalamazoo. it will be interesting to see how many other non-wing races Gene Nolen's team ventures out to other than at Anderson Speedway the remainder of the 2019 season.
Friday's third place performance was one of the better drives I've seen out of Kyle O'Gara in sprint car competition. O'Gara set fast time and was able to stay close to Santos in third position running down Swanson for the lead until Santos was able to get through some of the slower traffic better than O'Gara. If O'Gara keeps up that kind of performance though it wouldn't surprise me to see him pick up a non-wing sprint car victory before the end of the season.