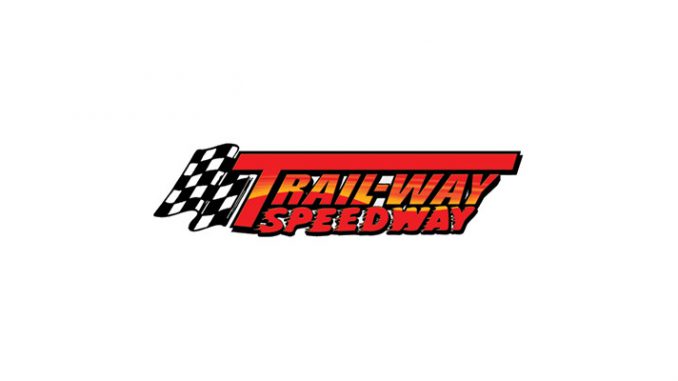 By Kalida Landis
Hanover, Pa.: Steve Owings has so many laps around Trail-Way Speedway that he can probably drive it blindfolded.
That experience and a fast race car paid dividends Friday night in the Hanover facility's season opener, which was delayed a little over a month due to the ongoing Coronavirus pandemic.
For most of the 25-Lap 358 Sprint Car opener, Owings looked like he would have to settle for a podium finish. The Westminster, Md., driver changed that outcome in the last three laps when he blasted through the dust from a wind-blown day and topped it with a last corner pass on Mike Bittinger to earn a thrilling victory.
"She was dusty tonight," Owings said. "It was hard to see. I'm telling you, you got three or four side-by-side there, and you just couldn't see.
"We got lucky. We got that caution there at the end, and I saw that lapped car and knew Mikey was going to play it cautious and run the bottom. So, I had to run her in there wide open on the top. That's why we love coming to Trail-Way."
Bittinger jumped out front with Dylan Norris following close behind. Owings started fourth on the grid and settled into third.
The top three drivers ran in order through heavy lapped traffic and a pair of caution periods. Steven Kisamore stopped on Lap 7, with Jake Miller looping his car in Turn 4 on the 19th circuit.
Owings took advantage of the late restart and closed in on Norris for second. It took four laps, but Owings worked his way past Norris on Lap 23 and went after Bittinger.
It appeared Bittinger had enough to hang on, but a lapped car didn't help his cause. It allowed Owings to take one last shot, and he pulled off the pass in Turns 3 and 4 to nip Bittinger at the line.
"I thought it was Mikey's race, truthfully," Owings said. "If it wasn't for the lapped car, he would've been fine. You lead all of those laps like that, and you get cautious.
"When I saw him run down low in one and two, I knew what he was going to do in three and four, so I held her to the floor."
The win was Owings' 26th at the speedway, sitting third on the all-time win list. He is three victories behind Jeff Rohrbaugh, who is second on the list.
"This car loves this place," Owings said. "It's five years old. The motor is probably at least that. It's basically the same combination we run week in and week out here. We got a new car and a new motor at home, but old Betsy loves this place."
Bittinger settled for a runner-up finish, with Norris nailing down third. Wyatt Hinkle and Jeff Rohrbaugh completed the top five.
Joe Trone Jr. started 19th and finished 14th, earning the Big Mike's Crabhouse Hard Charger Award. Kody Hartlaub, Norris, and Bittinger were heat winners for the 19-car field.
Jeremy Ott is a two-time defending Central PA Legends champion, but he had yet to crack the win column at Trail-Way Speedway.
Until now.
Much like the 358 Sprint Car main event, Ott pulled off a thrilling last-lap pass to win a three-car battle with Scott Houdeshill and Jorjie Sweger to take the win in the 20-lap affair.
Sweger led the first five circuits before giving way to Austin Bellemare on Lap 6. It was short-lived, with Sweger getting back in front on Lap 7.
Houdeshell, who started fifth on the grid, took his turn at the front on Lap 10. He set a good pace and led until the last lap.
The leader and Sweger made contact in the first corner. Ott took advantage and ducked below both cars to, as Houdeshell, Sweger, and Ott went three-wide down the backstretch.
Houdeshell and Sweger again made contact, which allowed the opportunistic Ott to take the checker first and dropped Sweger to 16th.
"I felt like we had a real fast car, and I'm like man, I need a break," Ott said. "I mean, I hate to win it like that, but we were there at the right time, and we were able to capitalize on it."
Houdeshell managed a second-place finish, with Travis Perry coming home third. Chris Transeau and Bill Diehl completed the top five. Ben Goldsmith was the Wurtzer's Garage/Elite Racing Imagery Hard Charger.
Ott, Stephen Wurtzer, Perry, and Houdeshell were heat winners. Shawn Groft and Travis McClelland were the twin consolation winners.
Jesse Snyder started on the pole and wired the field to take the victory in the 600 cc Micro Sprint main event.
Brad Weber finished second and closed on the leader in the closing laps, but he couldn't challenge before the checkered flag flew. Mike Rutherford, Jayden Wolf, and Brian Kramer completed the top five.
Snyder earned $700 for the win. Hines Racing Components kicked in $250, with Rynard's Electrical and an anonymous donor each adding $100. Both Snyder and Weber were heat winners on the night.
Roy Denike, of New Oxford, didn't cross the line first in the 15-Lap Scramble Car feature, but he was awarded the win after Ricky Weaver Jr. failed post-race inspection.
Wes Miller jumped out front, with Denike taking the lead on the second circuit. Weaver led laps three through 15 but failed inspection for not having a trunk lid.
Marlyn Runk, Miller, and Wellman finished second through fourth. Weaver was credited with a fifth-place finish in the Scramble Cars' first Friday night visit to Trail-Way Speedway in years.
Trail-Way Speedway
Hanover, PA
Friday June 12, 2020
Winged 358 Sprint Cars
Heat Race #1
1. 2-Kody Hartlaub[2]
2. 35-Steve Owings[5]
3. 00-Jeff Rohrbaugh[1]
4. 77-David Holbrook[6]
5. 48-Nat Tuckey[3]
6. 1-Cody Phillips[7]
7. 99-Joe Trone Jr[4]
Heat Race #2
1. 44-Dylan Norris[4]
2. 19D-Wyatt Hinkle[2]
3. 44X-Dave Brown[5]
4. 56-Jake Miller[1]
5. 45R-Brett Rose[6]
6. 77K-Steven Kisamore[3]
Heat Race #3
1. 93-Mike Bittinger[4]
2. 00F-Chris Frank[1]
3. 66A-Cody Fletcher[3]
4. 6-Tim McClelland[5]
5. 12K-Kyle Rohrbaugh[2]
6. 12-George (Chip) Rupp II[6]
A-Main
1. 35-Steve Owings[4]
2. 93-Mike Bittinger[1]
3. 44-Dylan Norris[2]
4. 19D-Wyatt Hinkle[5]
5. 00-Jeff Rohrbaugh[7]
6. 2-Kody Hartlaub[3]
7. 66A-Cody Fletcher[9]
8. 77-David Holbrook[10]
9. 44X-Dave Brown[8]
10. 00F-Chris Frank[6]
11. 12K-Kyle Rohrbaugh[15]
12. 6-Tim McClelland[12]
13. 48-Nat Tuckey[13]
14. 99-Joe Trone Jr[19]
15. 56-Jake Miller[11]
16. 1-Cody Phillips[16]
17. 45R-Brett Rose[14]
18. 12-George (Chip) Rupp II[18]
19. 77K-Steven Kisamore[17]