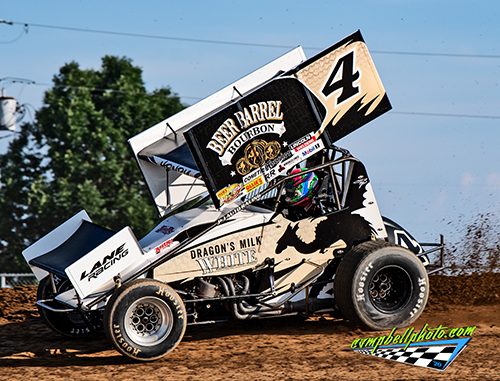 From T.J. Buffenbarger
Typically, I write my takeaways immediately following the night of racing. Since I own and run the website and decided to catch up on sleep after continuous nights staying up to watch everything from Indiana Midget Week, Pennsylvania Speedweek, and everything in between here are my takeaways from a busy Friday of racing.
Kyle Larson dug into a level of determination I have only seen a handful of times from him in route to his first career feature victory at Williams Grove Speedway. Larson would not be denied passing veteran Lance Dewease (side note: check out this nice story about Dewease and Larson's friendship here) and then using a hair-raising pass of Brent Marks to take the lead. Even Larson admitted it was not the cleanest of passes, but that combined with his post-race hitting of the throttle on the cool down lap and smile in victory lane showed what winning at Williams Grove meant to him.

Another thing that I've recently found amazing about Larson is his ability to recall what he did just moments earlier without any kind of video review, breaking down his races in post-race interviews with such detail I have to back up my recording and listen to it a couple of more times to take in everything he's saying. Larson's gift of processing information so quickly in the race car and covert it to what he's doing physically with the race car is a gift few have, and is at a level of detail that soon after the feature I don't recall hearing before on a regular basis out of a driver.

I do not see over time how some other form of racing does not swoop in and give Larson another chance. I am trying to enjoy his on track ability as much as possible while admiring some of the things Larson is trying to do quietly behind the scenes, as mentioned by fellow journalist Matt Weaver, without the spotlight on him. America loves a comeback wherever Larson's career takes him I hope he ends up happy.
The combination of Cap Henry and Lane Racing is the quintessential example of chemistry working to win races. I would never have guessed the first time I crossed paths with Brett Lane at Crystal Motor Speedway when he was driving his own 305 sprint car entry years ago that his team would elevate to the level it has with Henry and the support of New Holland Brewing.

Armada, Michigan isn't exactly the sprint car hot bed of the country, but Lane has built his team up to be the fastest sprint car team in the state of Michigan the past several seasons winning regularly on the tough Northern Ohio sprint car circuit. Friday's Ohio Speedweek victory is just another steam ins the team's progress to be a formidable opponent in that region no matter what series shows up.

Friday's victory also showed Henry's growth as a driver the past several years to not panic when he was passed by Toyota prodigy Buddy Kofoid and pressure from defending All Star champion Aaron Reutzel. Henry bided his time until lapped traffic came into play to challenge for the lead again and diving away in the late stages of the event.

It will be interesting to see how much noise Lane Racing can make this week during Ohio Speedweek this season as the competition level ramps up throughout the week.
While dirt racing was on the radars of most of the sprint car world the Pavement sprint car scene had arguably its best night of the 2020 season. At Lucas Oil Raceway at Indianapolis the Auto Value Bumper to Bumper Super Sprints had 21 cars check as the under card to the ARCA stock car race. In neighboring Ohio nine sprint cars took to the track for the inaugural Must See Racing Lites event at Kil-Kare Speedway.

Friday's Auto Value event at LOR straightens might belief the series should abandon trying to support winged racing throughout the country and focus on becoming the premier non-wing sprint car pavement series in the country. The series has a group of teams that want to race, which can be a struggle it seems on the winged side of the division at times. Maybe if more effort was spent on trying to sell the non-wing product to some of the tracks that still want a Super Sprint show, but have been stuck on having the winged product.

Having Must See Racing associate their brand with the crate sprint car division that has started quietly in Ohio is a good thing. The Must See series should increase the profile of the division and 2-3 years down the road will benefit the series by giving teams a stepping stone into the 410 division, a large car count for the Lites division, or both. It's not realistic for Must See to pillage talent from the dirt side of the region as Auto Value Super Sprints did in the mid to late 90's because dirt racing is largely on better footing in the area and nationwide.

As long as the Must See series can keep up on the tech of the division and private testing it should flourish. I could see Michigan tracks jumping on this division if the car count starts to climb.