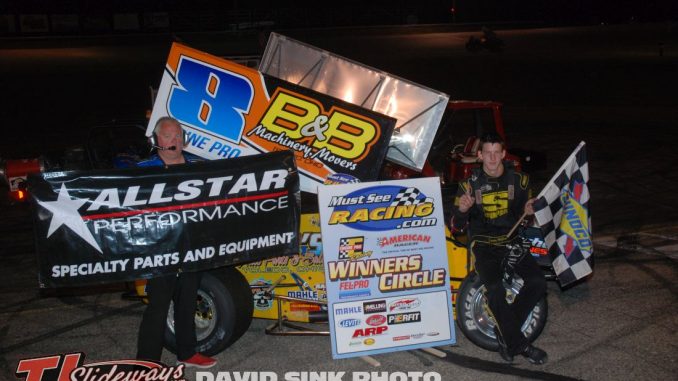 WISCONSIN RAPIDS, Wis. – It may have taken Anthony McCune five years to notch his first Must See Racing Sprint Car Series presented by Engine Pro win, but it took him just one race to add his second.
McCune completed a weekend sweep with Must See Racing on Saturday during the second half of the asphalt winged sprint car tour's opening doubleheader at Wisconsin's Golden Sands Speedway.
The nephew of five-time defending series champion Jimmy McCune took a page out of his title-winning uncle's playbook with a performance of dominant proportions at the third-mile paved oval. He passed Charlie Schultz for the top spot on lap 30 of 50 and went on to victory by 4.833 seconds.
Jimmy McCune got to second with 12 to go but had nothing for his young nephew, with Schultz holding on to complete the podium.
As for Anthony McCune, his philosophy boiled down to a simple statement in victory lane when asked if he was worried about being challenged in the closing laps.
"I glanced at the scoreboard and saw Jimmy in second, but then when I looked across (the infield) and saw him on the other straightaway, I figured he wasn't going to get close enough to be able to have a run at me," the younger McCune said with a chuckle. "We just wanted one and now we've got two. It's pretty cool and hopefully we can keep it going. This has been a great place to race all weekend long."
Bobby Santos crossed fourth after rallying from a spin on a lap-19 restart, with Jason Blonde fifth.
Prior to Santos' spin, the feature's lone red flag waved after Troy DeCaire and Joe Liguori got together while racing through slower traffic, eliminating both cars as a result of the incident.
The night's scariest crash came during heat race action, when Jacob Dolinar's No. 13 went end over end three times on the frontstretch before coming to rest. Dolinar was uninjured and walked away.
DeCaire topped qualifying with a lap of 10.544 seconds, while Anthony McCune and Rick Holley won their respective heat races.
The Must See Racing Sprint Car Series season continues Aug. 15 at Lorain (Ohio) County Speedway.
The results:
1. 8-Anthony McCune, 2. 88-Jimmy McCune, 3. 9s-Charlie Schultz, 4. 22a-Bobby Santos, 5. 42-Jason Blonde, 6. 75c-Jerry Caryer, 7. 7-Tom Jewell, 8. 85-Rick Holley, 9. 6k-Kevin Feeney, 10. 13-Joe Liguori, 11. 36-Troy DeCaire, 12. 8a-Adam Biltz, 13. 26-Jeff Bloom.
Fast Qualifier: 36-Troy DeCaire, 10.544 seconds
Heat #1 winner: 8-Anthony McCune
Heat #2 winner: 85-Rick Holley