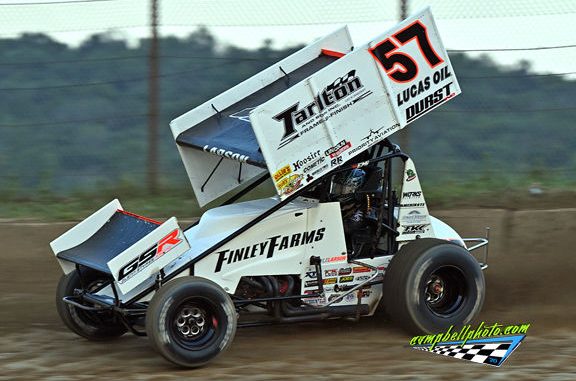 By T.J. Buffenbarger
I lost count of how many times I verbalized a phrase that started with "holy" and ended with some sort of obscenity while watching the Ironman 55 at Federated Auto Parts Raceway at I-55. Rain showers during the program and an already wet track produced a heavy, get your spurs on, elbows up type racetrack that featured wheelies, bicycles, and the best sprint car drivers on the planet hustling around the high banks of Pevely.

From Jacob Allen passing Kyle Larson for the lead, numerous close calls for Larson including a wild pass by Rico Abreu, and Larson's just past halfway charge to the lead that has become his calling card in recent weeks may have produced one of the wildest World of Outlaws main events of the season.

With age I have come to realize that a smooth, somewhat slick surface on some of the larger racetracks will produce good racing if it does not take rubber, but witnessing drivers hustle a sprint car around an extremely heavy, high banked ¼-mile racetrack is awesome. Had that surface been on a half mile race track it would likely have been single file and very sketchy. Thankfully, we got to see in on a high banked quarter mile oval that I am sure was very physical for the drivers and for some that did not have a very good handling race car not very much fun. From the view on the onlooker you can give me more of that anytime.
With the 55-lap distance and the heavy racetrack Saturday at Pevely I wondered if Larson's charge forward just past halfway would take place. Just as that thought crossed my mind Larson did his thing and marched forward just past halfway after dropping back in the early stages with a very tight race car and passed Shane Stewart for the lead.

Seeing Larson hustle a car on that type of surface is not something we have seen yet this year. I find it amazing that Larson and car owner/mechanic extraordinaire Paul Silva continue to produce these results in a variety of series, tracks, and situations.

Larson's romp through the sprint car world may only happen once, so make sure to take in everything as history is made.
While Larson is the biggest story in sprint car racing right now leading into next week at Knoxville there is a pretty large group of races converging on Iowa next week. Shane Stewart is really starting to click with Bernie Stuebgen, Rico Abreu's performance has dramatically improved over the past couple of months, Cory Eliason seems to have found some speed they were missing early in the season, and a host of others I'm sure I am forgetting to mention that are peaking at the right time. While next week is not the Knoxville Nationals, it will still be interesting to see how some of these drivers on the upswing fair next Thursday, Friday, and Saturday. Plus $50,000 is not exactly a tiny amount of money in the sprint car world along with bragging rights for winning at Knoxville in August.