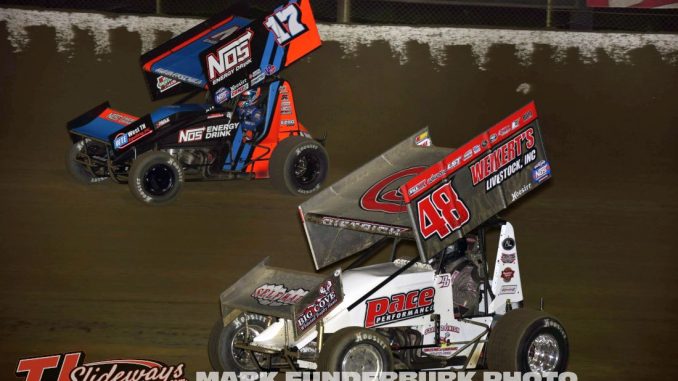 By T.J. Buffenbarger
(August 31, 2020) With Labor Day on the horizon and more of my free time becoming available I decided to knock out some writers block and empty out my noteboook from the past week of racing.
I've always been a proponent that sprint car racing is more interesting when someone wears the proverbial "black hat" in the role as a perceived villain. It doesn't mean that driver is a bad person, often the people that garner the most boos from the crowd have the longest lines for t-shirts and races after the feature.

Two of the people I feel could fit these roles well into the future, Danny Dietrich and Aaron Reutzel, made the All Star weekend in Pennsylvania interesting after Dietrich made contact that spun Reutzel out of the lead in the closing stages of Thursday's feature at Grandview Speedway.

Sunday the tables were turned as Reutzel drove by Dietrich for the win, making a couple of references to how professional his team behaved throughout the weekend under difficult circumstances and one reference to a win the team could be proud of. Could that be making a statement without saying something directly? Either way the Sprint Car world is more interesting with Reutzel and Dietrich in the mix.

My message to both Dietrich and Reutzel, please don't change anytime soon because you are keeping things interesting.
Late Model headlines do not make the top story area on TJSlideways.com very often. I felt Kyle Larson's victory at Port Royal deserved some front-page exposure and ended up being our most read story of the weekend. Larson winning a Lucas Oil Dirt Late Model feature, one of the two premier dirt late model series, in his second career start with several of the stars from the World of Outlaws Late Models on hand due to the series being off this weekend is remarkable.

Over the years I've seen plenty of sprint car drivers pick up late model wins on the regional and local level, but not with one of national touring series in recent years. The accomplishment is still remarkable in my mind even having one of the best engineers in dirt late model racing, Kevin Rumley, as his car owner and spinning wrenches. Just chalk this up to another testament on how talented Larson is.

Larson's participation put a spotlight on dirt late model racing that was brighter than normal. Outside of DirtonDirt.com, which does an outstanding job covering the late model world far and away better than what we have anywhere in sprint car racing, there is not a as much spotlight on the dirt late models as there is on sprint cars at times. When I covered the World 100 a couple of years ago myself, one other reporter, and an army from DoD were the only people at the press conference to interview winner Tim McCreadie.

Now the question becomes will Larson take his talents back to Port Royal driving a Big Block Modified with a $52,000 payday on the line in October with the Short Track Super Series?
In the pursuit of what might be the most anticipated first career World of Outlaws feature victory, when it happens, Jacob Allen started on the front row and looked strong in the early stages of Sunday's event at I-80 Speedway. Unfortunately for Allen, Brad Sweet was able to take the lead on lap 13 with Allen dropping back to a sixth place finish.

Allen's run on Sunday came after his teammate Logan Schuchart had to change an engine before the heat races began. Considering the shared resources with two cars with Shark Racing, Allen still earning a front row starting spot and sixth place finish and Schuchart charging from 14th starting spot for a third-place finish was a great accomplishment for a team that continues to be on the upswing.
With Labor Day weekend on the horizon it feels strange to be talking about the Little 500 and not the Oswego Classic. Little 500 practice begins on Wednesday with qualifying on Thursday and Friday. While some may wonder how potential heat and humidity will impact the race, there have been several Little 500's in recent years that had sweltering weather to go along with it.

With Oswego Speedway idle for its biggest paved event of the year many eyes are on the facility to see what may happen with Super DIRT Week. Rumors have been swirling about where the Northeast's biggest week of modified racing may take place if Oswego it not cleared to host the event.
With the large number of special dirt track events cancelled for 2020 it was nice to see the Kokomo Sprint Car Smack Down go off without any major issues. The addition of the BOSS Sprint Cars to Saturday's finale provides fans with a great value for their ticket purchase.

While the USAC/BOSS double header is great I often wonder what it would take to get all of the various non-wing tracks in Indiana to work together to have a major paying event that would entice competitors to participate rather than opt out of the USAC Program?
One of the wilder moments following various races from around the country on Saturday was seeing Tyler Courtney winning the Kokomo Sprint Car Smack Down shortly followed by Sheldon Haudenschild's late lap exploits winning at US 36 Raceway with the World of Outlaws. I couldn't imagine being Rick and Jennifer Marshall along with sponsor NOS Energy Drink who have involvement in both entries and series.
Butler Motor Speedway will welcome the FAST 410 Sprint Cars on Saturday as the first sprint car group not based out of Michigan to hold show in the Great Lakes State for 2020. This is due to the BOSS Non-Wing Sprint Cars, also run by Aaron Fry, being rained out last week at I-96. The BOSS program will be the biggest event for the winged 410 events in Michigan following the cancellation of the All Star Circuit of Champions and other BOSS events earlier in the season. Look for more on the BOSS program in the Great Lakes edition later in the week.
The number of winged 410 sprint cars taking part in the past two Saturday program at Attica Raceway Park have raised eyebrows with 12 and 16 cars taking part respectively. It does show how sprint car teams while frequently roaming are creatures of habit and how some participants priorities are changing when dates are added late in the season. Saturday did take away some competitors the past two weeks to places like Butler, Wayne County, Portsmouth, and other places. I would chalk this up to 2020 scheduling as everyone tries to do their best to compensate for the unusual year we have experienced.
Over the past couple of seasons I find myself paying closer attention to the Indiana RaceSaver Sprint Cars. The series has built up their car count to a strong following with full fields of cars at each event and recently signed Shaeffer's oil as a title sponsor. With 2020 wrapping up and leading into 2021 the Indiana RaceSavers appear to be on solid footing. This past weekend Ethan Barrow swept both main events with the series, bringing his win total to five this season.
It was nice seeing our Canadian racers with their names being posted in a box score as Merrttville Speedway hosted a winged 360 sprint car program with Mitch Brown coming away victorious. Seeing those names made me sad there is not a Canadian Sprint Car Nationals taking place as I cover the event in on a bi-annual basis in rotation with the 4-Crown Nationals due to school making life busy for my family that time of year. Merrttville will host the 360's again on September 12, September 19, and October 3.
D.J. Netto will venture to Ohio to race with the Ollie's Bargain Outlet All Star Circuit of Champions this weekend. Netto will make the long trip from his hometown of Hanford, California to drive the Ed Neumeister owned #11N entry at the All Star events at Attica Raceway Park and Wayne County Speedway this weekend. Netto previously drove Neumeister's team during select races in 2018. Netto has four feature victories so far this season in open wheel competition.
Wilmot Raceway in Wisconsin cancelled their program featuring the Wisconsin WingLESS Sprint Cars due to curfews put in place due to the rioting in nearby Kenosha. This is the first sprint car race I can remember in my lifetime that was disrupted by civil unrest.