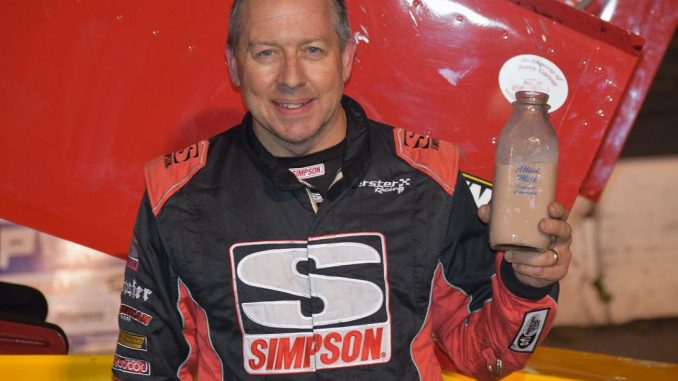 JENNERSTOWN, Pa. – (Sept. 12, 2020) With the COVID-19 pandemic drastically shortening the season for the Must See Racing Sprint Car Series presented by Engine Pro, Brian Gerster was worried about being shut out of victory lane.
After Saturday night at Jennerstown Speedway, Gerster can throw those worries out the window.
Gerster steered the familiar Dick Myers-owned, MOPAR-powered No. 50m sprinter to a convincing victory in the American Racer David D. Mateer Tribute Race presented by Allied Milk Producers, taking the lead with 13 to go in the 30-lapper and holding on through a green-white-checkered restart.
Though tire problems for Troy DeCaire necessitated a caution with two laps to go, Gerster got the power down when the green flag waved for the final time, driving away from longtime rival Jimmy McCune to a .846-second victory.
It marked the 24th series win for Gerster, second only to McCune's 34, and the Fishers, Ind., native was uncharacteristically excited when he climbed out of his car on the frontstretch to celebrate.
"How about that?!" Gerster cheered after celebrating atop the wing. "It's awesome to win here tonight. 2020 has been a crappy year, but this is a great facility and man, I love coming here. We had a great run going at the (Little) 500 last week and weren't able to finish it off … so it's really nice to get the win.
"We're not going to get skunked here, even in a short year for us."
Gerster's winning pass came on lap 18, when he pitched his car to the apron of the third turn in a monstrous divebomb on McCune. It was set up two laps earlier by a caution for debris in turn four.
He never gave up command of the race from there, despite the misfortune for DeCaire on lap 28 that led to the final two-lap dash to the checkered flag.
"That pass we made was a credit to the guys who work on this race car," Gerster noted. "Jimmy was running a bit wider line than I was, and you can't follow someone in these cars and be in their dirty air. I just had to go down and try to get some clean air, and I made it work."
McCune took the lead from the outset, driving past polesitter Charlie Schultz by the exit of turn two as Schultz free-fell to fifth before the end of the opening lap.
An early caution developed on lap five, after Steve Surniak slowed with a flat right-rear tire, but McCune controlled the restart and pulled away before a second yellow waved on lap 10 for the stalled car of Kevin Feeney on the backstretch.
McCune retained command through the halfway point, but the lap-16 debris caution worked against him and gave Gerster a chance, which the wily Hoosier didn't squander in the slightest.
That left McCune to finish a frustrating second, one month after winning at Lorain County Speedway.
"I didn't want to see any of those cautions, but that's the nature of the beast sometimes," McCune said. "We held them off as long as we could. I'm not a fan of the double-file restarts, but it is what it is.
"We started the night with a blown motor, and we finished on the frontstretch with a runner-up. We'll take it after working our tails off to change the engine; I'm pretty pleased with it."
Joe Liguori completed the podium, followed by Anthony McCune, who crossed fourth and maintained the championship lead by a single point over his uncle, Jimmy McCune.
Schultz faded to fifth, followed by fast qualifier Troy DeCaire and rookie Nolan Allison, who came home an impressive seventh in his Must See Racing debut. It was also Allison's first start in a 410 sprint car.
In a field as deep as the one on display at Jennerstown Saturday night, Gerster was quick to savor the moment, capping his party in the winner's circle with a swig of Allied Milk Producers chocolate milk.
"The McCune cars are always fast; Jimmy did a good job tonight, and (Troy) DeCaire did a good job all night as well. Fortunately we finally got the job done," Gerster noted. "It's fun racing with those guys and I'm glad to get the win. We're lucky."
To view complete race results, advance to the next page.
RESULTS: Must See Racing Sprint Car Series; Jennerstown Speedway; Sept. 12, 2020
Engine Pro Time Trials: 1. #36 – Troy DeCaire, 15.200; 2. #50m – Brian Gerster, 15.326; 3. #13 – Joe Liguori, 15.578; 4. #88 – Jimmy McCune, 15.886; 5. #9s – Charlie Schultz, 15.932; 6. #8a – Adam Biltz, 16.161; 7. #6k – Kevin Feeney, 16.163; 8. #8 – Anthony McCune, 16.166; 9. #7 – Tom Jewell, 16.216; 10. #16 – Nolan Allison, 16.364; 11. #72s – Joe Speakman, 16.409; 12. #81 – Steve Surniak, 16.841; 13. #2 – Joey Wyckoff, 16.861; 14. #85 – Rick Holley, 16.905; 15. #13d – Jacob Dolinar, 16.869; 16. #26 – Jeff Bloom, 17.288; 17. #15 – Tim Henthorne, 17.588; 18. #12 – Dylan Watson, 17.610; 19. #11g – Tom Geren, 17.669; 20. #90 – Todd McQuillen, 18.562.
Heat #1 (8 laps, top five retain time): 1. Rick Holley [2], 2. Tom Jewell [4], 3. Joe Liguori [6], 4. Steve Surniak [3], 5. Adam Biltz [5], 6. Dylan Watson [1], 7. Todd McQuillen [7].
Heat #2 (8 laps, top five retain time): 1. Brian Gerster [6], 2. Anthony McCune [4], 3. Charlie Schultz [5], 4. Joe Speakman [3], 5. Tim Henthorne [1], 6. Tom Geren [7], 7. Jacob Dolinar [2].
Heat #3 (8 laps, top five retain time): 1. Troy DeCaire [6], 2. Jimmy McCune [5], 3. Nolan Allison [3], 4. Kevin Feeney [4], 5. Joey Wyckoff [2], 6. Jeff Bloom [1].
American Racer Feature (30 laps): 1. 50m-Brian Gerster [4], 2. 88-Jimmy McCune [2], 3. 13-Joe Liguori [3], 4. 8-Anthony McCune [8], 5. 9s-Charlie Schultz [1], 6. 36-Troy DeCaire [5], 7. 16-Nolan Allison [10], 8. 81-Steve Surniak [12], 9. 8a-Adam Biltz [6], 10. 11-Tom Geren [16], 11. 7-Tom Jewell [9], 12. 90-Todd McQuillen [17], 13. 72s-Joe Speakman [11], 14. 12-Dylan Watson [15], 15. 15h-Tim Henthorne [14], 16. 85-Rick Holley [13], 17. 6k-Kevin Feeney [7], 18. 13d-Jacob Dolinar [18], 19. 26-Jeff Bloom [19].
Lap Leaders: Charlie Schultz Grid, Jimmy McCune 1-17, Brian Gerster 18-30.
Hard Charger: 11-Tom Geren (+6)