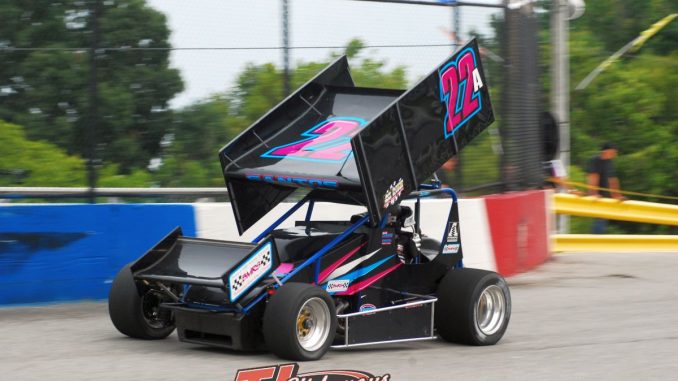 From Must See Racing
SOUTH BOSTON, VA (April 29, 2022) — Getting to the front of the field at South Boston Speedway was the hardest part Friday night for seventh-starting Bobby Santos.
Once he got there, staying ahead of the pack was simple.
Santos cruised to the opening victory of the Must See Racing Sprint Car Series presented by Engine Pro season with a dominant late-race performance at the four-tenths-mile, semi-banked oval. He picked his way forward early, then surged past outside polesitter and early race leader Troy DeCaire in lap traffic on the 14th circuit of a fast-paced 30-lap feature.
From that point on, Santos never looked back.
Despite a caution at the halfway point – brought on after DeCaire slowed in turn three with a right-rear tire issue – Santos roared away from his closest pursuers. He held off fast qualifier Charlie Schultz on the lone restart of the night and steadily drove away to a 4.651-second victory in the familiar black No. 22a fielded by veteran car owner Richard Fieler.
It was the first visit for Must See Racing to South Boston and the first series event ever held in the state of Virginia.
Friday night's triumph marked the third career Must See Racing sprint car victory for Santos, the 2010 champion of NASCAR's Whelen Modified Tour. All three of Santos' Must See Racing wins have come at different facilities.
"We had a great car, right from the start of the race," Santos explained in victory lane. "I can't thank Dick (Fieler) enough; he gives me all the resources to come out here and perform like we did tonight. Honestly, we've all been chasing the McCune family in the series for so long that you wonder if anyone else is ever going to end up on top … but it felt good to have Jim (McCune) come over and congratulate us after that one.
"They've been the model of consistency and excellence here and I'm happy we could give them a run tonight," Santos continued. "It was crazy sketchy coming up through the field, but when you have a great race car, you can be confident in the moves you're making and that's how I felt out there all night."
Schultz was aiming for a clean sweep of the season opener after setting a new all-time track record (12.051 seconds, 119.492 mph) in qualifying and winning the third of three 10-lap sprint car heat races Friday night.
Afterward, however, the Ohio native and past Midwest Supermodified Ass'n champion admitted that Santos was simply too strong in clean air once he got to the lead.
"A lot of that race came down to getting out front first, and he just beat us to the clean air," Schultz lamented. "My hat goes off to Bobby and his whole team; he really did a great job. I had a feeling that it would come down to the two of us, and we weren't disappointed. We just didn't adjust quite enough for how the track conditions were after the late model feature … we were just way too tight in the main.
"He had a better car and could get through traffic a little quicker than I could," added Schultz. "We'll learn from this one and try to come back tomorrow and end up one spot better."
Jacob Dolinar, the 2020 Must See Racing rookie of the year and 2021 Most Improved Driver with the series, completed the podium in one of his strongest career efforts with the pavement winged sprint car tour. Joe Liguori crossed fourth, the final car on the lead lap due to a high attrition rate Friday night.
Five-time series champion Jimmy McCune and DeCaire were among those who failed to finish the opening night of Sentara Health American Sprint Car Weekend because of various mechanical issues.
Sixteen sprint cars signed in to compete at South Boston. Schultz's fast time in qualifying was the first of his Must See Racing career, while Tom Jewell, DeCaire and Schultz each won their respective heat races.
Both nights of the Sentara Health American Sprint Car Weekend will be tape-delayed for broadcast on SPEED SPORT Presents on MAVTV. Broadcast dates and times will be announced later.
Must See Racing will conclude the weekend at South Boston on Saturday night with a second complete program. The action will be co-headlined by twin 75s for the NASCAR Advance Auto Parts Weekly Series late models.
For more information on Must See Racing, visit the series website at www.mustseeracing.com.
Must See Racing
South Boston Speedway
South Boston, Virginia
Friday, April 29, 2022
Feature:
1. 22A-Bobby Santos
2. 9S-Charlie Schultz
3. 48-Jacob Dolinar
4. 13-Joe Liguori
5. 3K-Joshua Sexton
6. 88-Jimmy McCune
7. 36-Troy Decaire
8. 7-Tom Jewell
9. 4-Anthony Linkenhoker
10. 88A L.J. Grimm
11. 8-Anthony McCune
12. 26-Jeff Bloom
13. 85-Rick Holley
14. 2K-Todd McQuillen
15. 81-Johnny Petrozelle