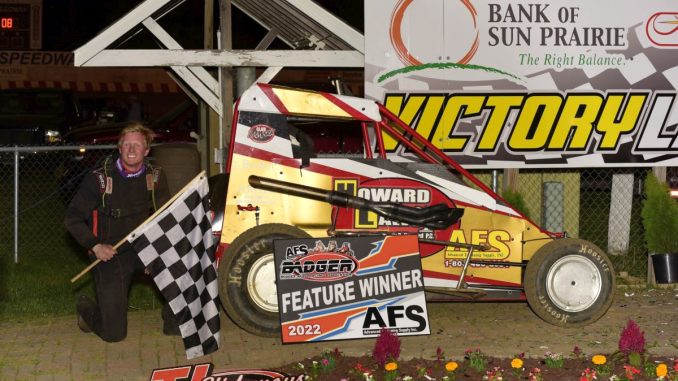 By Quinn McCabe
May 23, 2022- Sun Prairie, WI– Jack Routson took the victory, Sunday, May 22, at the Angell Park Speedway besting early leader Brandon Waelti and taking his first victory of the 2022 Advanced Fastening Supply Badger Midget Series season.
Much like last week the famous clay was heavy and loaded with character. It was Zach Boden that proved to be the bravest in Schoenfeld Headers qualifying scoring back to back fast time awards.
In the first Heat of the evening, presented by Auto Meter, three time and defending series champion Chase McDermand scored the win filling in on short notice for Brian Peterson. Jack Routson took home top honors in the Simpson Race Products Heat race #2 . Last week's A Main winner Brandon Wealti captured the win in Behling Race Products Heat #3.
Bryon Walters and Daltyn England led the field to the green flag. Wealti wasted no time jumping to the cushion to take the early lead. Waelti jumped to a six car length lead before Routson and McDermand wiggled through traffic to begin the hunt. After five laps of steadily narrowing the margin Routson was on the tail tank of Waelti looking for a way by with McDermand tight to his bumper. The trio began working lapped traffic which allowed Routson to snag the lead momentarily before a caution for the slowed machine of McDermand who would retire from the event. Scoring reverted to the last completed lap allowing Wealti to control the restart. Routson stayed right with Waelti and the pair began swapping the lead back and forth with several slide jobs and crossovers through the next several laps. On the 15th circuit Wealti hopped the cushion allowing Routson to slip away for good. RAB racing scored the second win of the season for one for each of their two drivers.
The AFS Badger Midget Series will take the week off over Memorial Day weekend and will return with a doubleheader at Sycamore Speedway and Angell Park Speedway on June 5th & 6th.
The ARS Hard Charger award goes to Jake Neuman after he charged from 22nd starting position to finish 7th. This race's Howard Law Cash Draw award was granted to Denny Smith from Mukwonago, WI. Tonight's Car Topia Hard Luck award goes to Jeremy Douglas of Sun Prairie, WI, and Oliver Motors Last Place in the A-Main bonus goes to Dave Collins, Jr. of Lake Mills, WI.
Stay tuned to BMARA.com and the BMARA Racing Facebook page for additional announcements and information regarding events for the 2022 season.
Badger Midget Auto Racing Association
Angell Park Speedway
Sun Prairie, Wisconsin
Sunday, May 22, 2022
Auto Meter Heat Race #1 (8 Laps)
1. 7-Chase McDermand[6]
2. 21K-Kurt Mayhew[1]
3. 9S-Mike Stroik[2]
4. 40JR-Dave Collins Jr[4]
5. 38-Matt Rechek[7]
6. 28-Jim Fuerst[3]
7. 2-Kyle Stark[5]
8. 20D-Derek Doerr[8]
9. 8-Jake Goeglein[9]
Simpson Race Products Heat Race #2 (8 Laps)
1. 57B-Jack Routson[6]
2. 15C-RJ Corson[2]
3. 19E-Daltyn England[4]
4. 5K-Kevin Douglas[3]
5. 77-Jack Vanderboom[7]
6. 10-Denny Smith[1]
7. 29-Harrison Kleven[8]
8. 45KW-Nicholas Klein[9]
9. 57A-Jake Neuman[5]
Behling Race Products Heat Race #3 (8 Laps)
1. 3B-Brandon Waelti[6]
2. 51-Zach Boden[7]
3. 98-Jordan Nelson[2]
4. 9K-Bryon Walters[4]
5. 24M-Aaron Muhle[3]
6. 55-Todd Kluever[5]
7. 59-Kyle Koch[1]
8. 4-Pat Hensen[8]
Schoenfeld Headers Qualifying (100 Laps)
1. 51-Zach Boden, 15.544[4]
2. 57B-Jack Routson, 15.608[21]
3. 38-Matt Rechek, 15.756[14]
4. 3B-Brandon Waelti, 15.944[2]
5. 57A-Jake Neuman, 15.985[17]
6. 7-Chase McDermand, 15.993[8]
7. 55-Todd Kluever, 16.115[5]
8. 19E-Daltyn England, 16.237[9]
9. 2-Kyle Stark, 16.281[23]
10. 9K-Bryon Walters, 16.334[1]
11. 5K-Kevin Douglas, 16.432[3]
12. 40JR-Dave Collins Jr, 16.456[24]
13. 24M-Aaron Muhle, 16.553[12]
14. 15C-RJ Corson, 16.560[25]
15. 28-Jim Fuerst, 16.647[27]
16. 98-Jordan Nelson, 16.650[28]
17. 77-Jack Vanderboom, 16.686[20]
18. 9S-Mike Stroik, 16.946[13]
19. 59-Kyle Koch, 17.002[22]
20. 10-Denny Smith, 17.428[15]
21. 21K-Kurt Mayhew, 17.443[10]
22. 4-Pat Hensen, 17.487[18]
23. 29-Harrison Kleven, 17.489[6]
24. 45KW-Nicholas Klein, 20.050[16]
25. 87-Jake Dohner, 20.050[26]
26. 20D-Derek Doerr, 20.050[7]
27. 6-Jeremy Douglas, 20.050[19]
28. 8-Jake Goeglein, 20.050[11]
Advance Fastening Supply A-Main (25 Laps)
1. 57B-Jack Routson[6]
2. 3B-Brandon Waelti[4]
3. 38-Matt Rechek[5]
4. 9K-Bryon Walters[1]
5. 24M-Aaron Muhle[10]
6. 55-Todd Kluever[15]
7. 57A-Jake Neuman[22]
8. 2-Kyle Stark[20]
9. 19E-Daltyn England[2]
10. 5K-Kevin Douglas[8]
11. 15C-RJ Corson[11]
12. 21K-Kurt Mayhew[14]
13. 98-Jordan Nelson[12]
14. 77-Jack Vanderboom[24]
15. 10-Denny Smith[16]
16. 9S-Mike Stroik[13]
17. 28-Jim Fuerst[17]
18. 59-Kyle Koch[18]
19. 29-Harrison Kleven[19]
20. 4-Pat Hensen[21]
21. 51-Zach Boden[7]
22. 7-Chase McDermand[3]
23. 40JR-Dave Collins Jr[9]