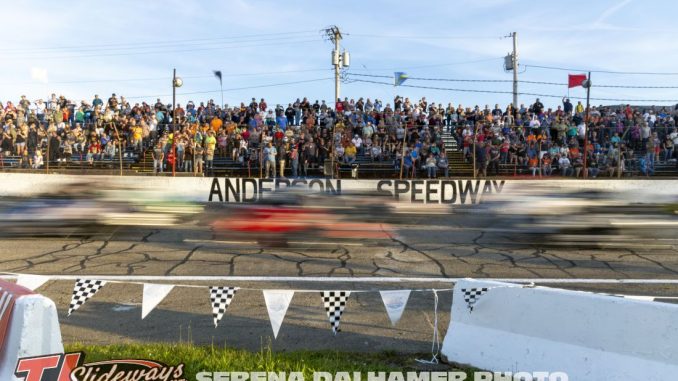 By T.J. Buffenbarger
(May 30, 2022) — Tyler Roahrig still seemed to be in shock last Saturday night that he was standing in victory lane at Anderson Speedway for the second time after winning the Lucas Oil Little 500 presented by UAW. While going through all the obligations of the winner.
In each interview he gave, the first thing he mentioned was apologizing for an incident that most onlookers agreed was not his fault that caused a contending car to fall out of the race. And that he at times is in shock of his accomplishments in sprint car racing because, in his own words is "just a late model guy".
What Roahrig doesn't realize, or won't go on records saying, is he's not just a good late model or sprint car guy; he's a great race car driver.
Now being witness to Roahrig's talents with and without fenders I view him as a rare talent that has stayed on the local scene and is a threat to win in any race car he straps into. The better part is even with all his success Roahrig remains one of the humblest young drivers in the pit area, quick to defer the credit to his crew and supporters around him.
After the strange, chain reaction accident that saw Roahrig spin out and Bobby Santos end up upside down all while in a heated battle for position, Santos walked over to Roahrig's car. Santos, not one to mince words or let someone know when he is unhappy, shook Roahrig's hand and looked over his race car to the point where track officials almost had to drag him away from giving Roahrig feedback.
Roahrig is the kind of talent that can make someone like me who is focused on the sprint car beat and the topics I am working on for the website, put away my notes, and pay attention to the other division he might be racing in to see what is going to happen.
If Roahrig is reading this, your name does belong among the legends you named off as multiple time winners with the same honor, prestige and reverence as they are seen with.
Other Notes….
Dakota Armstrong capped off a solid weekend that included a third-place finish in the midget car race at Indianapolis Raceway Park with his second-place finish at the Little 500 on Saturday. The finish was Armstrong's best of his now four career starts in the event. Armstrong appeared to be a contender until his brakes started to fade towards the end of the race.

"My brakes went away the last 100 laps," said Armstrong. "They were still working, but they're working about 40% and I just I lost my advantage. My car was good on entry and through the center of the corner. Once I lost that I just really had nothing for (Roahrig), so we were kind of in survival mode hoping Tyler might make a mistake."

Even with his second-place finish Armstrong was optimistic about his run considering in past starts at the Little 500 have seen him run into various issues.

"I'm proud of everyone. This thing is all about survival and we haven't been able to do that until now," said Armstrong of his career best finish. "I don't think I've ever made it past lap 250. We made sure everything was tight and was going to stay together. I think we probably had the cleanest race of anybody. We just didn't quite have the fastest car so we'll go work on it and come back next year and get it done."

Dakota's performance led a solid run for all three Armstrong siblings as Caleb Armstrong finished fifth after running into problems with a fuel nozzle that caused him to run out of fuel shortly before a pit stop. Dalton Armstrong turned a last minute opportunity to run his first Little 500 into winning Rookie of the Race and Hard Charger awards.

C.J. Leary turned in a solid podium performance on Saturday at Anderson landing in third position. Not making mistakes at the Little 500 is key, and a couple of them contributed to taking him out of contention for the victory.

"I think we had a maybe a race winning car," said Leary. "I kept pace with Tyler for a long time there when we were in lapped traffic. We were just kind of rolling back through the field and made a stupid pit road mistake coming in right when the green flag was displayed instead of making a lap and that's how we ended up a lap down. I think that's what hurt us most."

Leary and the Klatt team accomplished their third-place finish with a brand new, untested race car that didn't see any laps at speed until their arrival at Anderson Speedway for the event.

"Bob (East) built a brand-new car here and we didn't come and shake it down. We didn't do anything we just showed up on practice day, made two sessions, and I went over to Circle City and got rained out. This car qualified good and went 500 laps without us making any adjustments at all so I think that's a testament to just how good that new race car is you know can't think our pit crew enough."

Roahrig and Armstrong produced a 1-2 finish for Chevrolet LS engines on Saturday. The engine that has a different configuration including a fuel injection system that has the appearance of a carburetor but are fuel injected is more commonly associated with limited sprint groups in the Upper Midwest.
Ryan Newman appeared to be in position to take rookie of the year honors in his first Little 500 start running in eighth position before slamming the wall hard going into turn one. Newman, who indicated the right front wheel may have come off before slamming the fence, had overcome a spin early in the race and had enough speed during the race to be competitive with the leaders.
Drivers competed on one of the greenest racetracks in recent memory during the 2022 Little 500. Heavy rain following Friday's last round of qualifications washed the rubber off the racetrack. When crossing the track after warmups on Saturday the surface was not as sticky as it would normally be during week of Little 500 practice, and several teams indicated this created some additional challenges with setups for the race.
A pre-race conversation with Aaron Pierce indicated that getting out of the driver's seat has not been that difficult for him this year at the Little 500. With his job with Bondurant driving schools scratching his itch to drive, Pierce's focus of his two entries was on Tanner Swanson driving a unique V6 powered Beast chassis. Pierce, showing me around, pointed out the unique oversized cockpit that is long enough to require silver crown body panels and elongated switches for the car so the driver can reach them. The stubby engine compartment is just large enough for a V6 engine.

Swanson appeared to be in great position after bringing out a caution for tagging a water barrel in turn four, making a pit stop, and cycling into the lead before mechanical issues forced Swanson to be black flagged and put him out of the event.

Pierce indicated that he plans on running Swanson in other events during the 2022 season.

Scotty Hampton had an eventful race that saw him end up on an alternate pit strategy that briefly put him in the lead. Hampton was eventually passed and before getting caught up in an incident, ending with a 15th place finish. Thursday during the first day of qualification Hampton was disqualified for not having an approved left front tire on the car after a crew member bolted the wrong one on before going out for his attempt. Hampton bounced back on Friday improving where his starting position would have been had he not been disqualified, but only after after sweating out rain on Friday that would have left him on the outside looking in had second round qualification not been held.
Shane Hollingsworth is one of a handful of drivers that makes the Little 500 their only start each season. Hollingsworth indicated the same appeal that the Little 500 often provides drivers towards the tail end of their careers, keeping the desire to compete at Anderson because of the Little 500 being a "event" and not just another race.
Former NHRA championship drag racer Daryl Gwinn was seen roaming the pit area. Gwinn was attending the Little 500 for the second time and had a wide grin when discussing how much he enjoys the event.
Much of the pre-race discussion centered on the quality of the field and how close the times were in qualifying. At the end of the day the race took those storylines, chewed them up, and spit them out with only two cars finishing on the lead lap, once again proving that surviving the 500 lap grind and not making mistakes are still the two biggest factors in being contention to win.