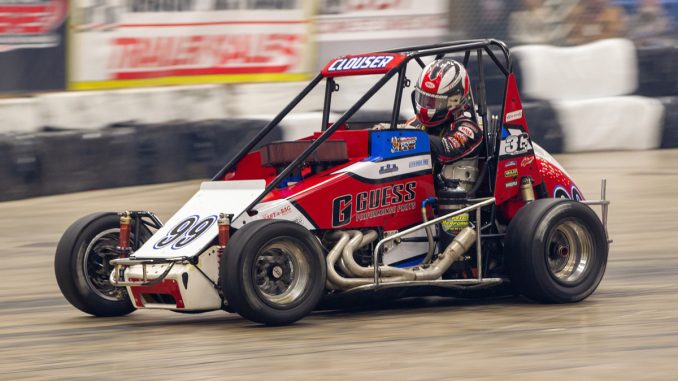 From Rumble Media
FORT WAYNE, Ind. (Dec. 30, 2022) – Much of Mario Clouser's early success in open-wheel racing was on the pavement before he transitioned to dirt racing in recent years.
Friday night during the opening act of the 24th Rumble in Fort Wayne presented by Jason Dietsch Trailer Sales, however, Clouser put his old hardtop skills to good use and ended the night in victory lane.
Clouser became the 21st different driver to win a national midget feature in Fort Wayne Rumble competition by wheeling Bill Guess' potent No. 99 and capitalizing on a bit of luck along the way.
Though he paced the first 33 circuits of Friday's 50-lap feature, Clouser was passed by 12-time Rumble winner Tony Stewart with 17 to go and appeared to be losing the handle on his race car down the stretch.
But when Stewart and runner-up Billy Wease tangled entering turn three with nine laps left, Stewart spun out of the top spot and Wease came to a stop in the chaos – allowing third-running Clouser to reclaim command of the race.
From there, Clouser pulled away from Rumble rookie Thomas Schrager to secure his first victory in his second feature start and third attempt overall at the annual indoor racing classic.
"This is pretty awesome," said Clouser, who swept the night by topping qualifying and winning his heat race before his feature triumph. "I rolled in here this weekend just hoping to make the feature, so to get a victory is pretty badass.
"We've got a little work to do; Tony and Billy were definitely better than we were," he added. "But rolling around under green, the brake pedal fell off … so that wasn't a fun 50 laps with bad brakes, but we got it done with a little bit of luck along the way."
The first midget feature of Rumble weekend was chaotic, primarily due to high humidity in the Fort Wayne, Ind., area that caused the rubber and pop syrup mixture making up the seventh-mile concrete oval to come up at multiple points during the program.
Nine yellows slowed the pace during the midget feature, but none was as consequential as the penultimate incident, when Stewart slowed slightly on the approach to turn three and was sent spinning by Wease, who had no time to react before his Randy Burrow-prepared car got to Stewart's Munchkin.
Wease came to a stop as well, relegating the pair to the tail of the field and allowing Clouser another shot.
"We needed those two guys to get together, honestly," Clouser admitted. "We weren't going to have anything for them otherwise. I wasn't expecting to be as fast as we were all night, and to run as well as we did and to get a win on top of it is really cool. We're close to where we need to be and it's exciting."
Schrage, who was making his Rumble debut Friday night, was thrilled with his result in Brad Hayes' No. 01 but said he needed a longer green-flag run at the end of the race to make a run at Clouser.
With four laps to go, Schrage's teammate – Jackson Macenko – spun in turn two to bring out the final caution of the night. That incident sapped any late momentum Schrage felt he may have had.
"I think at the end, honestly, I just needed [more] green laps," the teenager admitted. "We got those first 19 laps where we got into a rhythm … and then it just went back and forth with yellows. I couldn't really make up spots how I wanted to, and toward the end I just couldn't get up to Mario.
"I wish I could have brought [a win] home in my first attempt, but we still have tomorrow to try again and we'll push toward that and see what we can do with the speed that we have."
Bryan Nuckles completed the podium finishers, followed by brothers Nick and Kyle Hamilton.
Stewart rallied back to 10th in the 14-car field at the finish, his first Rumble result outside the top six when he's been running at the checkered flag.
The 25-lap non-winged 600cc micro feature saw dirt specialist Kole Kirkman lead from start to finish for both his first Rumble victory in the non-winged micro class and the first pavement triumph of his career.
Kirkman never faltered despite four cautions, beating Tyler Gunn to the finish line by 2.821 seconds.
Dillon Nusbaum, Brent Busz and teenager Grant Valkner closed the top five in the non-winged event.
Veteran John Ivy took advantage of calamity ahead of him in the winged 600cc micro feature to notch his 22nd Rumble win, extending his record as the winningest driver across all classes in event history.
Ivy assumed the lead on lap eight, after Rod Henning turned around then-leader Brian Busz and both drivers were sent to the tail of the field, and never looked back from that point on.
The Ohio driver paced the remaining 18 laps, taking the checkered flag 1.501 seconds ahead of Bill Dunham. Ivy's teammate Cap Henry was third, followed by Tyler Shullick and Nate Franklin.
Philip Schneiderman carried the banner among go-kart racers Friday, winning all three of the features (Clone 330, Clone 360, Senior Champ) he entered and banking a $2,000 check for his score in the Senior Champ feature that closed the go-kart portion of the Friday program.
Other go-kart winners Friday at the Rumble included Cody Gallogly (Clone 400), Landen Francis (Junior 3), Kyleigh Drummond (Jr Sportsman) and Greysen Prater (Kid Karts).
Dylan Regnerus (Animal Combined), Grayson Hathaway (Sr. Honda), Tigh Shaffer (Jr. Honda), Austin Geer (Heavy 160), Memarie Ashcraft (Heavy 120) and Lukas Waber (Light 160) were quarter midget victors during opening night Friday.
Action at the 24th Rumble in Fort Wayne presented by Jason Dietsch Trailer Sales continues Saturday, with a full program of quarter midget, go-kart, 600cc micro and midget racing beginning at 11 a.m. ET.
Live streaming coverage of the event is being provided for the second consecutive year by SPEED SPORT affiliate PitRow.TV, the official video partner of the Rumble in Fort Wayne.
24th Rumble in Fort Wayne pres. by Jason Dietsch Trailer Sales; Allen County War Memorial Coliseum; Fort Wayne, Ind.; Dec. 30, 2022
National Midget A-Feature (50 laps): 1. 99g-Mario Clouser [1], 2. 01-Thomas Schrage [5], 3. 59-Bryan Nuckles [6], 4. 16-Nick Hamilton [9], 5. 32-Kyle Hamilton [11], 6. 46-Russ Gamester [8], 7. 5x-Justin Peck [12], 8. 9s-Charlie Schultz [3], 9. 99-Billy Wease [7], 10. 2-Tony Stewart [2], 11. 24m-Jackson Macenko [13], 12. 49-Tim Creech II [10], 13. 8up-Joe Liguori [14], 14. 36-Jim Anderson [4].
Lap Leader(s): Mario Clouser 1-33, Tony Stewart 34-41, Mario Clouser 42-50.
Hard Charger: #32 – Kyle Hamilton (+6)