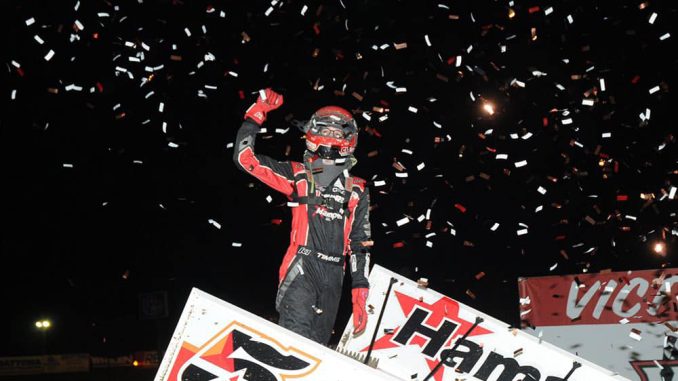 By Pete Walton
DeLeon Springs, Florida – January 27, 2023 Young gun, 16-year-old Ryan Tinms from Oklahoma City, raced from inside the second row into the USCS Victory Lane at Volusia Speedway Park on Friday night in the Germfree Southern Sprint Car Shootout United Sprint Car Series 2023 season-opener.
Timms bested a 39-car field of entries that included some of the bested winged sprint car drivers in North America and beyond from seventeen United States, Canada, and Great Britain to collect the $3000 paycheck in the weekend's 25-lap preliminary.
The initial start saw a caution for a spinning car before the field reset for attempt number two. On his second chance, Timms raced under pole starter Dylan Westbrook from Scotland, Ontario to grab the lead which he never relinquished. Westbrook chased the talented teenager for the entire 25-lap distance to cross under the flag stand in the runner-up spot.
Westbrook fended off the charges of NASCAR Cup Series driver and former National Sprint Car Hall of Fame Rookie of the Year, Ricky Stenhouse, Jr. from Mooresville, North Carolina who crossed under the checkers in the final podium spot (third place).
Dillsburg, Pennsylvania's Anthony Macridrove Sean Michael's #20 to a fourth-place finish in the weekend opener, and Chris Martin from Ankeny, Iowa rounded out the top five drivers.
The winner of December's sprint car contest at Volusia, Tyler Clem from St. Petersburg, Florida led the next group in sixth place. Cicero, New York's Paulie Colagiovanni charged from the fourteenth starting position to finish in seventh place. That was good enough to earn the Wildwood Disc Brakes Hard Charger Award.
Devon Borden from Raymond Washington followed in eighth place. Eric Riggins, Jr. from Charlotte, North Carolina was ninth and Jacob Dykstra from Port Colborne, Ontario completed the top ten.
Earlier in the evening, Brenham Crouch from Lubbock, Texas set the fastest qualifying time at 14.061 seconds around the high-speed half-mile oval.
The United Sprint Car Series winged warriors' weekend assault on the famed oval continues on Saturday night with a $5000 top prize on the line in night #2 of the inaugural Germfree South Sprint Car Shootout at 6:00 p.m. with hot laps and the racing action follows at 7:00 p.m.
If you can't be there LIVE you can catch all the action via LIVE Stream on DIRTVision. Just go to www.dirtvision.com for full details
United Sprint Car Series results for the Germfree Southern Sprint Car Shootout Night #1 on 1/27/2023 at Volusia Speedway Park – De Leon Springs, FL
USCS Sprint Cars 39 Entries.
Southern Sprint Car Shootout 25 Laps | 00:19:50.092
1. 5T-Ryan Timms[3]; 2. 47X-Dylan Westbrook[1]; 3. 17JR-Ricky Stenhouse Jr[5]; 4. 20-Anthony Macri[6]; 5. 44-Chris Martin[10]; 6. 14C-Tyler Clem[8]; 7. 10C-Paulie Colagiovanni[14]; 8. 7-Devon Borden[13]; 9. 47-Eric Riggins Jr[7]; 10. 5D-Jacob Dykstra[4]; 11. 1C-Brenham Crouch[12]; 12. 28F-Davie Franek[15]; 13. 21-Gavan Boschele[9]; 14. 63-Josh Weller[18]; 15. 23R-Ryan Roberts[17]; 16. 9M-Liam Martin[16]; 17. 14-Jordon Mallett[20]; 18. 23-Lance Moss[11]; 19. 0-Glenn Styres[19]; 20. 22-Shawn Murray[22]; 21. 4S-Danny Smith[21]; 22. 15-Garrett Green[2]; 23. 10-Terry Gray[23]; 24. 28W-Jeff Willingham[24]
Last Chance Showdown 1 12- Laps | 00:23:56.989
1. 23R-Ryan Roberts[3]; 2. 0-Glenn Styres[2]; 3. 4S-Danny Smith[9]; 4. 28-Jordan Poirier[1]; 5. 3-AJ Maddox[6]; 6. 42-Jesse Pruchnik[11]; 7. 28W-Jeff Willingham[8]; 8. 10-Terry Gray[5]; 9. 4X-Scott Baldwin[10]; 10. 77-Tyeller Powless[4]; 11. (DNS) 4M-Michael Miller; 12. (DNS) 4E-Eric Gunderson
Last Chance Showdown 2 12-Laps | 00:07:36.544
1. 63-Josh Weller[2]; 2. 14-Jordon Mallett[3]; 3. 22-Shawn Murray[1]; 4. 12-Corbin Gurley[5]; 5. 96S-Brandon Sampson[9]; 6. 197-Ryan Harrison[8]; 7. 41-Chase Moran[6]; 8. 9-CJ Miller[10]; 9. 34-Darren Orth[7]; 10. 42D-Danny Sams III[4]; 11. (DNS) 24-Danny Martin Jr
Heat 1 8-Laps | 00:04:24.000
1. 5D-Jacob Dykstra[2]; 2. 23-Lance Moss[1]; 3. 20-Anthony Macri[4]; 4. 28F-Davie Franek[3]; 5. 63-Josh Weller[5]; 6. 77-Tyeller Powless[6]; 7. 3-AJ Maddox[7]; 8. 34-Darren Orth[8]; 9. 96S-Brandon Sampson[10]; 10. 42-Jesse Pruchnik[9]
Heat 2 8-Laps | 00:03:53.000
1. 14C-Tyler Clem[1]; 2. 44-Chris Martin[2]; 3. 17JR-Ricky Stenhouse Jr[4]; 4. 10C-Paulie Colagiovanni[3]; 5. 22-Shawn Murray[5]; 6. 14-Jordon Mallett[6]; 7. 12-Corbin Gurley[8]; 8. 4M-Michael Miller[10]; 9. 197-Ryan Harrison[7]; 10. 9-CJ Miller[9]
Heat 3 8-Laps | 00:02:08.000
1. 47-Eric Riggins Jr[1]; 2. 15-Garrett Green[3]; 3. 47X-Dylan Westbrook[4]; 4. 9M-Liam Martin[2]; 5. 28-Jordan Poirier[5]; 6. 23R-Ryan Roberts[6]; 7. 10-Terry Gray[7]; 8. 28W-Jeff Willingham[8]; 9. 4X-Scott Baldwin[9]; 10. (DNS) 4E-Eric Gunderson
Heat 4 8-Laps | 00:02:12.000
1. 21-Gavan Boschele[1]; 2. 5T-Ryan Timms[3]; 3. 7-Devon Borden[2]; 4. 1C-Brenham Crouch[4]; 5. 0-Glenn Styres[6]; 6. 24-Danny Martin Jr[9]; 7. 42D-Danny Sams III[5]; 8. 41-Chase Moran[7]; 9. 4S-Danny Smith[8]
Qualifying 1 3-Laps | 00:00:46.000
1. 20-Anthony Macri, 00:14.387[9]; 2. 28F-Davie Franek, 00:14.571[4]; 3. 5D-Jacob Dykstra, 00:14.594[5]; 4. 23-Lance Moss, 00:14.696[8]; 5. 63-Josh Weller, 00:14.809[3]; 6. 77-Tyeller Powless, 00:14.829[6]; 7. 3-AJ Maddox, 00:14.996[2]; 8. 34-Darren Orth, 00:15.112[7]; 9. 42-Jesse Pruchnik, 00:15.388[1]; 10. 96S-Brandon Sampson, 00:15.560[10]
Qualifying 2 3-Laps | 00:00:45.000
1. 17JR-Ricky Stenhouse Jr, 00:14.346[9]; 2. 10C-Paulie Colagiovanni, 00:14.455[4]; 3. 44-Chris Martin, 00:14.464[5]; 4. 14C-Tyler Clem, 00:14.519[2]; 5. 22-Shawn Murray, 00:14.539[8]; 6. 14-Jordon Mallett, 00:14.609[6]; 7. 197-Ryan Harrison, 00:14.778[3]; 8. 12-Corbin Gurley, 00:14.814[10]; 9. 9-CJ Miller, 00:14.823[7]; 10. 4M-Michael Miller, 00:14.848[1]
Qualifying 3 3-Laps | 00:00:50.000
1. 47X-Dylan Westbrook, 00:14.253[6]; 2. 15-Garrett Green, 00:14.295[4]; 3. 9M-Liam Martin, 00:14.309[1]; 4. 47-Eric Riggins Jr, 00:14.446[8]; 5. 28-Jordan Poirier, 00:14.490[2]; 6. 23R-Ryan Roberts, 00:14.559[9]; 7. 10-Terry Gray, 00:14.646[3]; 8. 28W-Jeff Willingham, 00:16.486[7]; 9. 4X-Scott Baldwin, 00:16.580[10]; 10. (DNS) 4E-Eric Gunderson, 00:16.580
Qualifying 4 3-Laps | 00:00:44.000
1. 1C-Brenham Crouch, 00:14.160[9]; 2. 5T-Ryan Timms, 00:14.207[8]; 3. 7-Devon Borden, 00:14.502[3]; 4. 21-Gavan Boschele, 00:14.547[5]; 5. 42D-Danny Sams III, 00:14.549[7]; 6. 0-Glenn Styres, 00:14.716[6]; 7. 41-Chase Moran, 00:14.761[2]; 8. 4S-Danny Smith, 00:14.804[1]; 9. (DNS) 24-Danny Martin Jr, 00:14.761