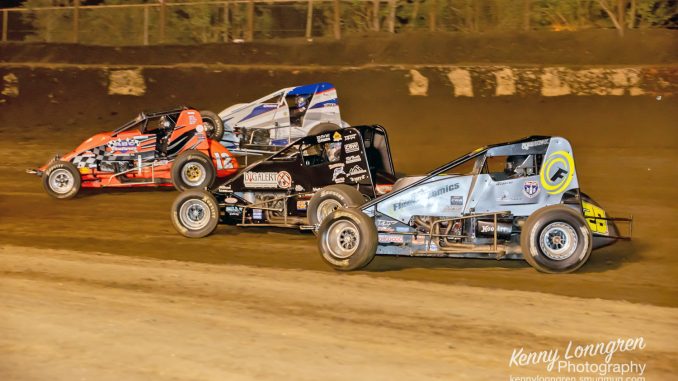 By Scott Daloisio
(Perris, CA, March 12, 2022) Perris Auto Speedway will attempt to kick off its 27th season of racing again this Saturday, March 18th, with the 20th annual Sokola Shootout featuring the Amsoil USAC/CRA Sprint Cars, PAS Senior & Young Gun Sprints, PASSCAR Super Stocks, and Street Stocks. Spectator gates for the start of a busy 2023 season will open at 5:00 p.m. Starter Steve Russell will wave the green flag for the first race of the year at 7:00.
307564453_8646203672063845_6053176885696253185_n.jpg
Wild 2022 Perris Auto Speedway USAC/CRA competition. Kenny Lonngren photo.
This week's event comes on the heels of last week's disappointing rainout that canceled the Night of Destruction presented by LKQ Pick Your Part. Everything looked good until late in the afternoon last Friday when the heavy downpours that were abundant in Southern California finally unloaded on the famous Riverside County racetrack. Within minutes the infield looked like a lake, and officials had no choice other than to cancel the race. This week, the weather looks fine and the track will open its 27th season.
Saturday's opening race honors the late Gary Sokola and his son Mark. Gary was a car owner and multiyear President of the original CRA Sprint Car Series during its golden years at many tracks including legendary Ascot Park in Gardena. He later went on to serve as race director at USAC. Following the family's racing tradition, Mark began his career driving TQ Midgets in 1982 before moving into sprint cars with CRA and SCRA.
"Each year we are honored to remember Gary and Mark Sokola in the annual Sokola Shootout at The PAS," Perris Auto Speedway promoter Don Kazarian stated. "Gary took over the reins of the original CRA in the 1970s and took the club to new heights. His main objective was safety. He championed many safety ideas that have no doubt saved drivers' lives over the years. If he deemed someone showing up with an unsafe car for a race, he would make them load up and go home. Following in his dad's footsteps into racing, Mark was a good and well-respected driver. Both are greatly missed in the racing world."
Saturday's race will mark the first time fans have been able to see sprint cars at the "Southern California Home of Major League Sprint Car Racing" in over four months. It will be the first of eight 2023 appearances at Perris for the top traditional sprint car series west of the Mississippi. As usual, The PAS Senior Sprints and Young Guns will also be on the card.
In addition to the open-wheelers, Saturday's show will also include the PASSCAR Super Stocks and Street Stocks. Both have been popular classes at the track for a couple of decades. Over the past three seasons, the super stocks, which have a sleek late-model style along with a lot of speed, have been the fastest-growing class at the track. They along with the resident street stocks have put on some very good races.
"This year, we are mixing things up a bit in our racing programs," Kazarian said. "We are trying to give the fans a look at some of the other types of racing we have here. In addition to a handful of stock car appearances, we will have the POWRi Southwest Lightning Sprint Cars on hand on four occasions. We had not hosted lightning sprints in several years but Brent Sexton persuaded us to bring them back for a race in 2022. They showed up 18 cars strong and put on one heck of a 20-lap main event."
Saturday will be the first of the track's "Power Of Purple Nights" benefiting the American Cancer Society's Relay for Life Riverside County East. The generosity of the fans, sponsors, teams, and track officials has raised more than $250,000.00 for the American Cancer Society. Drivers will be coming through the stands at intermission to collect money for the battle against the dreaded disease.
The only way to see USAC/CRA Sprint Car races at Perris Auto Speedway in 2023 is to attend the races in person. Races from The PAS will not be shown on Flo Racing this year.
Adult tickets for Saturday's race are $30.00. Seniors 65 and over get in for $25.00. For kids 6 to 12, it is just $5. Children 5 years of age and under are admitted free. The fairgrounds charges $10 for parking.
Advanced tickets for Saturday's race and every race at The PAS are available until noon on race day at https://www.tix.com/ticket-sales/pas/7 or by calling 1-800-595-4849. For fans who do not wish to buy advance tickets, there will be plenty available for everyone at the ticket window each race night.
Perris Auto Speedway is conveniently located on the Lake Perris Fairgrounds (home of the Southern California Fair), one-hour east of Los Angeles and one-hour North of San Diego. To get to the track, take the 215 freeway, exit on the Ramona Expressway, and go three miles east to the fairgrounds. For directions online, the address to enter is: 18700 Lake Perris Drive and the zip code is 92571.
Fans can stay up to date on track and driver news on The PAS social media efforts at the links below.
Facebook: https://www.facebook.com/pages/Perris-Auto-Speedway/113876798686480?ref=hl
Twitter: Perris Auto Speedway on Twitter
Instagram: https://www.instagram.com/perrisautospeedway/
Website: http://perrisautospeedway.com/
Perris Auto Speedway wants to thank the following corporate partners. Ahern Equipment Rentals, Anderson Chevrolet, Battery Systems, Chris' Hauling, City of Perris, Communication Innovations, Daytona Boat & RV Storage, Ed Moore Bullet Proof Driveshaft, Flowdynamics, HD Industries, Heimark/Anheuser Busch, Hoosier Tires, Inland Rigging, Living Water's Hospice, LKQ Pick Your Part, Luke's Transmission, Moose Racing, Pepsi-Cola, Performance Online, Pole Position Raceway, PrintItNow.com, Rainbow Bolt & Supply, Rene's Bar & Grill, Rugged Radios, Shaver Specialties, Square H, Sunoco Race Fuels, Trench Shoring, Upland Rock, Varner Construction and Vista Paint.
Video and DVD productions of all racing sprint cars events at Perris Auto Speedway are available from Loudpedal Productions. For more information on these productions you can contact them by calling (805) 844-3854, E-mailing mailto:trtruex@gmail.com or you can visit the website LoudPedal Productions.
DVDs of all the PASSCAR/IMCA racing and Nights of Destruction at The PAS are available from Fourvideos. For more information call (714) 225-9500.