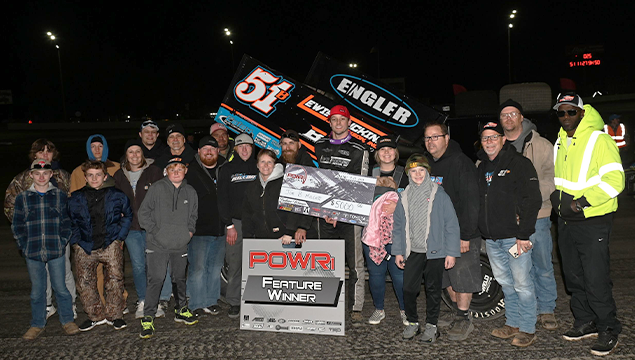 By Loren Kelly
After a tough end to his Friday evening at Jacksonville Speedway with engine issues preventing Joe B. Miller from starting the feature, the Lewis Trucking #51B team loaded up and headed to Benton Speedway in Missouri for a $5,000 to win POWRi BOSS 410 Sprint Car show in front of a strong contingent of fans.
Joe B started the night with an impressive late qualifying run. Heading onto the Benton Speedway dirt 18th in the qualifying order, the Millersville, MO native laid down an incredible lap on a surface that was quickly losing grip to go 3rd quick overall. A solid heat race finish (3rd) put the #51B on the inside of the second row for the night's 25 lap A Main.
Starting inside of Emerson Axsom and directly behind polesitter Ryan Timms, Miller charged to the inside of second place starting and defending POWRi 410 champion Roger Crockett and pulled even with Timms through turns 1 and 2. On the second circuit, Timms drove to the cushion and Miller found the hooked up bottom side of the speedway and drifted high to take the lead off of turn 2.
Timms would close in on Miller in traffic on lap 11 but the #5T got high above the cushion in turn 2 and spun as a result. Over the final 14 circuits and multiple restarts, Miller fended off a challenge from Carson Short and pulled away to score his second 410 Winged Sprint victory of 2023, and also became the first repeat winner in POWRi BOSS 410 competition.
"It feels great to get a win this close to home. We're only 30-40 minutes from our shop." Joe B said in victory lane. "Chris [Lewis of Lewis Trucking of Jackson]] has a bunch of employees here tonight and we've got a ton of family and friends here as well. Definitely feels cool to get a win for them. It's also great to see a crowd like this on a cold night so thanks to the fans for coming out."
Next up for Joe B. Miller Motorsports is a return to the High Limit Sprint Car Series on Tuesday, April 25th at 34 Raceway. At the series' season opener at Lakeside Speedway, Miller was unable to run more than the Non-Qualifier race due to engine issues. A 46 car strong field is expected on Tuesday with an absolutely stacked lineup of drivers and teams. Tickets are available on the High Limit website as well as at the track. If you're unable to attend, FloRacing will have live coverage of the event and the My Race Pass app will provide live timing and scoring.
You can follow Joe B's 2022 season on his social media channels; on Facebook at Joe B. Miller Motorsports and on Twitter @JoeBMotorsports, as well as his Public Relations on Facebook at Box3 Media, on Twitter @box3_racing and on Instagram @box3_media.
Joe B. Miller Motorsports would like to thank all of their 2023 Partners for their support this season!
Lewis Trucking Inc. of Jackson, Missouri
Bryant Paver Motorsports
Five Star Auto
Chemstream Race Fuels
67 Towing
Ealey Bulk Carriers
Bandit Shox
Fast Four Media
AFD Graphix
Walker Performance Filtration
Schoenfeld Headers
Precision Plating