By Gary Thomas
Tulare, CA…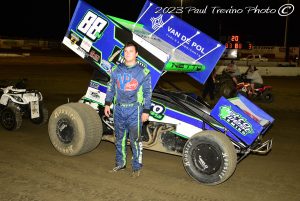 "It felt nice to pick up another win at Thunderbowl Raceway on Saturday night," Netto commented. "We're placing our focus on having a good time this year and not chasing points anywhere. I certainly must thank my dad Frank, Uncle James, Cori, Doug, Eric and Evan Burrola, along with all our sponsors. We don't have the chance to run Tulare all that often, so it's always special occasion when we do."
The 27-year-old competitor started off the night by going out late in the qualifying order, but ultimately ripped off a 13.887, good enough to time-in P4.
Netto then started from the pole and captured the night's second heat race, before lining-up on the outside of the front row in the feature. The Hanford, California racer jumped into the lead at the waving of the green flag and led all 25-laps en route to the victory.
The win marked his third triumph of the season, to go along with an ASCS score in Arizona and the recent Dennis Roth Classic in Tulare with the Kings of Thunder Sprints.
As of now the next scheduled event for Netto is to be determined.
DJ Netto Racing would like to thank Netto AG, Van De Pol Petroleum, Penny Newman Grain, Estenson Racing and E.M. Tharp Peterbilt for their support this season.
𝗗𝗝 𝗡𝗲𝘁𝘁𝗼 𝗥𝗮𝗰𝗶𝗻𝗴 𝗤𝘂𝗶𝗰𝗸 𝗥𝗲𝗰𝗮𝗽- Thunderbowl Raceway
Saturday April 29th: Qualified (4th), Heat Race (1st), A-main (1st)
𝗨𝗽𝗰𝗼𝗺𝗶𝗻𝗴 𝗥𝗮𝗰𝗲𝘀-