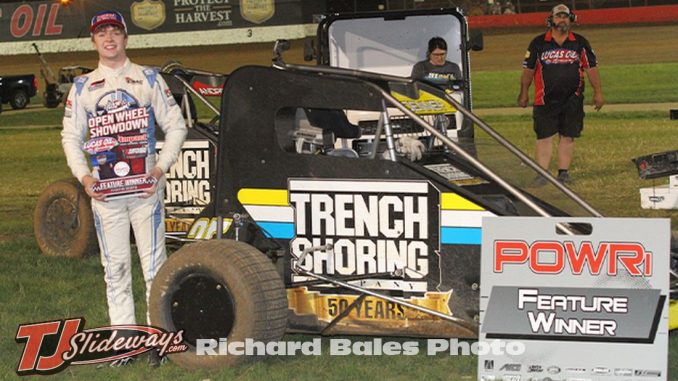 From POWRi
WHEATLAND, Mo. (May 6, 2023) — Jacob Denney would claim perfection at Lucas Oil Speedway in the Open Wheel Showdown to capture his first career victory with the POWRi National & West Midget League, in an outstanding feature event.
Early diamond of the dirt track competition with the POWRi National and West Midget League would see Jacob Denney start the action off with a quick hot-lap time of 15.990 as Mariah Ede and Jacob Denney each earned heat racing wins.
Setting the feature field would find high-point qualifier Jacob Denney and front-row counterpart Mariah Ede each jockeying for positions as the green flag flew with Jacob Denney gaining the slight advantage on the opening lap as Daniel Adler, Mariah Ede, Cooper Williams, and Xavier Doney were all found racing inside the top five.
Holding the prized placement until the checkers waved would find Jacob Denney clinch his first POWRi National Midget League feature victory of 2023 to notch his inaugural career league win at Lucas Oil Speedway after leading every lap in the feature.
"This team gives me a great ride every night and this feels amazing," said Jacob Denney in the Wheatland Missouri victory lane ceremony. Adding, "I wasn't trying to look at the scoreboard or the laps down, I knew I just had to hang on and not mess up."
Contending for the lead late and battling determinedly, Chase Johnson would valiantly place a solid runner-up as Jake Andreotti would round out the podium placements.
Hunting for the front would witness Karter Sarff hard-charge his way past twelve other entrants to finish fourth as top-contender Corbin Rueschenberg would round out the POWRi National Midget League top-five finishers at Lucas Oil Speedway's Twelfth Annual Impact Signs, Awnings, and Wraps Open Wheel Showdown.
POWRi National Midget League / POWRi West Midget Car Series
Lucas Oil Speedway
Wheatland, Missouri
Saturday, May 6, 2023
Advanced Racing Suspension Heat Race #1 (8 Laps)
1. 71E-Mariah Ede[1]
2. 50-Daniel Adler[3]
3. 97K-Cooper Williams[5]
4. 13-Elijah Gile[4]
5. 00-Talin Turner[8]
6. 7-Shannon McQueen[6]
7. 31K-Kyle Beilman[7]
8. 21K-Karter Sarff[2].
Auto Meter Heat Race #2 (8 Laps)
1. 25-Jacob Denney[2]
2. 3N-Xavier Doney[1]
3. 25M-Jake Andreotti[4]
4. 31B-Chase Johnson[6]
5. 56-Mitchell Davis[3]
6. 26-Corbin Rueschenberg[5]
7. 23-Ashton Thompson[8]
8. 7D-Michelle Decker[7].
A-Main (25 Laps)
1. 25-Jacob Denney[1]
2. 31B-Chase Johnson[7]
3. 25M-Jake Andreotti[6]
4. 21K-Karter Sarff[16]
5. 26-Corbin Rueschenberg[12]
6. 97K-Cooper Williams[4]
7. 71E-Mariah Ede[2]
8. 00-Talin Turner[8]
9. 7-Shannon McQueen[11]
10. 23-Ashton Thompson[13]
11. 7D-Michelle Decker[15]
12. 31K-Kyle Beilman[14]
13. 50-Daniel Adler[3]
14. 3N-Xavier Doney[5]
15. 56-Mitchell Davis[10]
16. 13-Elijah Gile[9].