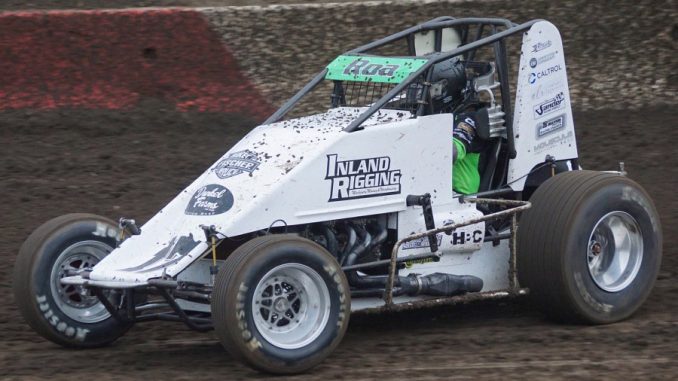 by Richie Murray
Mohave Valley, Arizona (May 6, 2023)………Brody Roa is officially en fuego.
The Garden Grove, Calif. native collected his third consecutive AMSOIL USAC CRA Sprint Car feature victory on Saturday night at Arizona's Mohave Valley Raceway.
Roa's fifth win in the series' first eight races is equaled for the best start in series history. Only Damion Gardner (2014 & 2022) had won as many features as Roa in his first eight starts to begin a season.
Setting the tone early, Roa earned the night's Woodland Auto Display Fast Qualifying honors with a lap time of 14.275 seconds the 1/3-mile dirt oval.
Starting sixth, Roa carved his way through the field and into the lead by lap four and denied all pursuers by closing out his second career victory at Mohave Valley after winning the main event in October of 2022.
Charles Davis Jr. (Buckeye, Ariz.) finished 2.574 seconds behind Roa at the finish in second. Cody Williams (Yorba Linda, Calif.) took third while Tommy Malcolm (Corona, Calif.) collected fourth and A.J. Bender (San Diego, Calif.) rounded out the top-five.
Roa's latest triumph was the 18th of USAC CRA career, which ranks fifth all-time, two behind 2007 series champion Tony Jones for fourth.
The score also pushed Roa's series point lead to a whopping 120 over Cody Williams with roughly one-third of the season in the books.
Davis and Malcom captured heat race wins sponsored by FlowDynamics, Inc., In Memory of Jim & Chet Gardner, BillsJerky.net, WC Friend Company and Factory Wraps.
=====================
AMSOIL USAC CRA SPRINT CAR SERIES RACE RESULTS: May 6, 2023 – Mohave Valley Raceway – Mohave Valley, Arizona
WOODLAND AUTO DISPLAY QUALIFICATIONS: 1. Brody Roa, 17R, Dunkel/BR-14.275; 2. Tommy Malcolm, 5x, Napier-14.539; 3. Austin Williams, 2, Williams-14.895; 4. Cody Williams, 44, Williams-14.962; 5. Charles Davis Jr., 47, Davis-15.025; 6. A.J. Bender, 21, Bender-15.366; 7. Chris Bonneau, 15, Bonneau-15.375; 8. Andrew Sweeney, 98A, Guerrero-15.385; 9. Verne Sweeney, 98, Guerrero-16.048; 10. Richard McCormick, 71x, Luport-16.382; 11. Grant Sexton, 22, Sexton-16.384; 12. Camie Bell, 29c, Bell-16.454; 13. Jeff Dyer, 39, Cal-Sun-16.659; 14. Tommy Dunkel, 17A, Dunkel/BR-16.865; 15. Logan Calderwood, 6, Calderwood-18.502; 16. James Turnbull II, 2J, Turnbull-NT.
FLOWDYNAMICS INCORPORATED / IN MEMORY OF JIM & CHET GARDNER / FACTORY WRAPS FIRST HEAT: (10 laps) 1. Davis, 2. Roa, 3. Sexton, 4. A. Williams, 5. Calderwood, 6. Dyer, 7. V. Sweeney, 8. Bonneau. NT.
BILLSJERKY.NET / WC FRIEND COMPANY / FACTORY WRAPS SECOND HEAT: (10 laps) 1. Malcolm, 2. Bender, 3. C. Williams, 4. A. Sweeney, 5. McCormick, 6. Dunkel, 7. Bell. NT.
FEATURE: (30 laps, With Starting Positions) 1 Brody Roa (6), 2. Charles Davis Jr. (2), 3. Cody Williams (3), 4. Tommy Malcolm (5), 5. A.J. Bender (1), 6. Grant Sexton (11), 7. Richard McCormick (10), 8. Logan Calderwood (14), 9. Verne Sweeney (9), 10. Andrew Sweeney (8), 11. Tommy Dunkel (13), 12. Jeff Dyer (12), 13. Camie Bell (15), 14. Austin Williams (4), 15. James Turnbull II (16), 16. Chris Bonneau (7). NT.
**Turnbull flipped during qualifications.
FEATURE LAP LEADERS: Laps 1-3 Davis, Laps 4-30 Roa
IN MEMORY OF JIM & CHET GARDNER HARD CHARGER: Logan Calderwood (14th to 8th)
WILWOOD DISC BRAKES LUCKY 13 AWARD: Camie Bell
NEW AMSOIL USAC CRA SPRINT CAR POINTS: 1-Brody Roa-627, 2-Cody Williams-507, 3-Tommy Malcolm-489, 4-Austin Williams-466, 5-Charles Davis Jr.-460, 6-A.J. Bender-388, 7-Logan Calderwood-380, 8-R.J. Johnson-324, 9-Grant Sexton-282, 10-Chase Johnson-237.
NEXT AMSOIL USAC CRA SPRINT CAR RACE: May 20, 2023 – Thunderbowl Raceway – Tulare, California – Chris & Brian Faria Memorial