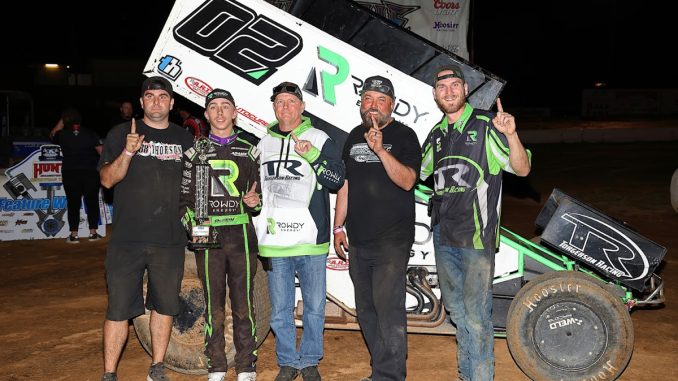 By Gary Thomas
Placerville, CA…Glendale, Arizona's Ashton Torgerson showed his metal on Saturday night at Placerville Speedway, making a move by Tanner Carrick with less than 10-laps remaining to secure his first career Winged 360 Sprint Car triumph.
Sharing victory lane with the youngster on Saturday were Placerville's Shane Hopkins with the Hunt Magnetos Wingless Tour, Lincoln's Dan Brown Jr. with the Anrak Late Models and Auburn veteran Thomas Arbogast with the Red Hawk Casino Pure Stocks. Copious amounts of children and families were on hand Saturday for the annual John Padjen Kids Bike Night presented by the Pizza Factory.
Torgerson has returned from the well documented incident during the Chili Bowl to snag multiple wins in the Micro ranks, but Saturday's score was his very first aboard a Sprint Car, which came in just his 13th career start. The first couple circuits in the 25-lap Thompson's Winged 360 finale saw Luke Hayes and Stephen Ingraham battle it out, before contact between the pair on lap three brought out a caution.
Lincoln's Tanner Carrick inherited the lead and most people likely thought that it would be game over in the feature, however, Torgerson proved that certainly was not the case. When the green flag waved again, he hounded the rear tail tank of Carrick's machine, as the pair put on an entertaining show for the fans in the stands. Both drivers ran two distinct lines and when lapped traffic came into play, things got interesting.
Torgerson finally got the run he wanted up high off turn two with 17-laps complete and drove by for the top-spot that he never relinquished. The 16-year-old went on to accept Ron Stahl's checkered flag for victory at the helm of his Rowdy Energy Drink No. 02 machine. Carrick came home second, followed by 15th starting Shane Hopkins, who made several beautiful passes in the main event. Elk Grove's Bubba Decaires and 13th starter Michael Faccinto of Hanford rounded out the top-five.
Completing the top-10 were 16th starting Jake Haulot, 17th starter Michael Ing, 18th starting Austin Torgerson, Dominic Gorden and Hayes. Carrick began the evening by earning the ADCO Driveline and Custom Exhaust Fast Time Award with a lap of 10.985 around the quarter mile. A total of 21 cars competed on John Padjen Kids Bike Night.
Thompson's Winged Sprint Car results: 1. 02-Ashton Torgerson[2]; 2. 83T-Tanner Carrick[5]; 3. 21-Shane Hopkins[15]; 4. 94-Greg Decaires V[6]; 5. X1-Michael Faccinto[13]; 6. 7H-Jake Haulot[16]; 7. 21M-Michael Ing[17]; 8. 88-Austin Torgerson[18]; 9. 10-Dominic Gorden[8]; 10. 9L-Luke Hayes[4]; 11. 32-Caden Sarale[19]; 12. 1F-DJ Freitas[10]; 13. 93-Stephen Ingraham[1]; 14. 54S-Drake Standley[11]; 15. 25S-Seth Standley[21]; 16. 87-Ashlyn Rodriguez[7]; 17. 98-Chris Masters[12]; 18. 7C-Tony Gomes[14]; 19. 15-Michael Sellers[20]; 20. 7-Jake Morgan[3]; 21. 25-Justin Johnson[9]
The Joe Hunt Magnetos Wingless Sprint Cars brought out a stellar field of cars and provided some exciting close quarter action in the main event. Petaluma's Nick Robfogel occupied the pole in the 25-lap contest and led the first couple circuits but had his hands full with several hungry racers behind him. Mark Hanson was then able to slip by on lap three and hold command until lap eight, when Placerville's Shane Hopkins jumped to the lead.
Early on the bottom side was the place to be, but Hopkins and Stockton's DJ Johnson moved up top and found immense speed. Johnson methodically picked off cars running the ragged edge of the bullring, slicing his way into second with 14 down. He then went to work on Hopkins and nipped him at the line to lead lap 15, only to have the High Sierra Industries No. 21 get back by shortly after.
The following lap saw Johnson's thrilling run come to an end when he caught the turn four cushion just hard enough to send him around and bring out a caution. The final laps saw Oakley's Jacob Tuttle hound the leader, but Hopkins hit his marks and crossed the stripe for the big triumph. Tuttle, Hanson, Robfogel and 16th starting Jarrett Soares rounded out the top-five. A stout field of 30 entrants competed on Saturday. Robfogel began the evening by earning fast time with a lap of 12.427.
Hunt Magnetos Wingless Tour results: 1. 21-Shane Hopkins[5]; 2. 3F-Jacob Tuttle[6]; 3. 79-Mark Hanson[3]; 4. 3-Nick Robfogel[1]; 5. 12-Jarrett Soares[16]; 6. 2STX-Brent Steck[8]; 7. 21X-Marcus Hardina[2]; 8. 36-Bob Newberry[10]; 9. 32-Shawn Arriaga[11]; 10. 3T-Blake Bower[13]; 11. 63-Dylan Newberry[17]; 12. X-Jerry Kobza[7]; 13. 33-Heath Holdsclaw[15]; 14. 18-Josh Gillis[19]; 15. 71-James East[20]; 16. 31P-Eathon Lanfri[14]; 17. 7EJ-Josh Young[9]; 18. 23-Rob Lindsey[18]; 19. 33DJ-DJ Johnson[12]; 20. 17-Anthony Snow[4]
The Anrak Corporation Late Models also fell under the Xtreme Series sanction on Saturday and in the end, it was all about Lincoln's Dan Brown Jr. who picked up the victory. Current point leader Ray Trimble held command on the opening lap, until Brown blasted by for the lead on lap two. Last time out it was Brown and Dan Jinkerson who thrilled the crowd in the feature and on this night, it turned out to be a similar story.
Jinkerson moved into second at the halfway point and looked to find a way by the Ahart Racing No. 15 Late Model. Brown would not be denied on this night however, as he crossed under the checkered for his 14th career Late Model win at Placerville Speedway. Jinkerson, Trimble, Matt Micheli and Rod Oliver rounded out the top-five.
Anrak Late Model results: 1. 15-Dan Brown Jr[2]; 2. 23-Dan Jinkerson[5]; 3. 37-Ray Trimble[1]; 4. 96M-Matt Micheli[8]; 5. 57-Rod Oliver[3]; 6. 28G-Clark Gougliomani[7]; 7. 4SALE-Tim Yeager[11]; 8. 23J-Tyler Lightfoot[4]; 9. 22G-Paul Gugliomoni[6]; 10. 54-Matt Davis[9]; 11. (DNF) 1-Cole Ciraulo[10]
After taking 10-years off behind the wheel of a race car Auburn's Thomas Arbogast has returned in 2023 and showed some definite speed. On Saturday night it all came together as took the lead on lap 11 and never looked back. Camino racer Kenny Bernstein started from the pole and looked impressive early on, holding the rest of the field at bay. Arbogast closed up to his bumper though and made the move by just after the halfway point.
Once up front Arbogast pulled away to a sizeable lead at times and crossed under the checkered for the win over a fast-moving Kevin Jinkerson, Ryan Peter, point leader Nick Baldwin and Bernstein.
Red Hawk Casino Pure Stock results: 1. 86-Thomas Arbogast[4]; 2. 30-Kevin Jinkerson[8]; 3. 83-Ryan Peter[6]; 4. 17-Nick Baldwin[5]; 5. 43-Kenny Bernstein[1]; 6. 1A-Ted Ahart[2]; 7. 23-Bill O'Neal[3]; 8. 93-Mel Byers[9]; 9. 27-William Upton[10]; 10. 1-Chris D'angelo[7]; 11. 55-Micky Dangelo[12]
Placerville Speedway goes dark for Memorial Day weekend but comes back with a massive double header on June 2nd and 3rd.
The 32nd "Dave Bradway Jr. Memorial" kicks-off with the Elk Grove Ford Sprint Car Challenge Tour presented by Abreu Vineyards headlining Friday's opener and concludes with the NARC 410 Sprint Cars during Saturday's finale. Both nights also showcase the Nor-Cal Dwarf Car Association. Seating is reserved each night with tickets available at www.placervillespeedway.com