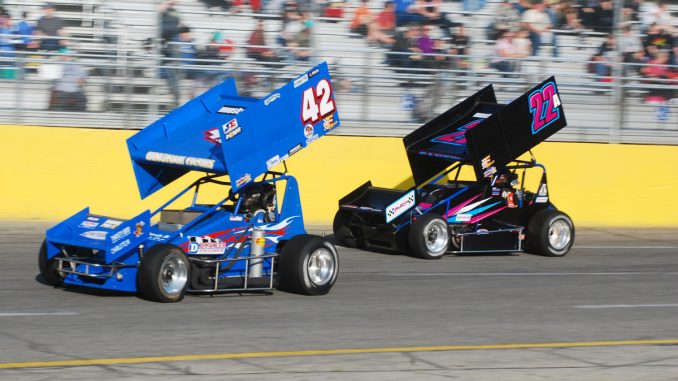 From Must See Racing
May 22, 2023 – Holly, Michigan – When Jason Blonde won the Must See Racing Sprint Series presented by Engine Pro season opener at Berlin Raceway Saturday afternoon, it sent his season in a different direction. He hadn't planned on running the entire MSR schedule. But as the current points leader, it will be very enticing to run the remainder of the events.
The 48-year-old Blonde and car owner Tony Nosal find themselves atop the MSR standings by a mere 3 points ahead of Bobby Santos and just 7 over defending champion Charlie Schultz.
The competition at last Saturday's MSR opener was stout, very stout. It may have been the strongest field of cars the series has witnessed in nearly a decade. Even Blonde was skeptical of how he would fair leading up to race day.
"I was surprised. Bobby (Santos) is always so good. I was kinda running for second or third. Then you got the #50 car (Mike McVetta) and Ryan Litt. We were lucky to get the win because Santos was knocking on my door pretty hard. To get the win against the caliber of competition we did this weekend shows the type of team we are".
When asked if his most recent success has tempted him to run the entire schedule, he quickly responded "all that could change for sure. Most all the tracks on the schedule I've won at except Rockford. If I'm leading the points at that time, we might have to go there," laughed Blonde. "Anytime you can win a championship it means a lot. It shows what kind of team we have, and everybody works so hard to get to that point".
Blonde may be having the best success of his career lately. Despite running the full MSR schedule in recent seasons, Blonde has amassed several big victories the past two seasons including the 'Bob Frey Classic' and 'American Speed U.S. Nationals'. "I guess it's experience. I've been running dirt cars and that helps me not be so loose with the pavement car."
If Blonde is to protect his current points lead, he will have to do it twice this weekend as the 3rd annual 'American Speedway U.S. Nationals' at Birch Run Speedway in Birch Run, Michigan is up next with two complete shows both Friday May 26 and Saturday May 27. Blonde won the inaugural 'American Speed U.S. Nationals in 2020. Birch Run Speedway is a track he's all but familiar with, and this could be bad news for the competition, if he continues to stay hot.
For more info on the American Speed U.S. Nationals please visit www.mustseeraacing.com