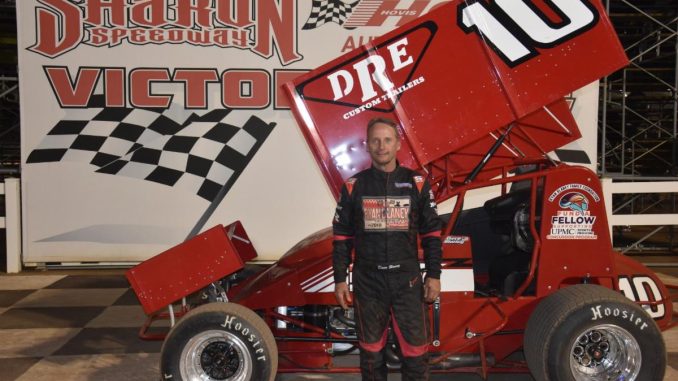 By Mike Leone
(Hartford, OH)…As the trend of sunny and hot weather continued, Western PA Speedweek crossed right over the border to Sharon Speedway on Saturday night as fans were treated to a week high of 31 Sprint Cars for round four of the five-night affair. Celebrating in the Hovis Auto & Truck Supply victory lane were Dave Blaney-Hovis Auto & Truck Supply "410" Sprint Cars, Jordan Perkins-Gibson Insurance Agency Pro Stocks, Garrett Krummert-HTMA/Precise Racing Products RUSH Sportsman Modifieds, and Will Thomas III-Whelen Econo Mods. Race #6 of the 94th anniversary season marked the 22nd straight completed event dating back to last season.
Total domination. That's what race fans and fellow competitors of Dave Blaney witnessed on Saturday night. After a pair of runner-up finishes in his first two races of Western PA Speedweek at Pittsburgh and Lernerville, Blaney got over the hump with a beatdown not seen in sometime during Saturday night's 30-lap Hovis Auto & Truck Supply feature. Blaney passed Jared Zimbardi on a restart on lap four and with the final 27 laps going green-to-checkered, lapped up to fifth place and crossed the finish line first by more than nine seconds! Blaney's second win in his two "410" Sprint Car starts this year at Sharon was once again worth $3,000.
"I saw the 2 car (A.J. Flick) on the first lap from eighth so you just run as hard as you can and try not to make any mistakes," revealed the 60-year-old Concord, NC hall of famer. "The car was great again and had speed in a lot of different lanes- that's what makes you hard to beat here if you can run all over the race track fast. I love coming here and winning- it's just awesome. I came up from North Carolina, had a local crew I grabbed up, and we had a lot of fun. Thank you to everyone for coming out."
Blaney started fourth and moved into third on the opening lap past his brother Dale. As Greg Wilson was challenging Zimbardi for the lead, Blaney overtook the runner-up spot on lap two. The only caution of the event was for a slowing John Walp with three laps scored. Once Blaney took the lead on the restart, it was lights out. Blaney opened up a lead of 3.161 seconds when he caught lapped traffic on lap nine and that lead would only grow.
While Blaney was setting a torrid pace out front, a tremendous three-car race was taking place for second with Zimbardi trying to fend off Wilson and eighth starting A.J. Flick; meanwhile, seventh starting Zane DeVault was on the move cracking the top five on lap 13. DeVault then made a breathtaking move past Wilson and Flick for third on lap 14. Two laps later, DeVault put a big slider on Zimbardi to grab second; however, found himself 9.711 seconds behind Blaney.
DeVault wasn't able to cut much into Blaney's lead over the second half of the event as Blaney's DRE Custom Trailers/Ryan Blaney Family Foundation/UPMC Concussion Group/Mohawk/Bill Davis-sponsored #10 took the checkered flag first by 9.122 seconds for his 36th career Sharon "410" Sprint Car victory. DeVault, an Indiana native who now resides in North Carolina, was an impressive second in his first ever Sharon appearance and earned $1,600.
Flick, who swept last year's three-night Speedweek and entered the night with two wins to date in 2023 Speedweek, was third as he continues to lead the $3,000 to-win point championship with one night to go. Ryan Smith, the 2021 Speedweek champion, was fourth as Wilson dropped to fifth and was the final car on the lead lap. George Hobaugh was sixth as Dale Blaney dropped from third to seventh. After leading the first three laps, Zimbardi faded to eighth and was one lap down. Central Pa. invader Mark Smith, who was the 2005 Sharon Nationals victor, went 16th to 9th to earn the $200 hard charger from Rustler Sales & Service.
Flick earned an additional $500 from Knox Bakery and Krill Recycling for setting fast time overall against the 31-car field in qualifying with a lap 15.053. Heat winners were DeVault, Carl Bowser, Dave Blaney, and Wilson, while Brett Brunkenhoefer won the last chance B main with his "305" powered engine.
After opening night winner Tim Bish garnered his first career Sharon Speedway victory, Jordan Perkins also put his name in the record books as a feature winner at the historic dirt track. Perkins led the final 19 laps of the Gibson Insurance Agency Pro Stock feature and kept divisional standout and veteran Bobby Whitling at bay to capture a popular victory.
"First one here as we've been trying for a long time and finally got something that worked," acknowledged the 32-year-old New Castle, Pa. resident. "I usually can't stand running the bottom at any track, but that's the only place we could make the car go. There was a lot of bite down there and I was just trying not to hit the yuke tires. Honestly I didn't think the car was even that good in the heat race."
Perkins slipped under another veteran Pro Stock racer in Jamie Duncan to take the lead on lap two in the 20-lap feature. Fifth starting Scott Stiffler passed Duncan for second on lap three. Paul Davis then drove around Duncan on lap five to take third. Following the event's first caution for a spin by Jamie Scharba, eighth starting Whitling took over third from Davis before the second and final caution of the race with 12 laps scored.
Back under green flag conditions, Perkins continued to lead, while Whitling challenged Stiffler for second. Whitling made the pass on lap 14 but found himself 1.182 seconds back of Perkins. Whitling was unable to challenge Perkins over the final six laps as Perkins' lead actually grew. At the finish, Perkins took his first Sharon checkered flag by a margin of 1.754 seconds in his Six Packs Bar & Grill/Greg's Bodywork/Four Star Pizza of New Castle/Berkshire Hathaway/Preston Hyundai/Murphy Concrete/Brian Warkins Lawncare/Green Roof Rentals-sponsored #13J.
Stiffler was third. Paul Davis beat out his son Jonathan for fourth; however, Jonathan earned a $100 Summit Racing Equipment gift card for being the hard charger after advancing five positions from his 10th place starting spot. Completing the top 10 were Coleton Longwell, Scott Malone, Steve D'Apolito, Troy DeZarn, and Scharba. Whitling and Stiffler won the heat races.
Garrett Krummert out-dueled fellow Modified veteran Rob Kristyak and kept up and coming teenage star Ben Easler in his tracks to become the third different RUSH Sportsman Modified winner in as many races this season. It was the second time Krummert has been victorious in two tries driving for his good friend Jordan Ehrenberg as he also took the checkered on July 9, 2022. The feature went non-stop in 6:38.142.
"The race track was good and going without any cautions is nice," stated the 35-year-old West Middlesex, PA racer. "Honestly I just tried to roll the bottom, stay on the tires and make sure I didn't miss. If they went around me then so be it. I have to thank Jordan (Ehrenberg); he owns this stuff and lets me come play once in awhile. Also have to thank his brother, all his crew guys, my wife helping out, and Sharon for having this race."
Kole Holden and Kristyak led the field to green for the 20-lap HTMA/Precise Racing Products feature. Holden took the early lead as he was trying to sweep the weekend for the Wedge Motorsports "Route 7 Rumble" Series after being victorious on Friday night at Raceway 7. It was a four-car race for the lead with Holden trying to fend off Easler, Kristyak, and Krummert. After falling back to third, Kristyak made the outside work passing Easler for second then raced side-by-side with Holden several laps for the lead.
Kristyak officially led lap five, but it was a three-car race for the lead on lap seven as Krummert moved into second. Krummert's winning move came off the bottom of turn four on lap eight. Kristyak stayed with Krummert running the top for several laps until Krummert began to pull away. Easler then got under and past Kristyak for second on lap 15. Easler closed the gap on Krummert, but it was too little too late as Krummert's 11th career win in the division and 12th overall at Sharon came by 1.011 seconds in the DMXI/Cabin 2 Castle Home Inspections/330 Creations-sponsored #JD57.
Kristyak was third over JC Boyer. After leading the first four laps, Holden dropped to fifth at the finish. Ayden Cipriano, Tony Tatgenhorst, Brandon Ritchey and brothers Jacob and Doug Rutana completed the top 10. Boyer and Krummert captured heat race victories.
After challenging Jacob Eucker for much of the race, Will Thomas III finally made the winning move on the final lap to become the third different Econo Mod winner in three races this year. The 20-lap Whelen-sponsored feature was caution-plagued with eight stoppages.
"He (Eucker) wasn't going to give the bottom up so it was all we had and fortunately it worked out okay." explained the 47-year-old Sharpsville, Pa. racer. "He knew where we needed to be. We were trying to get there to pivot underneath him. A couple times I thought I was there, but he doesn't know and he's doing everything he can to hold the bottom. It feels really good to win. I keep getting older and you don't know if one of these you get will be the last one so they're all important. I'm just happy my wife and family could all be here tonight. I also have to thank Ty Rhoades who came out here tonight and found a problem in the left rear we had in this car. If he hadn't found that there was no way we would be standing here."
Eucker started on the pole, while Thomas lined up fourth. Thomas moved to third past opening night winner, Dustin DeMattia, on lap two before the first caution of the event with three laps scored. When racing resumed on lap four, Thomas slipped under Garrett Calvert for second. Thomas really pressured Eucker on lap 13, while race two winner, Jeremy Double, challenged Calvert for third.
After only two cautions in the first 14 laps, the final six laps was slowed on six different occasions. Thomas had several shots on double file restarts to make the pass, but couldn't make the outside work. Thomas finally pulled even with Eucker on lap 19 as Eucker still had the advantage with the white flag waving. Thomas was able to make the outside work in turns three and four and took the checkered flag first by just 0.207 seconds in his Colonial Companies/Hallman Foundry/Jason Dietz Trailer Sales-sponsored, Lethal Chassis, 955 Automotive-powered #9 for his ninth career win in the division and 29th overall at the track.
Double was third after starting sixth. Calvert dropped to fourth over Steve Haefke, Jr. DeMattia faded from third to sixth as Keith Felicetty, Bryan Wagner, Amelia Clay, and 17th starting Seth Brenot completed the top 10. Heat winners were DeMattia and Calvert.
There will be no racing on Saturday, June 10; however, racing returns on Tuesday, June 13 as Ohio Speedweek makes a stop at Sharon as the Tezos All Star Circuit of Champions Sprint Cars will race for $6,000 to-win and will be joined by the Terry Bowser Excavating RUSH Sprint Cars. Reserved, advance general admission, patio seats, and VIP fan suite tickets are available through the following link: https://sharonspeedway.simpletix.com/
Western PA Speedweek for the Hovis Auto & Truck Supply "410" Sprint Cars (30 laps, $3,000 to-win): 1. 1. 10-DAVE BLANEY[4]; 2. 23V-Zane DeVault[7]; 3. 2-AJ Flick[8]; 4. 6R-Ryan Smith[5]; 5. W20-Greg Wilson[1]; 6. 40-George Hobaugh Jr[6]; 7. 32B-Dale Blaney[3]; 8. 35-Jared Zimbardi[2]; 9. 19R-Mark Smith[16]; 10. 11-Carl Bowser[9]; 11. 46-Michael Bauer[10]; 12. 5K-Adam Kekich[15]; 13. 13-Brandon Matus[19]; 14. 09-Craig Mintz[11]; 15. 27K-Jeremy Kornbau[13]; 16. 29-Dan Shetler[20]; 17. 3-Denny Peebles[12]; 18. 08-Danny Kuriger[17]; 19. 20B-Cody Bova[14]; 20. 47-Brett Brunkenhoefer[21]; 21. 6-Bob Felmlee[22]; 22. X7-Andrew Cavanaugh[24]; 23. 23-Darren Pifer[18]; 24. 5-John Walp[23].
DNQ for the feature: 901-Bob Lime, 33-Brent Matus, 99-Cameron Nastasi, 13B-Steve Bright, 5D-Jacob Dykstra, 20M-Vivian Jones, 21X-Nathen McDowell.