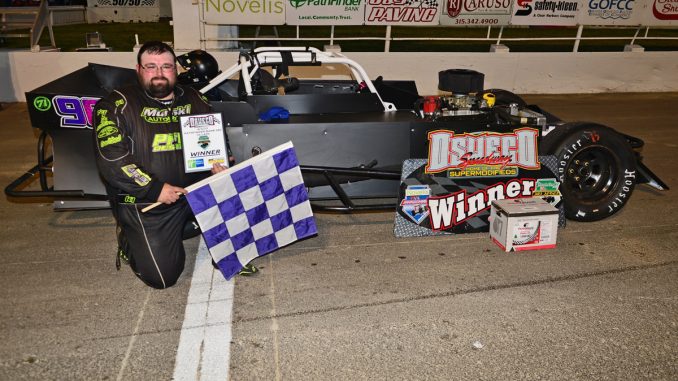 By Camden Proud
OSWEGO, NY (June 5, 2023) – Speedway veteran Greg O'Connor grabbed the race lead from teenaged teammate Jude Parker shortly after a restart with 12 to go and parked his No. 90 in Pathfinder Bank SBS victory lane on Holiday Inn Express & Suites and Billy Whittaker Cars & Trux Night this past Saturday, June 3.
O'Connor, who has now earned four SBS wins in four different seasons; 2017, 2018, 2019 and 2023, started in seventh, and found himself reeling in the back bumper of the Parker No. 00 by lap 20, with a lap 25 restart setting up the Oswego, NY driver perfectly to capitalize for his first win in four years, and the first ever one-two finish for G.O. Racing.
"Jude (Parker) was running a good race tonight," said O'Connor. "He messed up just a little bit coming out of two and I got a run. I wasn't quite in there, but he hung onto her and we got a 1-2 finish for the team. I can't thank all my guys enough and all of the sponsors; Munski Auto, CME Electrical, Ultimate QM, and Bodified. Without those guys I couldn't do this."
18 year old Parker, who with five top 10 finishes, finished a close third in the rookie standings last season behind DJ Shuman and Robbie Wirth, has come out of the gate strong in 2023, showing speed in his updated Hedger Chassis owned by O'Connor.
After an inside move to take the top spot from early leader Shuman on lap 15, Jude led the way for 10 laps until surrendering to his car owner amidst an exciting side by side battle for the lead. Parker did not go down without a fight, keeping pace with O'Connor until the checkers flew and proving he has what it takes to compete at the front after his first-ever podium finish.
"I was getting wicked free towards the end," mentioned Parker. "I think that it actually knocked the toe out when I got together with DJ on the restart and Greg (O'Connor) ended up getting by, but after a while it actually started to come back in. I'd like to thank Joe Conzone Excavation, SNAX, AO Auto Supply, Munski Automotive, Racing Wraps, and Larry VonHoltz."
Polesitter Shuman also secured the best finish and first podium of his career, shooting out to the lead ahead of Parker and outside polesitter AJ Larkin on the initial start. DJ would lead the field for the first 14 laps in his No. 62, eventually surrendering the lead to Parker on lap 15, and later fell to third behind O'Connor, where he held strong for the remaining 15 circuits.
"I had a good battle with Jude (Parker)," Shuman commented. "He raced me clean. On one of the restarts, I got into him a little. I didn't know he was there and I think I put him into the wall a little bit, but no harm no foul. It was a good run for us. We rebounded after a pretty poor outing last week. The guys worked real hard on the car all week. I cannot thank my father, Mark, my wife, my daughter, and everybody for supporting us enough. This is like a win for us."
Shuman and Larkin led the field to the green flag for the 35-lap fight, the second event of the 2023 season for the Pathfinder Bank SBS division.
It was Shuman who quickly set the pace, taking over the lead from the Larkin No. 35 with Parker in tow from the third starting spot.
Fifth starting Tony DeStevens and seventh starting O'Connor worked underneath the likes of Larkin, Ryan Gunther, and Drew Pascuzzi in the opening laps to position themselves in third and fourth, with Shuman and Parker not far ahead.
Through heavy lapped traffic, Parker took several looks to Shuman's inside, before the first caution flag flew on lap 15 for a tangle between Pascuzzi and fifth running Griffin Miller.
On the restart, Parker finally managed enough momentum to get a run on Shuman going into the tricky number three corner, taking the lead away with 20 laps complete.
The front three remained nose to tail, with O'Connor having just found the inside of DeStevens and Shuman at halfway, to begin his pursuit of Parker out in front.
With 12 laps to go, the yellow flag waved once more for a hard hit by rookie Jake Brown, whose No. 26 was hooked into the outside steel. Jake then took a second shot into the third turn wall in a shower of styrofoam.
Brown, who currently leads the Rookie of the Year standings over Mike Fowler, did jump out of the car right away, but his machine was heavily damaged, with El Diablo Racing forced to bring out their backup car for this weekend's program.
The ensuing choose-style restart gave veteran O'Connor the opportunity he needed to take over the race lead, but it did not come easily.
Firing from the inside, Parker put up a solid fight for two laps, at one point clearing O'Connor to assume the lead. However, the No. 00 went sideways in between turns one and two, which was all O'Connor needed to take the lead heading down the back stretch.
The No. 90 machine led the rest of the way with Parker a close second and Shuman hanging on for third. DeStevens and Miller rounded out the top five.
Completing the top ten were Pascuzzi, Jordan Sullivan, Greg Richardson, Darrick Hilton, and Brown.
The Small Block Supers get right back to it on 'Family Night' at the Speedway this Saturday, June 8, with a full program also on tap for the Novelis Supermodifieds and J&S Paving 350 Supers, plus an appearance by the New York Super Stocks.
General admission for adults is ONLY $8 and kids 16 and under are FREE with a paid adult ticket.
For more information, please visit the track website online at OswegoSpeedway.com or LIKE on Facebook at Facebook.com/OswegoSpeedway or FOLLOW on Twitter @OswegoSpeedway or Instagram @OfficialOswegoSpeedway.
RESULTS
Holiday Inn Express & Suites Oswego and Billy Whittaker Cars & Trux
Oswego Winged Super Challenge #1
Pathfinder Bank SBS 30
Saturday, June 3, 2023
Oswego Speedway
Oswego, NY
Feature (30-laps): 1. 90 GREG O'CONNOR, 2. 00 Jude Parker, 3. 62 DJ Shuman, 4. 24 Tony DeStevens, 5. 9 Griffin Miller, 6. 72 Drew Pascuzzi, 7. 2 Jordan Sullivan, 8. 01 Greg Richardson, 9. 66 Darrick Hilton, 10. 26 ® Jake Brown, 11. 27 ® Steven Bradshaw, 12. 22 Ryan Gunther, 13. 35 AJ Larkin, 14. 55 ® Carter Gates, 15. 77 Cameron Rowe, 16. 73 Noah Ratcliff DNS 10 ® Mike Fowler
Heat 1 (10-laps): 1. 90 Greg O'Connor, 2. 73 Noah Ratcliff, 3. 00 Jude Parker, 4. 72 Drew Pascuzzi, 5. 22 Ryan Gunther, 6. 2 Jordan Sullivan, 7. 66 Darrick Hilton, 8. 55 ® Carter Gates DNS 10 ® Mike Fowler
Heat 2 (10-laps): 1. 24 Tony DeStevens, 2. 9 Griffin Miller, 3. 62 DJ Shuman, 4. 35 AJ Larkin, 5. 26 ® Jake Brown, 6. 01 Greg Richardson, 7. 77 Cameron Rowe, 8. 27 ® Steven Bradshaw
Group Time Trials: 1. 73 Noah Ratcliff – 18.712, 2. 9 Griffin Miller – 18.877, 3. 90 Greg O'Connor – 18.939, 4. 24 Tony DeStevens – 19.026, 5. 00 Jude Parker – 19.152, 6. 62 DJ Shuman – 19.286, 7. 22 Ryan Gunther – 19.400, 8. 35 AJ Larkin – 19.482, 9. 72 Drew Pascuzzi – 19.576, 10. 26 ® Jake Brown – 19.600, 11. 2 Jordan Sullivan – 19.629, 12. 01 Greg Richardson – 19.763, 13. 66 Darrick Hilton – 19.767, 14. 27 ® Steven Bradshaw – 21.409, 15. 55 ® Carter Gates – 22.676, DNS 10 ® Mike Fowler, 77 Cameron Rowe
D&S Landscaping Hard Charger ($25): #90 Greg O'Connor
White's Car Care 4th Place Finisher ($25): #24 Tony DeStevens
Lighthouse Lanes Up & Comer (Pizza & Wings): #00 Jude Parker