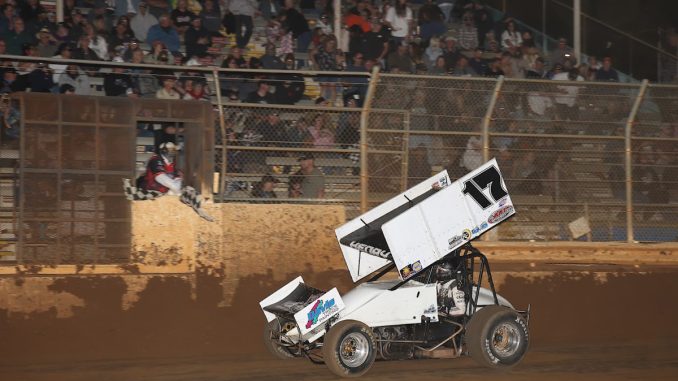 By Gary Thomas
Placerville, CA…Mather's Kalib Henry cruised to his eighth career Placerville Speedway Winged 360 Sprint Car victory in front of a capacity crowd on Saturday night.
Thompson's Fan Appreciation Night brought out a full pit area of 80 cars and a packed grandstand to witness an entertaining evening of racing in Old Hangtown. Joining Henry in victory lane were Shane Hopkins with the Wingless Sprints, Dylan Shrum with the Dwarf Cars and Mike Miller with the Mini Trucks.
The 25-lap Thompson's Winged Sprint Car feature ended up being a non-stop affair with action all over the racetrack. Henry shot to the lead at the waving of the green flag and had his way with things out front. The driver of the Mccolloch RV Repair and Storage No. 17 held a sizable lead over the course of the contest, but did have to hit his marks wisely during the later stages as Auburn's Andy Forsberg closed the gap.
Forsberg got to within a few car lengths and looked to find a way past, but Henry was too strong on this night and crossed under the Ron Stahl checkered flag. With his eighth career triumph he matches Glen Boune for 22nd on the all-time Placerville Speedway Winged 360 win list.
The runner up result capped off a strong run in the main event for Forsberg, who captured the B-main and started from ninth aboard the Pacific Highway Rentals No. 92 mount. Modesto's Tony Gomes also looked stout in the feature and drove his way to third by the finish, followed by point leader Michael Faccinto of Hanford and Lincoln's Tanner Carrick rounding out the top-five.
Wilton's Ashlyn Rodriguez ran second over the first half of the race and ended up sixth at the stripe, with Roseville's Sean Becker, Fair Oak's Stephen Ingraham, Glendale, Arizona's Ashton Torgerson and Jake Haulot in the top-10. Heat race wins were pocketed by Tanner Carrick, Sean Becker, Tony Gomes and Michael Faccinto.
Ashton Torgerson earned the ADCO Driveline Fast Time Award to begin the show with a lap of 11.047. A total of 27 Thompson's Winged Sprint Cars competed at Fan Appreciation Night.
Winged Sprint Car results: 1. 17-Kalib Henry[1]; 2. 92-Andy Forsberg[9]; 3. 7C-Tony Gomes[7]; 4. X1-Michael Faccinto[6]; 5. 83T-Tanner Carrick[2]; 6. 87-Ashlyn Rodriguez[4]; 7. 35-Sean Becker[8]; 8. 93-Stephen Ingraham[11]; 9. 02-Ashton Torgerson[5]; 10. 7H-Jake Haulot[3]; 11. 21M-Michael Ing[10]; 12. 21-Shane Hopkins[15]; 13. 38-Colby Johnson[19]; 14. 94-Greg Decaires V[16]; 15. 21X-Gauge Garcia[17]; 16. 5R-Ryan Rocha[12]; 17. 5H-Blake Carrick[20]; 18. 9L-Luke Hayes[13]; 19. 222-Wyatt VanLare[14]; 20. 25S-Seth Standley[18]
The 20-lap main event for the High Sierra Industries Wingless Sprint Cars was all about Placerville's Shane Hopkins, who led for the entire distance. The surface had become bottom dominant for the wingless warriors, but Stockton's DJ Johnson did keep Hopkins honest up front.
The defending Nor*Cal Posse Shootout winner was mistake free however, and drove the High Sierra Industries No. 21 to his second wingless win of the season at Placerville Speedway. Johnson, Jacob Tuttle, Anthony Snow and Heath Holdsclaw comprised the top-five. Ethan Lanfri and Hopkins won the two heats, while Tuttle set fast time in qualifying.
Wingless Sprint Car results: 1. 21-Shane Hopkins[1]; 2. 33DJ-DJ Johnson[2]; 3. 3F-Jacob Tuttle[3]; 4. 17-Anthony Snow[5]; 5. 33-Heath Holdsclaw[6]; 6. 63W-Hunter Owens[10]; 7. 17T-Grasen Ternora[12]; 8. 31P-Eathon Lanfri[4]; 9. 11A-Amber Fields[8]; 10. 82T-Tracen Taylor[9]; 11. 49-Joe McCoy[11]