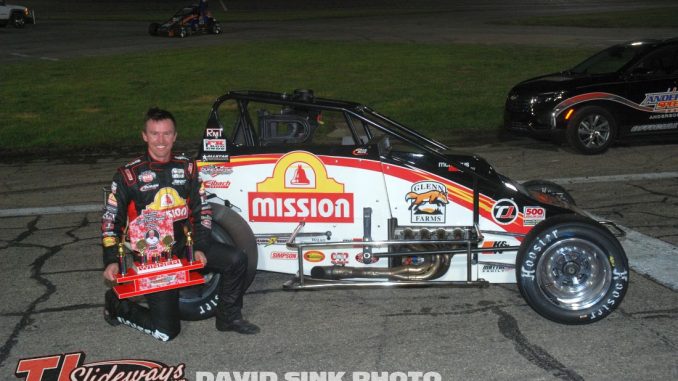 ANDERSON, Ind. (July 8, 2023) – Kody Swanson used skill combined with some late race fortune to win the Gene Nolen Classic for the 500 Sprint Car Tour Saturday night at Anderson Speedway. Swanson, from Kingsburg, California, took the lead after a restart with seven laps to go after Bobby Santos III slowed while leading.
The victory was Swanson's third victory of the 2023 season. In victory lane Swanson still seemed surprised to come out on top after Santos slowed in the closing stages of the main event.
"Bobby Santos did a great job and I'm guessing he ran out of fuel or something weird happened," said Swanson in victory lane. "Those guys do a good job, and he was certainly capable of winning this a. Maybe we got lucky and some nights it's better to be lucky than good, but I'll take that and I'm proud of the effort that this Doron/Binks Racing team puts in."
Santos appeared to be in control of the 100-lap main event after taking the point from Chris Neuenschwander on lap 18. Santos led until a caution with 93 laps complete for Shawn Bonar hitting the wall in turn four and spilling fluid on the racing surface. The red flag appeared to clean up the incident.
Once the green flag reappeared Santos' car did not take off, allowing Swanson to take the lead. Kyle O'Gara, who started 14th, was able to get up to second position but could not get by Swanson. Tyler Roahrig, Dakota Armstrong, and Jackson Macenko rounded out the top five.
For Swanson, winning the race in honor of his former car owner Gene Nolen was not lost on him in victory lane.
"I'm really thankful to win an important race like this," said Swanson. "Gene was a great man, he was a friend, and it's great to win one in his honor."
Roahrig was the fastest qualifier over the 22 car field with a lap of 11.097 seconds.
Colton Bettis won the USSA Kenyon Midget feature event.
500 Sprint Car Tour
Gene Nolen Classic
Anderson Speedway
Anderson, Indiana
Saturday, July 8, 2023
Feature (100 laps):
1. 77-Kody Swanson
2. 67-Kyle O'Gara
3. 56-Tyler Roahrig
4. 1-Dakoda Armstrong
5. 24-Jackson Macenko
6. 99-Dalton Armstrong
7. 10-Chris Neuenschwander
8. 98-Saban Bibent
9. 74-Tony Main
10. 53-Justin Harper
11. 21-Larry Kingseed
12. 27-Chris Jagger
13. 22-Bobby Santos III
14. 24B-Shawn Bonar
15. 7-Caleb Armstrong
16. 20-Nick Hamilton
17. 55-Taylor Ferns
18. 64-Jacob McElfresh
19. 77S-Quintin Saayman
20. 18-Travis Welpott
21. 18S-Jim Sheets
22. 26-Aaron Pierce
USSA Kenyon Midgets
Feature:
1. 16-Colton Bettis
2. 3-Kyle Ford
3. 8T-Tanner Tecco
4. 20-Cash Wyke
5. 21-Kyle Sheard
6. 39-Evan Hammond
7. 19-John Robbins
8. 24-Buddy Hollmeyer
9. 84-Ryan Huggler
10. 10-Logan Huggler
11. 26-Clayton Gaines
12. 8-Dameron Taylor
13. 88-Taylor Tecco
14. 2-Jeff Hill