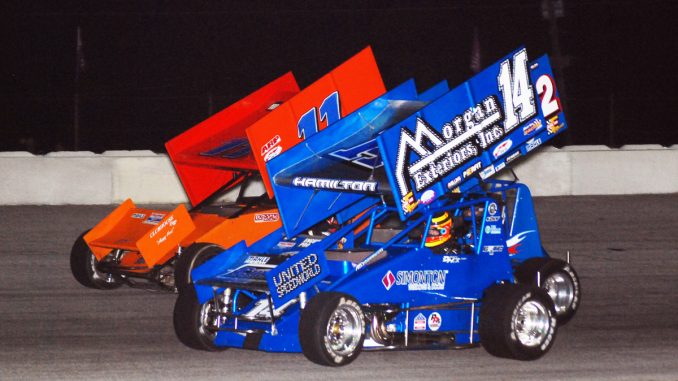 From Must See Racing
July 11, 2023- Holly, Michigan – The Must See Racing Sprint Series Presented by Engine Pro is preparing for its biggest weekend of the year when the series visits Birch Run Speedway in Birch Run, Michigan July 21 and returns to Berlin Raceway in Marne, Michigan the following night for the second of its three visits there in 2023.
Birch Run Speedway has been the site of several exciting events in recent seasons and July 21 is expected to be the same. Charlie Schultz and Jimmy McCune each picked up feature victories there when the series last visited over Memorial Day Weekend as part of the 3rd annual American Speed U.S. Nationals.
The following evening at Berlin Raceway is expected to be one of the most anticipated pavement sprint car events of the year as MSR will be joined by the non-winged 500 Sprint Car Tour for a rare non-wing / winged pavement sprint car event in the same night. This will be only the second time in the sports history that unrestricted 410 wing and non-winged sprint car events have been ran at the same track on the same night. The only other time was in 2010 when the USAC National Sprint Car Series joined MSR at Salem Speedway as part of the Joe James / Pat O'Connor Memorial.
Tyler Roahrig and Bobby Santos have indicated they will be doing double duty at Berlin and plan to run both the MSR event and 500 Sprint Car Tour events in the same night using separate cars. The weekend is expected to field the strongest list of competitors and car count seen so far this season for MSR. Other drivers expected to compete also include Jason Blonde, Jeff Bloom, Davey Hamilton Jr., Rick Holley, Ryan Litt, Anthony McCune, Jimmy McCune, Mike McVetta, Tommy Nichols, Charlie Schultz, and Dorman Snyder among others.
Jason Blonde won the season opener at Berlin May 20 and assumed the series points lead. Through five races he continues to set the pace. He currently holds 12-point margin over second place Charlie Schultz and an 18-point margin over third place Jimmy McCune. The series is enjoying its most competitive season in several years with 4 different winners in 5 events contested in 2023. Only McCune has more than 1 win (2) going into next weekend's Michigan double-header.
For more information on all things Must See Racing please visit www.mustseeracing.com .