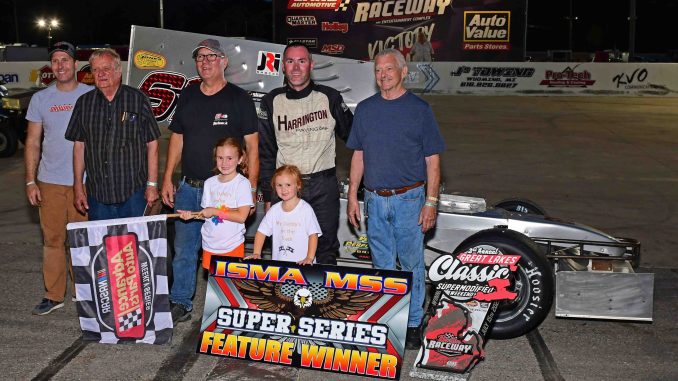 From Keith Shampine
MARNE, Mi. (July 15, 2023) — A night after losing a win late due to a mechanical gremlin, Mike Ordway Jr. finally put it all together in 2023 International Supermodified Association / Midwest Supermodified Series competition with a dominating feature win on night two of the 2nd Annual Great Lakes Classic at Berlin Raceway.
The second generation Windham, Maine, driver never left a doubt, leading the 60-lapper wire to wire for his first win of the season and 11th of his ISMA / MSS career.
Driving the potent Booth Racing Components No. 61 "Silver Bullet" for legendary supermodified car owner and builder Clyde Booth, Ordway had some luck on his side, as well, when the random pill draw gave him the P1 starting position for the 60-lap main event.
Friday night winner Kyle Edwards, who timed fastest in qualifying with a 13.299, drew P2 to set up a front-row showdown at the start between the two drivers who had combined to win the previous three ISMA / MSS features at the western Michigan track.
Ordway would lead the 18-car field to the green flag and move to an early lead on the initial start before a quick caution for debris slowed the action after one lap. The double-file restart had Ordway's 61 jumping to another lead over Edwards' No. 11E with Mark Sammut, AJ Lesiecki and Mike McVetta running third through fifth.
Lesiecki moved to the inside and past Sammut for P3 a few circuits in and McVetta went to P4 past Sammut at the 10-lap mark.
Up front it was all Ordway as he began lapping cars on lap 11. Possibly his closest call of the race came then, when lappers Kevin Feeney and Brian Otts went side-by-side in front of the leader in turns 3 and 4. Edwards moved to the outside of Ordway in Turn 4 and for a brief moment it looked like there'd be a new leader. But Ordway slipped to the inside of Feeney on the front stretch to put him a lap down as Edwards got held up on the outside lane and nearly lost P2 to a fast closing Lesiecki.
Once the leaders the cleared the first batch of lap traffic Ordway again opened up a sizable advantage over Edwards, who held a similar margin over P3 Lesiecki. McVetta and Sammut still rounded out the top five with Mike Lichty, Moe Lilje, Trent Stephens, Otto Sitterly and Johnny Benson Jr. running sixth through 10th.
The next shakeup came on lap 24 when McVetta's No. 22 broke on the front straightaway. The Ohio driver would pull pit side and his night would be over.
The race's second and final caution would come just past halfway when Charlie Schultz' did a half-spin on the backstretch. While Schultz was able to save it and continue, it was enough to bring out the caution and slow the action.
Ordway opened up another big lead after the final restart as Edwards again settled into second. Meanwhile, Sitterly was making some moves after a quiet first half of the race. The Nicotra Racing No. 7 would move into P3 late in the race as Ordway closed in to put a lap on Rich Reid and Lilje, who were battling for eighth.
With only a few circuits left, Ordway opted to follow Reid and Lilje and not take a chance. While Edwards closed the gap considerably over the last few laps, he'd run out of time as Ordway's Booth Racing machine crossed the checkered flag 2.568 seconds ahead of Edwards' Bodnar chassis.
Sitterly would take third in his Bodnar for the second night in a row. Lichty and Lesiecki crossed the stripe fourth and fifth, over 10 seconds behind the winner. The result gave both Lichty and Lesiecki a pair of top-fives in the two nights of racing at Berlin.
"This is a testament to all the guys at Booth Racing Components and everybody at the shop and everybody who helps out; we've got a whole crew that does this," Ordway said to Berlin promoter Jeff Striegle in victory lane. "Thank you to everybody at Berlin Raceway for the hospitality and putting this race on. For me, it's the history of this place. To have the track record and now two wins in a row in this event, it's pretty special. Berlin's trophy from last year is sitting on my kitchen table, so we'll put this one next to it."
Edwards spoke about his night and solid weekend with finishes of P1 and P2.
"I'm really pleased with the racecar; we made big gains from yesterday even though we won (last night); obviously, (Ordway's) spark plug wire stayed on today. But we were much better today. I would have liked to have had one more late-race restart, but it is what it is. Congratulations to the 61 car; they've got really good speed. My dad and I worked on this thing all weekend and made it a lot better. Two podiums is nothing to shake your head about," Edwards said.
Sitterly recapped his pair of P3 results in his second visit to Berlin Raceway.
"First of all, we had a lot of fun. We're getting a little bit better here. We started eighth last night and got to the podium, seventh tonight and got to the podium. Front row cars (won both nights). There's a lot to be said there; you use a lot up coming through the field. Overall, no complaints. We were catching the 11, but even if I did get to him, I would have had to really sail it in there to get him, and we're buddies. Overall, we're pretty happy. We didn't win, but we drove 12 hours and didn't tear anything up, and from mid-pack to the podium both times, we'll take it."
ISMA/MSS Supermodifieds
Berlin Raceway
Marne, Michigan
Saturday, July 15, 2023
Feature:
1. 61-Mike Ordway Jr
2. 11E-Kyle Edwards
3. 7-Otto Sitterly
4. 84-Mike Lichty
5. 14-AJ Lesiecki
6. 74-Johnny Benson Jr.
7. 78-Mark Sammut
8. 55-Rich Reid
9. 32-Moe Lilje
10. 36-Kasey Jedrzejek
11. 19-Trent Stephens
12. 72-Charlie Schultz
13. 92-Larry Lehnert
14. 30-Talon Stephens
15. 22-Mike McVetta
16. 3-Ricky Otts
17. 5-Kevin Feeney
18. 88-Brian Otts