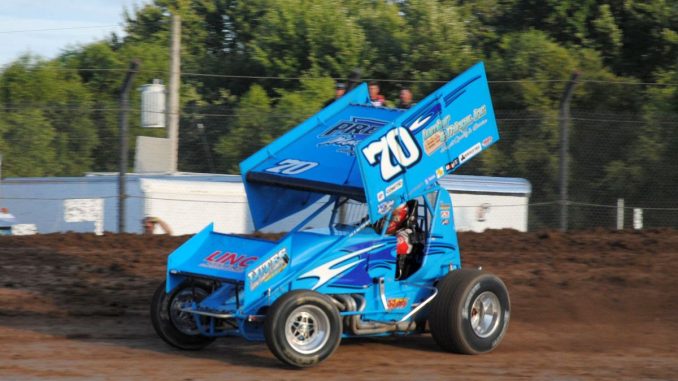 By T.J. Buffenbarger
AUBURN, Mi (August 26, 2023) — Kraig Kinser had reasons to smile Friday after scoring a third-place finish Friday night at Tri-City Motor Speedway with the All Star Circuit of Champions. This was the first time since July 28th Kinser had made the podium and was his first top-three finish since taking over the reins of the Pete Grove owned #70 car.
"Starting back there, I was trying to go where they weren't for a long time and just got into rhythm. The car was good, and stuff was going our way too. We were rolling pretty good, but I should have bailed on the bottom a little bit earlier, maybe I was just floating a little bit. That's the way it goes. We ended up third tonight, I'm happy we had to get a car but hated to give the spot back at the end, though."
After fielding his own entry this season with a pick and choose schedule of various sanctioning bodies, Kinser decided to take the opportunity with Grove.
"I've known Pete and then Alex for a while, and it's just one of those things. I like working and running my own car, so it's a little different driving for somebody else. I the runs keep going like this though we'll all be happy."
As for what the future holds, everything is still week to week at this point for the remainder of the season for the 2014 Knoxville Nationals champion.
"I don't have anything solid," Kinser said of his plans for the rest of the year. "I'm just in the 70 car for now. We're going to run a few races and just kind of go from there. It's just the way the seasons worked out, it just kind of worked for us to do it. We'll just keep at it. And I don't know what the future holds, I've been day to day all year. It's just the way racing has taken me and I'm just riding it out."
Other notes from Tri-City
• Feature winner Zeb Wise will be in position to race in front of his home crowd Saturday at Butler Motor Speedway. Wise, from Angola, Indiana, will be jus 30 minutes away to race in front of a larger contingent of family and friends.
Over the years certain drivers have described feeling more pressure racing close to home, but Wise seemed to be at ease on the eve of performing in front of his home crowd.
"I used to put pressure on myself at places like that and anymore it's just another race," said Wise. "I feel like any given night against any given group of cars, I feel like we just do the things we've been doing and we're going to be a contender.
"I don't get the chance to race close to home much, Attica and Fremont are probably the closest places, so to be able to be 30 minutes from my house and go racing close to home is nice. I know I have a lot of fans that don't normally get to come to races because of the travel and things, so it's going to be really cool race tomorrow. Hopefully we can repeat what we did tonight."
• Wise indicated the Rudeen Racing team had a Chevrolet engine under the hood on Friday after recently experimenting with Ford power over the past month at select races including the Knoxville Nationals.
Rudeen Racing and Wise showed their versatility in the two consecutive victories with the All Stars winning on Selinsgrove's large half mile on Sunday and backing that up on the tight confines of Tri-City's ¼-mile oval Friday.
• Tri-City Motor Speedway's announcer Rogers Williams confirmed Wise's qualifying run of 10.332 seconds was the fastest lap in the track's dirt layout history since the track re-opened in July of 2011.
• It's rare to attend a dirt track race where a vast majority of the drivers participating had never been to a facility before. That is the situation Friday when the All Star Circuit of Champions rolled into Tri-City.
Most of the drivers we informally polled compared the track to a smaller version of Attica Raceway Park based on the way it raced.
The smooth but heavy racing surface that turned slicker as the night went on had positive reviews from most of the teams with the only critical comments were about the desire for better lighting and were positive when asked if a return visit in 2024 would be desirable.
• Tyler Courtney ended up with a workout during the 30-lap main event after suffering a power steering failure on the opening lap. Courtney held on to a podium spot for a large portion of the feature until dropping back to 11th, which Courtney described as just hanging on at that point in the feature.
This allowed Wise and the Rudeen Racing team to open up a 30-point advantage over Clauson-Marshall Racing in the All Star car owners' point standings.
• Major storms rolled through Michigan Thursday night leaving several communities without power and/or extensive tree and building damage. This included a majority of the Michigan based teams that were on hand Friday night at Tri-City.
• Byron Reed has been a frequent visitor to Michigan over the years, which made his Tri-City visit during his final season of competition seem appropriate following a rain out at Attica Raceway Park on Friday. Reed was in good spirits on Friday despite having to transfer to the feature through the B-Main event, finishing 21st in the main event.
When polled about what he would do with the free time he would gain from no longer competing in sprint car racing, Reed was unsure even though camping with his family has become a new hobby with a return trip already scheduled for some R and R without the race car.
• Despite the storms a large local contingent turned out with seven of the 30 drivers participating Friday being from the Mitten including three other Michigan based teams with out of state drivers.
Lane Racing took top honors for the finishing Michigan team with a fourth-place finish in the feature after starting seventh. Darin Naida took top resident driver honors, tying his career best finish with the All Stars with his 11th place run at the same racetrack where Naida had his first competitive laps in a sprint car.
• Colorado driver Geoff Dodge had assistance on Friday from Michigan resident Nick Bussell Friday at Tri-City. Dodge and Bussell became friends when they ran with the Indy Lights series in 2006 and were regularly seen around dirt tracks in the area. The pair have remained friends since with Bussell now serving as crew chief on Dodge's entry.
Unfortunately Dodge finished 25th in Friday's main event.
• While Chris Gurley had a drive well over five hours to take his son Corbin's car to Tri-City, the race was a "home game" of sorts for Corbin as he is enrolled for his junior year at Northwood University in nearby Midland, Michigan.  Gurley finished 22nd in the main event.
• Adam Kekich is the latest driver to take the wheel of the McCandless Motorsports entry. Kekich ended up missing the transfer in the B-Main and had to take a provisional to start the A-Main, finishing in 23rd position.
• Creed Kemenah returned to 410 sprint car competition on Friday with a surprise trip to Tri-City after the rain out at Attica. Kemenah just had a 410-engine returned to the team Thursday night. Unfortunately for Kemenah the effort netted missing the transfer by two positions in the B-Main.
• Tri-City has been one of the most efficient Michigan dirt tracks on a regular basis in the two previous races I have taken in. That continued Friday with the feature event for the All Stars taking the checkered flag before 10:00 p.m.