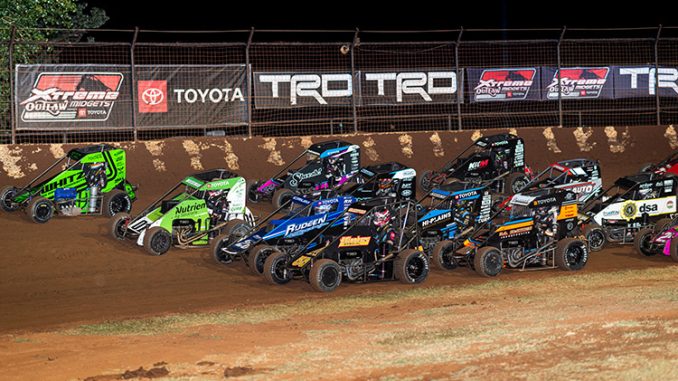 By Jordan Delucia
OKLAHOMA CITY, OK (Sept. 12, 2023) – For the second consecutive year, Oklahoma will be home of the Xtreme Outlaw Midget Series presented by Toyota championship finale – one that's already poised to be a barn burner.
Before the $25,000 championship check is handed out, drivers will contend at Port City Raceway, in Tulsa, OK, on Thursday, Oct. 12, and then run a doubleheader at I-44 Riverside Speedway, in Oklahoma City, OK, Friday-Saturday, Oct. 13-14.
With six races left – starting with Jacksonville Speedway on Sept. 15, Highland Speedway on Sept. 16, and Red Hill Raceway on Sept. 17 – Oklahoma's Cannon McIntosh holds a narrow seven-point lead over Jade Avedisian. Gavin Miller and reigning Series champion Zach Daum are also still in the fight, 72 and 75 points back, respectively, from the lead.
Last year, Daum, McIntosh and Avedisian walked away as Oklahoma winners. Daum's win at Port City and McIntosh's win at I-44 were their first wins with the Series. Avedisian's I-44 win was her second after becoming the first female driver to take the checkered flag in a national Midget event.
The weekend will also feature the POWRi Midgets and host the final three races of the Xtreme Outlaw-POWRi Challenge Series, paying out $2,500 to the winner. There's another tight points battle in that hunt with Daum leading Avedisian by five points.
What you need to know:
DRC Sooner State 55 at Port City, Oct. 12
More Event Info
Track: 1/8 mile in Tusla, OK
Portcityraceway.net
Times (CT):
12 p.m. Pit Gates Open
5 p.m. Grandstand Gates Open
6 p.m. Hot Laps/Qualifying
-Racing to follow
Tickets: Available at the track
Last Race Video Recap (Oct. 13, 2022):

Previous winner:
2022 – Zach Daum on Oct. 13
I-44 RIVERSIDE, Oct. 13-14
More Event Info
Track: 1/5 mile in Oklahoma City, OK
i44riversidespeedway.com
Times (CT):
3:30 p.m. Pit Gates Open
6 p.m. Hot Laps/Qualifying
-Racing to follow
Last Race Video Recap (Oct. 15, 2022):

Previous Winners:
2022 – Cannon McIntosh on Oct. 14, Jade Avedisian on Oct. 15
If you can't make it to the tracks, you can watch all the action live on DIRTVision.
The Xtreme Outlaw Midget Series is brought to fans by important sponsors and partners, including: DIRTVision (Official Live Broadcast Partner), Toyota (Title sponsor of the Midgets Series), Racing Electronics (Official Radio Supplier) and SIS Insurance (Official Insurance Provider). Other partners include: TJ Forged and Whitz Racing Products.