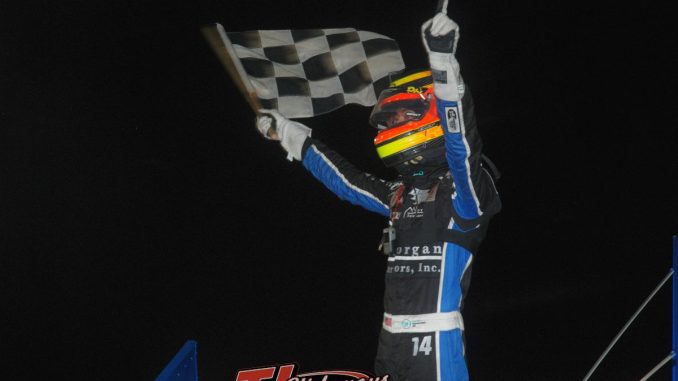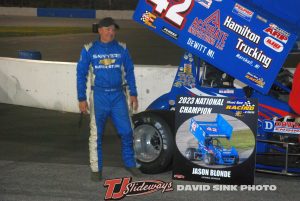 From Must See Racing
PLYMOUTH, IN (September 16, 2023) — After years of trying, Jason Blonde finally ascended to the pinnacle of the Must See Racing Engine Pro Sprint Car Series on Saturday night.
Despite finishing second in the tour's season finale at Plymouth Motor Speedway, Blonde's effort was more than enough to secure his first Must See Racing championship over title rival Charlie Schultz.
Blonde outperformed Schultz in all facets of the night at the quarter-mile paved oval. He was one position faster than the defending champion in qualifying, won his heat race and then finished two spots ahead of Schultz in the title-deciding 40-lap feature.
Despite the championship battle being tied at one point during the closing stretch of the season, Blonde never officially trailed from start to finish after winning the season opener back in May.
The final margin of Blonde's maiden Must See Racing title – the eighth major pavement sprint car championship of his storied career – was 24 points over Schultz.
"Second isn't what we come to the racetrack for, but a points title still makes this a sweet night," said Blonde, whose championship also marked the first Must See Racing crown for car owner Tony Nosal. "Thanks to Tony and all my guys for everything they do and have done all year to get us to this point. We've run this series off and on for a long time, but to finally put everything together and win a championship is something that we've wanted to achieve as a group, and we've finally done that.
"Charlie gave us fits all year; he's a great competitor and he made us work for it," Blonde added. "He was right there at the door knocking and it really could have gone either way at several moments. I just tried to not let it get to me – it's hard not to think about it – but being able to be consistent helped out."
Though Blonde started from the pole of Saturday's main event, it was Davey Hamilton Jr. who ended the season on a tear, winning his third straight feature to close out the season.
Hamilton used a crossover sweep entering turn three to take the lead from Blonde on the third lap, then drove away to a commanding 10.228 second victory in a caution-free feature.
"Even in warmups, I knew we had a good car," Hamilton tipped. "I tried the outside then just to see what it could do, and I felt like we had something for Jason if we could just hang on for the first couple of laps. He overdrove turn one a bit there and I was able to get by him on the other end, and from that point we just had a great race car. I can't thank Kirk Morgan and all my guys enough for that.
"I saw the scoreboard at one point, and I knew Jason was still running close to the front … but I saw him in front of me at the end, so I couldn't believe we almost lapped the whole field. This was a special one, for sure."
From start to finish, Saturday's race took eight minutes and 21 seconds to complete.
Behind Hamilton and Blonde, Tyler Roahrig completed the podium for his best finish of the season in the Ken Statham-owned No. 36, with Schultz crossing the line fourth in his IBT Motorsports No. 9s.
Joe Liguori was fifth, while fast qualifier Bobby Komisarski – who started sixth but drove up to second using the outside lane of the racetrack – ended up back where he began after a mechanical failure in the final corner of the race caused him to spin in turn four just 100 yards from the finish line.
In his first-ever race in a full-size sprint car, rookie Brady Allum put together a solid effort and scored a top-10 finish, earning hard charger honors after advancing from 13th to ninth.
Komisarski kicked off the night with his first Must See Racing fast time, setting a lap of 11.486 seconds (84.625 mph) in qualifying. Tommy Nichols and Blonde split the pair of eight-lap heat races.
The night also featured a missing-man three-wide salute to late Must See Racing car owner Steve Sexton, who passed away suddenly on Sept. 10 following the series' Labor Day weekend visit to Owosso Speedway in Ovid, Mich.
With the Must See Racing national sprint car season complete, the Must See Racing Midwest Lights will conclude their season and crown a champion on Sept. 23 at Ohio's Lorain Raceway Park.
For more information on Must See Racing, visit the series website at www.mustseeracing.com.
The finish:
1. 14-Davey Hamilton Jr. [2], 2. 42-Jason Blonde [1], 3. 36-Tyler Roahrig [5], 4. 9s-Charlie Schultz [7], 5. 13-Joe Liguori [4], 6. 7-Bobby Komisarski [6], 7. Z10-Kevin Mingus [10], 8. 44-Teddy Alberts [8], 9. 87jr-Brady Allum [13], 10. 55-Tommy Nichols [11], 11. 3k-Todd McQuillen [12], 12. 85-Rick Holley [3], 13. 72s-Joe Speakman [9], 14. 45-Bob Komisarski [14], 15. 10-Chris Neuenschwander (DNS).
Lap Leader(s): Blonde 1-2, Hamilton Jr. 3-40.
Hard Charger: 87jr-Brady Allum (+4)