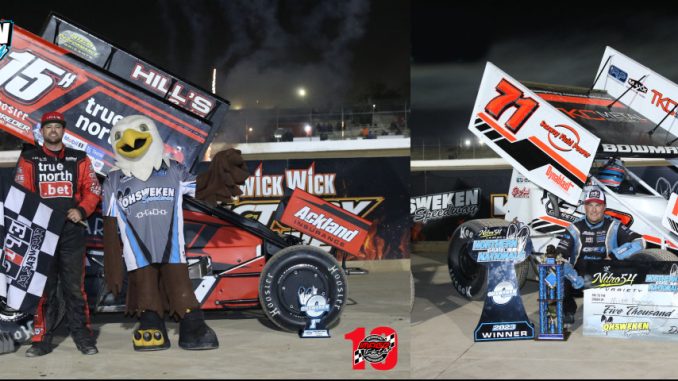 By T.J. Buffenbarger
Updated 09/20/2023 to correct Bomwan's win total at Merrittville this season
(September 19, 2023) – Hills Racing Team with Sam Hafetepe Jr. have started the process of a formal protest of Mike Bowmans's victory at the 19th Northern Sprint Car Nationals at Ohsweken Speedway.
According to a statement released this Tuesday by Ohsweken Speedway officials, a substantial sum of money was pledged to have the Magneto and Ignition Box from Bowman's car examined by the manufacturer. Hafertepe's Magneto and Ignition Box was also sent with Bowman's.
Ohsweken Speedway officials indicate they hope to have results from the inquiry by September 29th, 2023, following the successful delivery of the equipment, which must cross the Canadian/American border, and the competition of the testing.
During his first full season of winged 360 sprint car racing and second in the crate sprints Bowman, from St. Catharines, Ontario, has 14 feature wins between the two divisions. All but three of Bowman's victories took place at Ohsweken Speedway along with a victories at Merrittville Speedway this season.
Bowman's wins included a sweep of the features that accompanied the NASCAR Pinty's Series worth $30,000, $5,000 in the Northern Crate Nationals last Friday at Ohsweken, and a $30,000 victory in the Northern Sprint Car Nationals on Saturday.
Hafertepe, a former winner of the Northern Sprint Car Nationals, was the runner-up finisher at the Northern Sprint Car Nationals. Hafertepe's car owner, Miles Hill, who supports and owns multiple cars that compete on a regular basis at Ohsweken and other sprint car venues in North America.