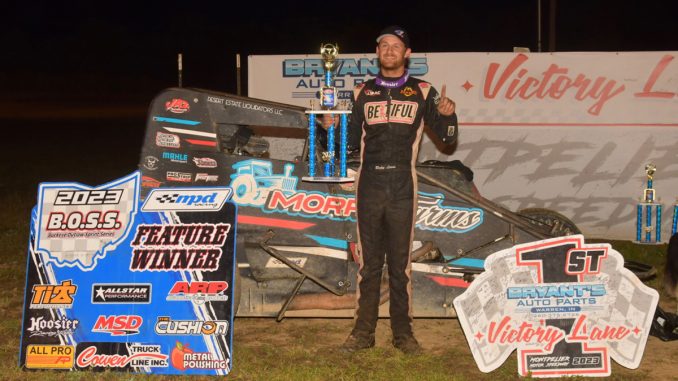 By Aaron Fry
The MPD Racing Buckeye Outlaw Sprint Series race at the Montpelier Motor Speedway on Saturday almost felt like it was drawn up by a Hollywood script writer. California's Ricky Lewis entered the night virtually a lock to clinch the 2023 tour title. However, with his aluminum 410 engines down during rebuilds, he was forced to use a steel block 360 cubic inch engine. Struggling in the prelims, he would start 11th in the 20-car main event. Then, as if placing an exclamation point on his tour with BOSS, Lewis drove around 10 cars in 25 consecutive green flag laps to score his fourth tour win of the season.
The beautiful fall evening found 25 sprint cars signed in on a very well prepared race track. Brayden Clark set fastest time in ARP Fasteners qualifying during group 2 with a 13.757 second lap. Lee Underwood and Max Adams paced groups 1 and 3. Heat race wins went to Dustin Ingle, Colten Cottle and Max Adams while Blake Vermillion won the B-Main.
Ingle and Cottle would pace the A-Main to green, but an opening lap incident forced a complete restart. The second attempt would not only go, but would GO for 25 consecutive laps. Dustin Ingle grabbed the early lead and would lead the first 5 circuits before fifth starting Max Adams roared to the lead off turn 4. Over the next 7 laps, Adams stretched the lead until at the halfway point where he had a full straightaway lead on runner-up Tayte Williamson. At this point, Lewis was only up to the fourth spot.
From laps 12 through 22, Lewis managed to go from 4th to 2nd and close a full half lap on Adams. With a few laps remaining, he made the winning move to relegate Adams to the runner-up spot as he raced on to the win with Jesse Vermillion rounding out the podium. Tenth starting Isaac Chapple had a great run up to finish fourth with Williamson hanging onto fifth. Rounding out the top 10 were Korbyn Hayslett, Colten Cottle, Garrett Abrams, Dustin Ingle and Blake Vermillion.
The BOSS tour would like to extend a big thanks to track promoter Chad King and his staff for hosting a pair of BOSS events and a FAST event in 2023 and being a pleasure to work with! We look forward to racing both tours there in 2024. The final BOSS event of the season will be held on Saturday, October 28th at Waynesfield Raceway Park in Waynesfield, Ohio. We also congratulate Ricky Lewis on being the 2023 tour champion!
BOX SCORE
Montpelier Motor Speedway
Montpelier, IN
Saturday, September 30, 2023
25 Entries
ARP Fasteners Qualifying
Group 1: 1. 24L-Lee Underwood 14.335, 2. 23-Luke Hall 14.352, 3. 20w-Tayte Williamson 14.413, 4. 2di-Dustin Ingle 14.492, 5. 73-Blake Vermillion 14.572, 6. 32-Garrett Abrams 14.652, 7. 6-Isaac Chapple 14.742, 8. 18s-Aidan Salsbury 15.342, 9. 99-Gage Etgen 15.534
Group 2: 1. 42-Brayden Clark 13.757, 2. 41-Ricky Lewis 14.166, 3. 57-Colten Cottle 14.225, 4. 5v-Jesse Vermillion 14.264, 5. 49-Brian Ruhlman 14.303, 6. 99J-Jack James 14.696, 7. 20-Evan Mosley 14.793, 8. 97x-Rodney Hurst 16.778
Group 3: 1. 5x-Max Adams 13.877, 2. 21-Carmen Perigo 14.024, 3. 1H-Korbyn Hayslett 14.045, 4. 9G-Cody Gardner 14.123, 5. 19-Matt Cooley 14.262, 6. 5-Toby Alfrey 14.368, 7. 53-Steve Little 14.822, 8. 37-Dave Gross 16.977
MadTree Brewing – Heat 1: 1. 2di-Ingle[1] ; 2. 20w-Williamson[2] ; 3. 23-Hall[3] ; 4. 6-Chapple[7] ; 5. 32-Abrams[6] ; 6. 73-B.Vermilliion[5] ; 7. 24L-Underwood[4] ; 8. 99-Etgen[9] ; 9. 18s-Salsbury[8]
Outsider's Merchandise & Apparel – Heat 2: 1. 57-Cottle[2] ; 2. 5v-J.Vermillion[1] ; 3. 42-Clark[4] ; 4. 41-Ricky Lewis[3] ; 5. 49-Ruhlman[5] ; 6. 99J-James[6] ; 7. 20-Mosley[7] ; 8. 97x-Hurst[8]
Elizabeth Gardner Photography – Heat 3: 1. 5x-Adams[4] ; 2. 1H-Hayslett[2] ; 3. 9G-Gardner[1] ; 4. 21-Perigo[3] ; 5. 19-Cooley[5] ; 6. 5-Alfrey[6] ; 7. 53-Little[7] ; 8. 37-Gross[8]
MSD Ignitions – B Main: 1. 73-B.Vermillion[1] ; 2. 53-Little[3] ; 3. 24L-Underwood[4] ; 4. 18s-Salsbury[10] ; 5. 20-Mosley[5] ; 6. 99-Etgen[7] ; 7. 99J-James[2] ; 8. 37-Gross[9] ; 9. 97x-Hurst[8] ; 10. 5-Alfrey[6]
MPD Racing – A Main: 1. 41-Lewis[11] ; 2. 5x-Adams[5] ; 3. 5v-Vermillion[4] ; 4. 6-Chapple[10] ; 5. 20-Williamson[3] ; 6. 1H-Hayslett[6] ; 7. 57-Cottle[2] ; 8. 32-Abrams[13] ; 9. 2di-Ingle[1] ; 10. 73-B.Vermillion[16] ; 11. 23-Hall[7] ; 12. 18s-Salsbury[19] ; 13. 9G-Gardner[9] ; 14. 49-Ruhlman[14] ; 15. 19-Cooley[15] ; 16. 42-Clark[8] ; 17. 53-Little[17] ; 18. 24L-Underwood[18] ; 19. 21-Perigo[12] ; 20. 20-Mosley[20]
All Pro Aluminum Cylinder Heads – Hard Charger: 41-Lewis +10
All Star Performance – Hard Luck: 9G – Gardner
Hoosier Tire – Free Tire Bonus: 41-Lewis
E A Home Supply – Lucky Pill Draw: 24L-Underwood
Cowen Truck Line – Steel Block Bonus: 41-Lewis