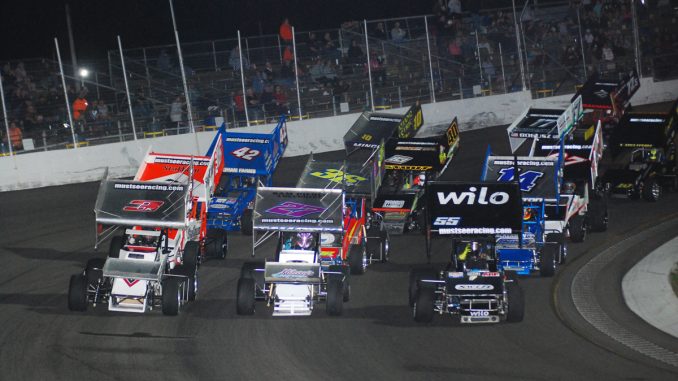 From Must See Racing
October, 9, 2023 – Holly, Michigan – The Must See Racing Sprint Series Presented by Engine Pro released an early glimpse of their 2024 schedule for both the 410 National Series and Maxima Racing Oils Midwest Lights Series.
Both series are set to invade Owosso Speedway as part of a twin bill of racing action beginning June 22 with a follow up return date on August 31. Both series will be action with both events awarding full points.
Owosso Speedway provided the perfect venue for winged sprint car action in 2023. With a new resurfacing, a new track record fell to Rick Holley on the second and final visit of the year when he toured 3/8-mile oval at 12.520 seconds. Holley bested an 18-year-old record previously held by the late Cameron Dodson.
The 410 National Series teams will be competing for $4,000 to win both nights and $600 to start.
Both events provided stellar racing this past season. In the event earlier in the season Jimmy McCune held off late race challenges by Davey Hamilton Jr. to capture the feature event. In the final MSR appearance over Labor Day Weekend Ryan Litt and Hamilton Jr. waged a ferocious battle through lapped traffic to see Hamilton Jr. emerged victorious in front of the cameras of MAVTV in the nationally televised event.
These are the first two dates officially announced from the 2024 MSR schedule. MSR hinted that additional dates will be released in the coming weeks revealing the 2024 schedule for both the 410 National Series and Midwest Lights Series.
For more information on Must See Racing please like and follow us on Facebook or visit www.mustseeracing.com.