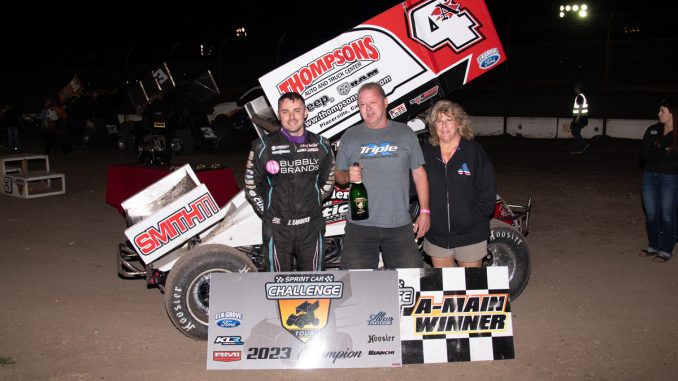 By Gary Thomas
Stockton, CA…Aromas racer Justin Sanders captured his second straight Tribute to Gary Patterson with the Sprint Car Challenge Tour on Saturday, while Justyn Cox secured the driving title by a slim four-points over Kaleb Montgomery.
Sanders ended up claiming both the season opener in Placerville and the finale at Stockton for car owner Dale Miller, who brought home the SCCT owner championship for the first time.
"It feels great to finish off the owner title for Dale and Tara Miller with a win tonight," Sanders commented. "This car has been a rocket ship all year long and we've really come to like Stockton. It's also nice to win the final main event on the current configuration before they change things next season."
The 30-lap finale at the Stockton Dirt Track on Saturday saw Sanders have his way with things out front. After winning the High Sierra Industries Dash he blasted into the lead and went flag-to-flag for his eighth career Elk Grove Ford Sprint Car Challenge Tour presented by Abreu Vineyards triumph.
Auburn's Andy Forsberg got close a few times early on, until Templeton's Kaleb Montgomery got by on lap 18 for the runner up spot. Montgomery crossed the stripe in second, followed by Forsberg, Roseville's Colby Copeland and Clovis' Dominic Gorden in the top-five.
The remainder of the top-10 was comprised of Tanner Carrick, Pit Stop USA Hard Charger Dylan Bloomfield, Chance Grasty, Caeden Steele and Gauge Garcia.
The fight for the SCCT driving championship showcased immense drama on lap 23 when point leader Justyn Cox slowed to a stop off turn two. A reported steering box issue forced him to the pit area, which resulted in a DNF.
With Montgomery finishing second and Cox in 15th, it gave Cox the title by four-points over Montgomery, equivalent to just two positions on the track. Bloomfield also closed the gap to end up third in points, just 11 markers back in third.
"Winning the SCCT championship means a lot and to do it that way made it nerve racking, but luckily we are standing up here right now," said an emotional Cox in victory lane. "I can't say enough about this entire Bates-Hamilton Racing team and all our great partners that allow us to do it."
…….
SCCT Results – Stockton Dirt Track November 4th
A Feature 30 Laps
1. 4SA-Justin Sanders[1]; 2. 3-Kaleb Montgomery[4]; 3. 92-Andy Forsberg[2]; 4. 5V-Colby Copeland[6]; 5. 10-Dominic Gorden[7]; 6. 83T-Tanner Carrick[3]; 7. 83V-Dylan Bloomfield[14]; 8. 1-Chance Grasty[11]; 9. 121-Caeden Steele[8]; 10. 21X-Gauge Garcia[13]; 11. 9L-Luke Hayes[16]; 12. 87-Ashlyn Rodriguez[15]; 13. 75-Dalton Smith[18]; 14. 17W-Shane Golobic[5]; 15. 42X-Justyn Cox[10]; 16. 14W-Ryan Robinson[9]; 17. 7H-Jake Haulot[17]; 18. 35-Sean Becker[12]
Dash 1 6 Laps
1. 4SA-Justin Sanders[2]; 2. 92-Andy Forsberg[1]; 3. 83T-Tanner Carrick[3]; 4. 3-Kaleb Montgomery[6]; 5. 17W-Shane Golobic[5]; 6. 5V-Colby Copeland[4]
Heat 1 8 Laps
1. 3-Kaleb Montgomery[1]; 2. 121-Caeden Steele[2]; 3. 5V-Colby Copeland[4]; 4. 1-Chance Grasty[3]; 5. 83V-Dylan Bloomfield[5]; 6. 9L-Luke Hayes[7]; 7. 75-Dalton Smith[6]
Heat 2 8 Laps
1. 17W-Shane Golobic[2]; 2. 10-Dominic Gorden[1]; 3. 14W-Ryan Robinson[3]; 4. 83T-Tanner Carrick[4]; 5. 21X-Gauge Garcia[5]; 6. 7H-Jake Haulot[6]
Heat 3 8 Laps
1. 92-Andy Forsberg[1]; 2. 4SA-Justin Sanders[4]; 3. 42X-Justyn Cox[2]; 4. 35-Sean Becker[3]; 5. 87-Ashlyn Rodriguez[6]; 6. (DNS) 14-Mariah Ede
Qualifying 1 2 Laps
1. 5V-Colby Copeland, 00:13.668[7]; 2. 3-Kaleb Montgomery, 00:13.676[3]; 3. 121-Caeden Steele, 00:13.917[4]; 4. 1-Chance Grasty, 00:13.947[2]; 5. 83V-Dylan Bloomfield, 00:14.306[1]; 6. 75-Dalton Smith, 00:14.349[5]; 7. 9L-Luke Hayes, 00:14.561[6]
Qualifying 2 2 Laps
1. 83T-Tanner Carrick, 00:13.635[6]; 2. 10-Dominic Gorden, 00:13.741[1]; 3. 17W-Shane Golobic, 00:13.745[5]; 4. 14W-Ryan Robinson, 00:13.858[3]; 5. 21X-Gauge Garcia, 00:14.108[2]; 6. (DQ) 7H-Jake Haulot, 00:13.342[4]
Qualifying 3 2 Laps
1. 4SA-Justin Sanders, 00:13.577[6]; 2. 92-Andy Forsberg, 00:13.643[5]; 3. 42X-Justyn Cox, 00:13.864[1]; 4. 35-Sean Becker, 00:14.007[4]; 5. 14-Mariah Ede, 00:39.519[3]; 6. (DQ) 87-Ashlyn Rodriguez, 00:14.175[2]