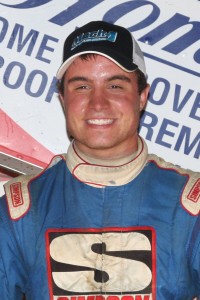 From Selinsgrove Speedway
SELINSGROVE, Pa. – Central Pennsylvania 358 sprint car rising star Logan Schuchart, of Hanover, will make his debut in a 410 sprint car this Saturday, Sept. 17, in the Jim Nace Memorial 29th Annual National Open at Selinsgrove Speedway.
Schuchart, an 18-year-old senior at Spring Grove Area High School in his third season of sprint car racing, has eight wins this year in 358-360 sprint car competition at four different tracks, including the recent $8,000 victory over Shane Stewart of Indianapolis, Ind., in the Sept. 3 National Open for 358-360 sprint cars at Selinsgrove.
"It's been my dream since I was a little kid to drive sprint cars and especially to drive 410 sprint cars," said Schuchart. "When I got the opportunity to drive the 358 I was really excited and now to race a 410 is awesome. Some day I'd like to race with the World of Outlaws or have the opportunity to race full-time.
"I've never driven a 410 before and there's a lot more horsepower to them so it's going to take a little time to get used to," he continued. "Selinsgrove is definitely a high-speed place with the 358's and I think I'll be able to adapt to that with the 410 quickly. I think we have a good chance of running well this Saturday."
The Shark Motorsports team, led by chief mechanic and Hall-of-Fame sprint car driver Bobby Allen, who is Schuchart's grandfather, will place a 410 sprint car motor from Don Ott Racing Engines of York Springs under the hood of the popular No. 1-S sponsored by Bealing Homes and Rich Fogle & Son Custom Pole Buildings for the National Opens at both Selinsgrove and Williams Grove Speedways.
"One of the first race cars I ever drove was one of Don Ott's and we've always raced his engines," said Schuchart. "My grandpa's always been good friends with Don and I've always been good friends with Aaron and Amy and the rest of the Ott family."
While Schuchart has been making a name for himself this season racking up additional wins at Williams Grove, Lincoln, and Susquehanna Speedways, he is quick to credit his legendary grandfather [Allen] for steering him in the right direction on the Pennsylvania ovals.
And for good reason: Allen won some 230 sprint car features during his career, including the 1990 Knoxville Nationals, oftentimes referred to as the Super Bowl of sprint car racing. In 1998, Allen was inducted into the National Sprint Car Hall of Fame in Knoxville, Iowa.
"I really don't listen to anybody except my grandpa," Schuchart quipped. "He's been a great mentor from the time I started. Ever since I was little, he was the one who taught me how to race and how to drive. If I have questions, he's the one I go to."
This transfer of knowledge is paying off for Schuchart and helping him become wise beyond his years. His three wins at Selinsgrove this year combined were worth $12,000. He is also leading the Hoosier Tire Central Pennsylvania Overall 358 Sprint Car Point Series, which would earn him another $6,000 if he clinches the championship.
So what is the best advice Schuchart has gleaned from his grandfather? "Stay calm, stay smart, and keep your eyes ahead of you," he answered. "Staying out of crashes is important, especially when you're on a budget like we are. If you can stay out of crashes and finish good consistently you can eventually buy better equipment so you're not behind the eight-ball all the time."
With a bright racing career ahead of him, Logan Schuchart won't be trailing behind an eight-ball but rather leading a field of sprint cars to many more checkered flags.
Shark Motorsports crew members include: Bobby Allen, Craig Schuchart, Gene Schuchart, Mike Newman, Gary Newman, Jason Peifer, David French, Tyler Lockman, Bob Gregory, and "Bear."
Qualifying for the Jim Nace Memorial 29th Annual National Open for 410 Sprint Cars is scheduled to begin at 7 p.m. this Saturday, Sept. 17. The late model stock cars will join the sprint cars on the racing card. Track gates will open at 5 p.m.
For the latest news, results, and race status, visit selinsgrovespeedway.com or follow us on Twitter and Facebook. The speedway office can also be reached at 570.374.2999.