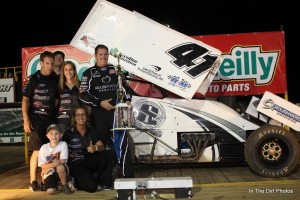 From David Smith, Jr.
Park City, KS – (March 31, 2012) – Jason Johnson kicked off the 23rd consecutive season for the National Championship Racing Association sprint car division for his third overall victory of the season as he retook the lead from Wayne Johnson with eleven laps to go to pick up the victory Saturday night at 81 Speedway in Park City, Kansas.
Two incidents delayed the start of the feature, one a red flag incident when A.J. Selenke and Jordan Boston made contact entering turn one causing Boston to flip the Gary Swenson owned #24a end over end. He was uninjured but done for the night.
Once racing action got underway it was outside front row starter Luke Cranston getting a jump on the field and taking the lead at the start.
Fourth starting W. Johnson, pole sitter Barry Gifford, J. Johnson and Don Droud, Jr. gave chase with Cranston still out front. J. Johnson would dispose of Gifford for the third spot on lap two and would pull even with W. Johnson in what would prove to be a scene of things to come later in the thirty lap feature finale.
Aided by two caution flags in four laps, Cranston kept the point but that would change on a lap four restart as W. Johnson dove low entering turns one and two and slid up to take the lead from Cranston heading down the backstretch.
J. Johnson would give Cranston the same fate entering turns three and four dropping Cranston into the third position.
W. Johnson had opened a half stretch lead by lap six while behind him, fifth starting Jack Dover took over the third position from Cranston.
A lap seven caution for Jake Martens spin in turn two bunched up the field and with J. Johnson on Wayne's bumper, the complexion of the race changed. Jason dove low entering turns three and four but Wayne held on exiting turn four.
Jason kept on Wayne's rear bumper and on lap ten, dove low entering turns one and two and made this pass for the lead stick and took the lead. Next time around Wayne would return the favor and retake the point.
At the races midway point it was still Wayne, Jason, Dover and tenth starting Brian Brown. Dover began closing in on the front runners but his strong run would go up in smoke as the engine expired on lap sixteen and rolled to a stop.
Wayne led the field to green once again and this time it looked like it was Jason's time to go as he kept pressure on the Knoxville, Iowa resident before executing a slide job in turns three and four. Jason drifted up to the cushion making contact with Wayne's front bumper causing Wayne to lift and allowing Brown and twentieth starting Danny Lasoski to get by dropping Wayne to fourth.
There was no catching Jason from that point forward as he drove the Ricky Stenhouse, Jr. owned LaBella Construction, Roush Yates Ford powered Maxim #41 unchallenged the final eleven laps to pick up the $4000 victory.
After suffering motor problems in his heat race, Lasoski, driving the Whitehead Motorsports #8w picked up the third and final transfer position out of the second "B" feature and started dead last in the twenty car field. The former WoO veteran worked his way up through the field and would come home second, just in front of Brown. Wayne finished a disappointing fourth while Droud, Jr. rounded out the top five aboard the Ochs Brothers #1x.
Jason Martin, who started nineteenth, finished sixth followed by two-time and defending series champion CJ Johnson, Jeremy Campbell, Martens and Patrick Stasa.
The four, ten lap heat races for the thirty-nine car field were won by Droud, Jr., W. Johnson, Gifford and Cranston.
Trevor Grossenbacher and Campbell topped the two, twelve lap "B" features.
The next event for the NCRA of Park City, Kansas presented by Precise Racing Products sprint car division will be held on Saturday night, April 28th back at 81 Speedway.
The series would like to take this time to thank their sprint car division partners and sponsors for the 2012 race season:
Park City, Kansas, Hoosier Racing Tires, Sunoco Race Fuels, Vertex Magnetos, Rod End Supply, Brodix Cylinder Heads, Keizer Aluminum Wheels, The Joie of Seating, Ultra Shield, Hooker Harness, Precise Racing Products, Taylor Cable Products, XXX Racing Chassis, Super Shox, Competition Suspension, JE Racing
NCRA 360 Sprints
3/31/2012
81 Speedway/Park City, Kansas
1st Heat: 1. 1x Don Droud Jr. (Lincoln, Ne), 2. 41 Jason Johnson (Eunice, La), 3. 53 Jack Dover (Springfield, Ne), 4. 19 Patrick Stasa (Kingman, Ks), 5. 2j Zach Blurton (Jetmore, Ks), 6. 97 Brian Herbert (Dodge City, Ks), 7. 7c Chris Morgan (Topeka, Ks), 8. 91x Taylor Milton (Fargo, Ok), 9. 1w Jordan Weaver (Woodward, Ok), 10. 91 Jeff Stasa (Kingman, Ks)
2nd Heat: 1. 77x Wayne Johnson (Knoxville, Ia), 2. 43 A.J. Selenke (Wichita, Ks), 3. 45x CJ Johnson (Quinter, Ks), 4. 21 Marc Robe (Clearwater, Ks), 5. 24a Jordan Boston (Lincoln, Ne), 6. E85 Sean McClelland (Tulsa, Ks), 7. 81 Gavin Punch (Collinsville, Ok), 8. 11w Wyatt Burks (Topeka, Ks), 9. 8w Danny Lasoski (Higginsville, Mo), 10. 81 Jon Freeman (Salina, Ks)
3rd Heat: 1. 35g Barry Gifford (Ponca City, Ok), 2. 51 Mike Peters (Wichita, Ks), 3. 21 Brian Brown (Grain Valley, Mo), 4. 48 Jake Martens (Fairview, Ok), 5. 5m Miranda Arnold (Sedalia, Mo), 6. 3x Cody Forshee (Wichita, Ks), 7. 22 Koby Barksdale (Norman, Ok), 8. 98 J.D. Johnson (Wichita, Ks), 9. 33 Kris Miller (Woodward, Ok), 10. 94x Josh Hodges (Tijeras, NM)
4th Heat: 1. 20 Luke Cranston (Plains, Ks), 2. 0 Brady Bacon (Sapulpa, Ok), 3. 18 Ryan Roberts (Aurora, Ne), 4. 35 Trevor Grossenbacher (Lincoln, NE), 5. 10c Jeremy Campbell (Wichita, Ks), 6. 1j Danny Jennings (Norman, Ok), 7. 36 Jason Martin (Liberal, Ks), 8. 27 Jesse Frazier (Tulsa, Ok), 9. 6 Haley Arnold (Sedalia, Mo)
1st B Feature: 1. Trevor Grossenbacher (Lincoln, NE), 2. Marc Robe (Clearwater, Ks), 3. Jason Martin (Liberal, Ks), 4. Sean McClelland (Tulsa, Ks), 5. Josh Hodges (Tijeras, NM), 6. Brian Herbert (Dodge City, Ks), 7. Wyatt Burks (Topeka, Ks), 8. Koby Barksdale (Norman, Ok), 9. Zach Blurton (Jetmore, Ks), 10. Kris Miller (Woodward, Ok), 11. Jeff Stasa (Kingman, Ks), 12. Jordan Weaver (Woodward, Ok), 13. Taylor Milton (Fargo, Ok)
2nd B Feature: 1. Jeremy Campbell (Wichita, Ks), 2. Jake Martens (Fairview, Ok), 3. Danny Lasoski (Higginsville, Mo), 4. Chris Morgan (Topeka, Ks), 5. J.D. Johnson (Wichita, Ks), 6. Danny Jennings (Norman, Ok), 7. Miranda Arnold (Sedalia, Mo), 8. Jon Freeman (Salina, Ks), 9. Gavin Punch (Collingsville, Ok), 10. Jesse Frazier (Tulsa, Ok), 11. Haley Arnold (Sedalia, Mo), 12. Cody Forshee (Wichita, Ks)
A Feature: 1. Jason Johnson (Eunice, La), 2. Danny Lasoski (Higginsville, Mo), 3. Brian Brown (Grain Valley, Mo), 4. Wayne Johnson (Knoxville, Ia), 5. Don Droud Jr. (Lincoln, Ne), 6. Jason Martin (Liberal, Ks), 7. CJ Johnson (Quinter, Ks), 8. Jeremy Campbell (Wichita, Ks), 9. Jake Martens (Fairview, Ok), 10. Patrick Stasa (Kingman, Ks), 11. Marc Robe (Clearwater, Ks), 12. Barry Gifford (Ponca City, Ok), 13. Luke Cranston (Plains, Ks), 14. Trevor Grossenbacher (Lincoln, NE), 15. Jack Dover (Springfield, Ne), 16. Mike Peters (Wichita, Ks), 17. A.J. Selenke (Wichita, Ks), 18. Brady Bacon (Sapulpa, Ok), 19. Ryan Roberts (Aurora, Ne), 20. Jordan Boston (Lincoln, Ne)