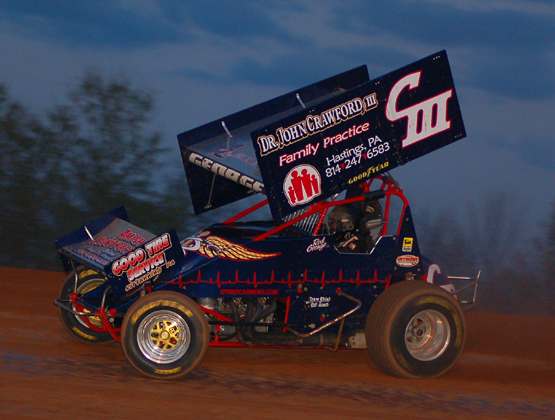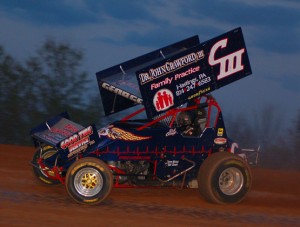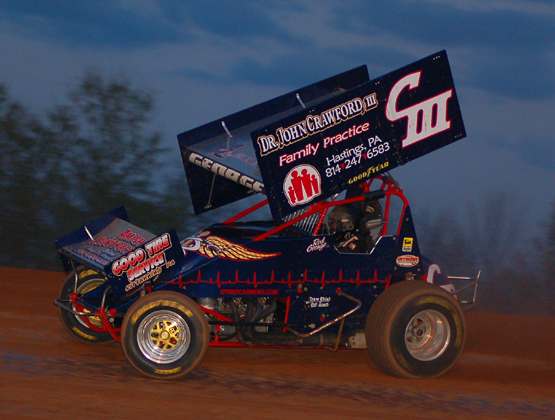 From Lernerville Speedway
Sarver, PA — (July 5, 2012) — Rod George broke a two year drought in a fast & furious Ti22 Sprint feature Friday night at Lernerville Speedway over early leader Jack Sodeman, Jr.
Brian Steinman took a hard ride backwards into the turn three wall in Ti22 Sprint heat competition and had to be extricated from the car and flown to a regional hospital for further evaluation. He was awake and alert upon being removed from the car. Thoughts and prayers to a full and speedy recover. And we'd be remiss not to say thanks to the brave men & women on the Lernerville Rescue Squad that did an excellent and professional job fighting the flames and taking every precaution necessary to remove Brian safely from his car!
Ti22 Performance DIRTcar Sprint Feature (25 Laps)
1. (CIII) Rod George, Kittanning
2. (23Jr) Jack Sodeman Jr., N. Jackson, OH
3. (9) Kevin Schaeffer, Kittanning
4. (10) Carl Bowser, Sarver
5. (O) Andy McKisson, Strattanville
6. (08) Dan Kuriger, New Brighton
7. (20E) Brian Ellenberger, Butler
8. (33) Brent Matus, Wampum
9. (55AU) Luke Bowey, Adelade South Australia
10. (22B) Brandon Spithaler, Evans City
11. (7) Eric Williams, Greenville
12. (4B) Justin Schwick, Russell, Kansas
13. (5) Bob McMillin, Wampum
14. (4K) Bill Kiley, Cabot
15. (13) Brandon Matus, Wampum
16. (5B) Adam Anderson, Meadville
17. (11) Scott Priester, Rimersburg
18. (12J) Bill Jones Jr., Irona
19. (38W) Dennis Wagner, Pulaski
DNS (24S) Brian Steinman, Lucinda
Heat Race Winners: Rod George, Brent Matus